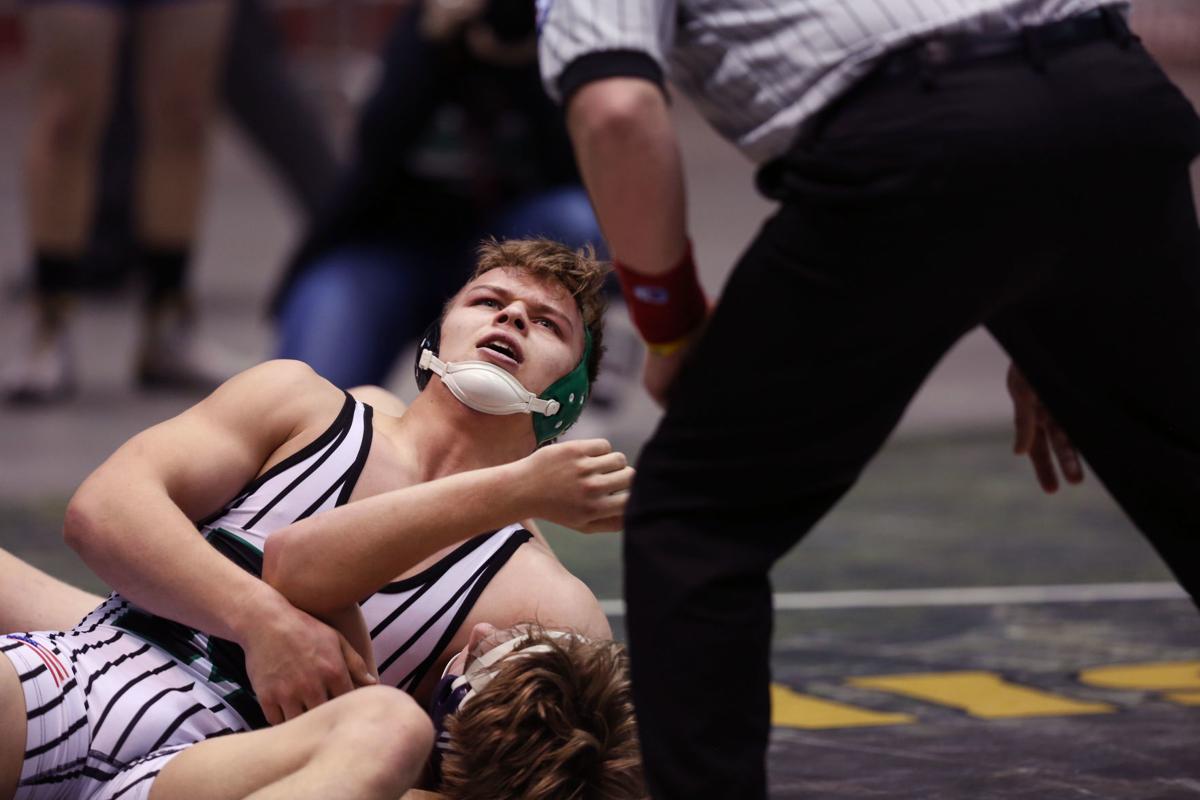 Rowdy Pfeil is ready to take the next step.
The Moorcroft standout put the finishing touches on his senior year on Feb. 29 with a 15-0 technical fall over Thermopolis senior Riley Shaffer in the 152-pound title match of the Wyoming State High School Class 2A Wrestling Championships. The win capped a 50-3 season for Pfeil, who needed just 88 seconds combined to pin his first three opponents at state.
"My senior year I was able to do what I wanted to do fairly easily," Pfeil said in a phone interview. "It was a reward for all the work I put into the sport. It was awesome to go out there and dominate at the state tournament like I did."
The state championship was the second for Pfeil, who won at 160 pounds as a sophomore. It also was the fourth time he had wrestled for a state title, losing the championship match as a freshman and as a junior. Pfeil credits last year's loss to Glenrock's Ian Arnold in the 182-pound championship match for pushing him to his senior-year successes.
"During the offseason I put in all the work and did everything I had to do so that the next time I went to state I was prepared," he said.
That offseason drive carried over to the 2019 football season. Despite being the focal point of every defense Moorcroft faced, Pfeil still rushed for nearly 1,200 yards and had 13 rushing touchdowns. In a victory over Glenrock on Oct. 25 – the Wolves' first win over the Herders since 2010 – Pfeil had 279 yards on just 21 carries (13.3 average) and scored four TDs. Pfeil earned all-state honors for the second year in a row and was a Star-Tribune Super 25 second-team selection.
That individual success obviously carried over to the wrestling season where Pfeil, the senior captain, helped lead the Wolves to their eighth consecutive 2A title.
Pfeil is currently taking classes online and spending time at his family's ranch in Sundance as he prepares to head to Chadron State College on a wrestling scholarship in the fall.
"What makes Rowdy unique is that he's really got a winning attitude," Moorcroft wrestling coach Charlie Williams said. "We've coached him since he was a sixth-grader and he always had a great attitude. He's a 4.0 student and not only did he get an athletic scholarship to Chadron State, but he got an academic scholarship.
"Rowdy is a great leader and he's compassionate … he's the complete package."
Pfeil will be joined by fellow Moorcroft classmates Parker Seeley and Parker Schlater as freshmen wrestlers on the Chadron, Nebraska, campus. Chadron State, which Williams likes to call "Moorcroft South," also has two former Wolves state champions on its roster in graduate student Tate Allison and redshirt sophomore Tucker Allison. This past season Tate, competing at 157 pounds, placed third at the Division II Super Region 6 Championships to qualify for the NCAA DII Championships, which were later canceled because of the coronavirus pandemic.
"I loved high school wrestling," Pfeil state, "but I knew wrestling wasn't over for me so I was excited to get to the next level. I spent most of my senior year helping the underclassmen being the best they could be. I don't think I'm leaving the sport anytime soon."
Pfeil expects to do preseason wrestling workouts in the fall before the season begins in November. After the wrestling season is complete he'll walk on to the football team where he'll join them for spring practice.
It will be the continuation of a career that Williams foresaw eight years ago.
"I actually had my eye on Rowdy since he was a fourth-grader," Williams admitted. "I actually told (Wheatland assistant coach and Wyoming high school wrestling historian) Spencer Condie years ago, 'One name you're going to want to remember is Rowdy Pfeil.'"
Follow sports editor Jack Nowlin on Twitter @CASJackN
Get in the game with our Prep Sports Newsletter
Sent weekly directly to your inbox!