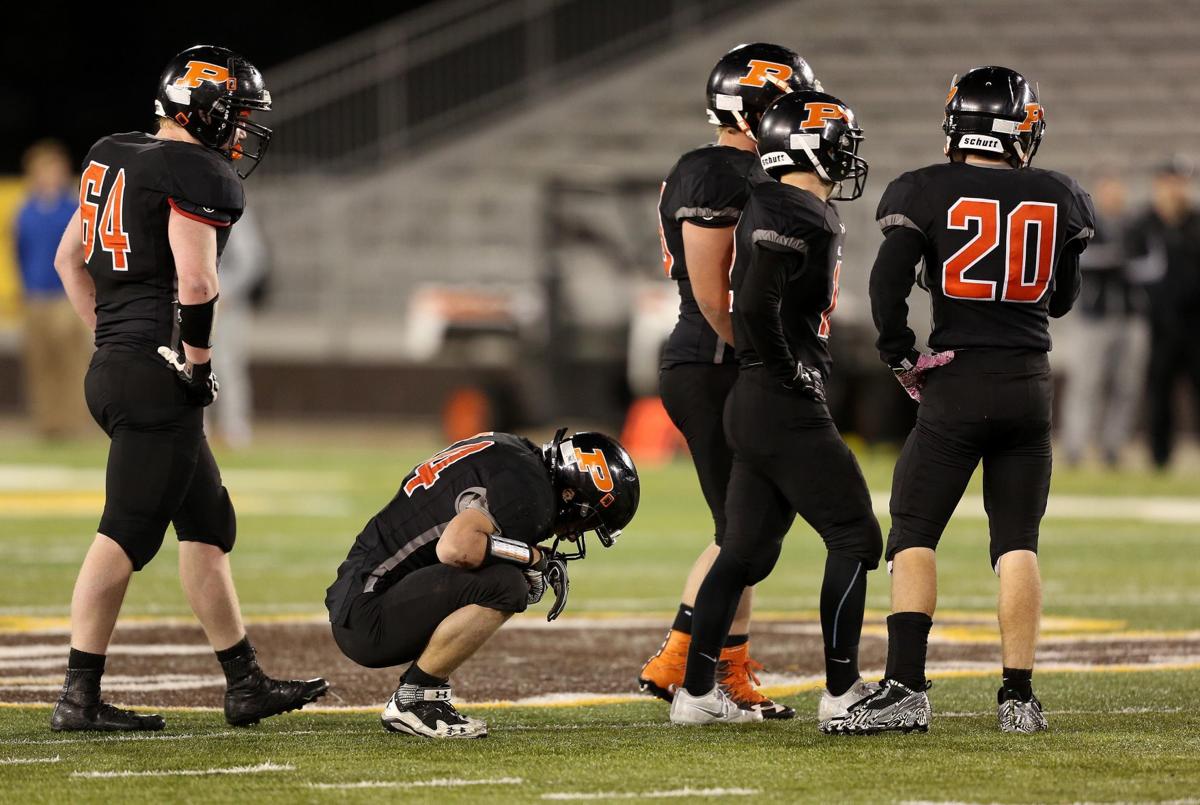 First and foremost, the Powell Panthers are appreciative of the support shown throughout the state of Wyoming and beyond. Through two games so far the Panthers have taken part in special ceremonies supporting the family of quarterback Ethan Asher, the Powell senior seriously injured in an auto accident weeks ago.
The football team has learned of prayer vigils and fundraisers galore since Asher never arrived at school on the morning of Aug. 27.
Each one has come just as humbling as the others.
As their starting quarterback continues his residency in a Billings, Montana, hospital, the football team has soldiered on through two games and maintained a perfect 2-0 start — the program's first since its state-championship 12-0 season in 2013. Part of the team's motivation so far, has come from the obvious.
"Knowing who Ethan is has been the x-factor because he's such a competitor," Powell head coach Aaron Papich said. "This is exactly what he wants. He wants us to keep pushing forward and to win. I think that's what our guys really hold onto. We need to show up and compete every day."
On Tuesday morning Ethan's mother, Tiffani, said that doctors have discovered and already begun treating an infection in Ethan's lungs. The Powell senior remains in a coma but doctors told the family he's "on the verge" of getting out of it. His eyes are open but he hasn't regained consciousness. Doctors have removed his ventilator for a couple of hours every day but the swelling on Ethan's brain remains significant.
"The (doctor) tells us it's a waiting game on what he will get back and when that will be," Tiffani updated.
So the family has taken every progressive step in stride. Meanwhile, Ethan's team has done the same.
The Panthers have concentrated on the simple, ensuring crisp execution in practice in order to ensure success on Friday nights. That began with a 32-17 victory at Riverton in Week 0, just days after the team learned of Asher's accident. Last Friday the team replicated that result by beating a promising Worland team, 24-7.
The Panthers' defense stepped up in the team's home opener against Worland, especially on an interception returned for a touchdown by junior Adrian Geller. That play essentially sealed the victory for the emotional Panthers.
Powell's drive and emotion for this season didn't start with its quarterback's accident. Papich said it started with the dedication the Panthers showed throughout the summer in weights. That's helped develop a valuable asset that coaches didn't know if they would have this season.
"Our guys put in a lot of time in the weight room this summer," he said. "So we have depth right now. We can rotate players in and out of the game, which is a huge advantage in 3A. We can carry that skill level onto the second level and without much of a drop at all. So we're able to keep our No. 1 guys fresh in the fourth quarter when other teams have those guys in the majority of the game."
Powell outscored the Warriors 17-7 in the second half.
Junior Landon Lengfelder has quickly warmed to the role of starting quarterback, throwing at least one touchdown pass of 20 yards or more in both of Powell's first two games. That came as an even further testament to the Panthers' depth.
As far as a ceiling goes, the Panthers haven't been caught up in expectations. They've remained focused on the little things, just like they were before a single down had been played.
"They want to finish things out successful," Papich said. "I don't want to say that's in Laramie, but the guys want to keep going. There's no limit."
The true potential of the season will be found in the weeks ahead. Powell plays at Lander this weekend in what should be another tough game. Then comes the gauntlet of Douglas-Evanston-Star Valley-Cody-Green River-Jackson. A team from the 3A West Conference has won the state championship every year since 2011 (the start of Powell's three-peat). The West's four playoff teams this year will surely be battle-tested again.
Coming off three combined wins in the past two seasons, the Panthers stand atop the brutal conference through two games. And their teammate's improving status in Billings has shown them there's always a step forward.
Follow sports reporter Brady Oltmans on Twitter @BradyOltmans
Get in the game with our Prep Sports Newsletter
Sent weekly directly to your inbox!