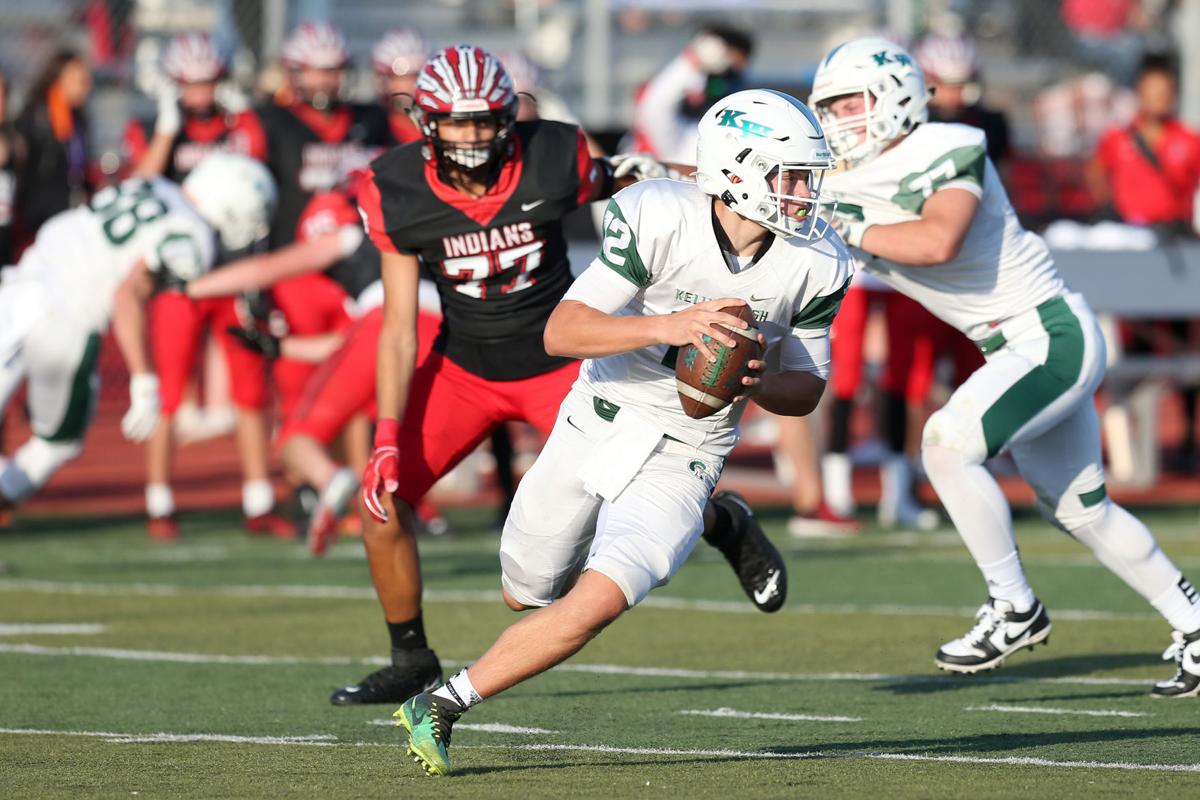 Week 1 of the 2020 Wyoming high school football season got off to an ominous start even before the first games kicked off.
Newcastle's scheduled game at Buffalo was canceled Friday morning after it was discovered that a player from Hot Springs, South Dakota, which Newcastle played last week, had tested positive for coronavirus. Even though no Newcastle players tested positive, officials for both schools made the decision to cancel the inter-class game rather than risk it.
With all players and coaches seemingly safe for both the Dogies and the Bison, attention for the rest of the first Friday in September was turned to the gridiron. For those who were paying attention to scores across the state, it was definitely a night to remember. Although fans of Big Horn, Mountain View and Star Valley might want to forget it.
As the final scores rolled in -- Lovell 26, Big Horn 0; Evanston 36, Mountain View 21; Preston, Idaho 34, Star Valley 21 -- fans were left shaking their heads in disbelief. According to wyoming-football.com, it was the first time since Sept. 25, 2009 that all three teams had lost on the same day.
Big Horn is the two-time defending state champ in Class 1A/11-man, a classification that no longer exists, and carried a 22-game winning streak into its home game against Lovell. The Bulldogs didn't care about any of that, dominating from the start and handing the Rams their first shutout defeat in 86 games.
C.J. Linsdsay ran for 114 yards, including a 50-yard touchdown, Cason James threw a 21-yard scoring strike to Tyler Nichols and the Bulldogs intercepted six Big Horn passes in welcoming the Rams back to Class 2A.
Defending 2A state champ Mountain View took an 11-game winning streak to Evanston, which had lost 12 in a row. But the 3A Red Devils also forced six turnovers and got a combined 224 yards and three touchdowns rushing from David Perez (133, 1 TD) and Jagger Mitchell (91, 2) to knock off the Buffalos.
Star Valley had won 21 in a row coming into the season but saw that streak end with a 24-14 loss to Summit Academy, Utah, in its season opener last week. Friday's loss puts the two-time defending state champion Braves at 0-2 for the first time since 2014.
The action on the gridiron wasn't confined to those teams, however.
Pine Bluffs defeated Riverside 16-6 in the first Class 1A/9-man game played in the state since 1994.
Other 9-man winners were Southeast (22-0 over Shoshoni), Lingle-Fort Laramie (48-12 over Wind River), Rocky Mountain (52-0 over Wright) and Moorcroft (34-7 over Greybull).
Cheyenne East senior quarterback Graedyn Buell, who accounted for four touchdowns in last week's loss to Thunder Basin, added five more, including the game-winning score, in a 34-27 win over Natrona County.
The Mustangs' loss dropped them to 0-2 for the first time since 2016. That year the Mustangs lost to Cheyenne Central and Cheyenne East to open the season before rallying to play in the state championship game, where they lost to Sheridan.
Cheyenne Central, a 38-12 winner over Kelly Walsh, is 2-0 for the first time since 2009 when they eventually advanced to the state championship game, where they lost to Sheridan.
Speaking of the defending state champion Broncs, they are 2-0 for the eighth consecutive year.
Snake River, the defending 1A/6-man champ, now has the state's longest winning streak at 11 games after a 44-19 win over Hanna in a rematch of last year's title game.
The talk of the Twitter-verse Friday night, though, were the losses by Big Horn, Mountain View and Star Valley. And, it should be noted, the victories by Lovell and Evanston.
No one is going to shed a tear for the Rams, the Buffalos or the Braves just yet. There are still (hopefully) seven weeks remaining in the regular season before the playoffs begin and it would be a surprise if all three aren't in the postseason. For one night, though, high school football fans across the state were probably looking to the sky to see if there was a full moon.
Follow sports editor Jack Nowlin on Twitter @CASJackN
Get in the game with our Prep Sports Newsletter
Sent weekly directly to your inbox!