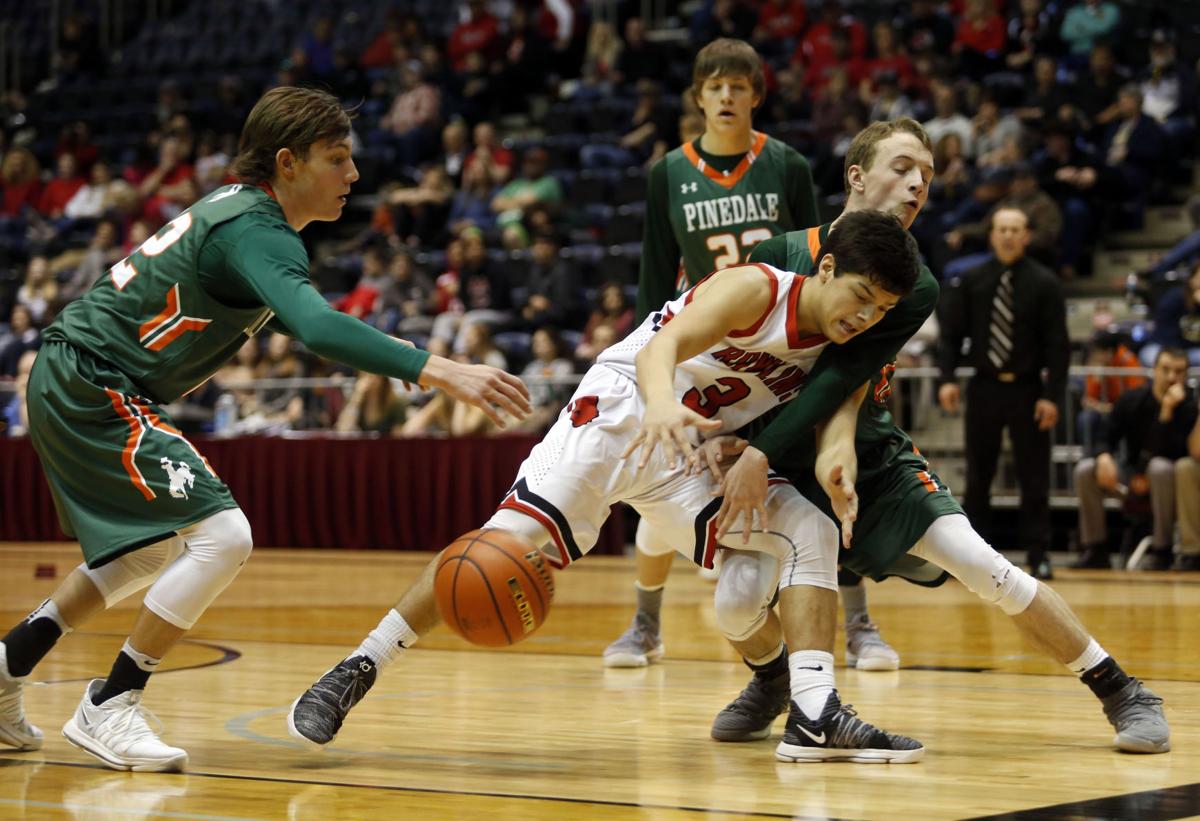 This summer was supposed to be Connor Mendez's breakout. He'd overcome repeated heartache and hurdles just to make it back to the field and have a final high school football game.
That made Shrine Bowl executive Frank Selby's decision earlier this month all the more gut-wrenching. Selby announced on April 5 that the 2020 installment of the Wyoming Shrine Bowl Game would not take place due to the ongoing precautions taken against the spread of the novel coronavirus. Instead of playing against Wyoming's other finest senior football players, Mendez would be left to stretch his knees and plan his college football future. A future he'd always dreamed of but at one point doubted he'd get.
"I've been in Class 3A my whole life and people talk about 4A being the top level," Mendez recently told the Star-Tribune. "I don't know if I wanted to prove to anyone else but I wanted to prove to myself I could compete at that top level."
Added Rawlins head football coach Clayton McSpadden: "He has the ability to turn a lot of heads. We were excited about the Shrine Bowl because of that. That would have been cool to see."
Mendez always had a fondness for football, playing with his grandfather and father during NFL Sundays. He started wrestling at 4 years old up until middle school as his only avenue to exercise aggression. Delivering hits and tackling seemed like an easy transition. He'd always been comfortable doing that.
But there was no adequate preparation for starting varsity as a freshman. Even in the summer camps preceding that season he noticed the intensity and aggression was different. Those camps helped but there was no experience like game experience. He took the first few games of his freshman season to get up to speed.
From that point on he got by through game intelligence. McSpadden described him as "a student of the game," and Mendez has proven himself as such — whether it's watching television on Sunday or YouTube every other day of the week.
"I'm a huge student for football with studying routes and coverages," Mendez said. "I wish school came as easy as football."
He'd always loved watching Wes Welker highlights. He also studied Odell Beckham Jr.'s creativeness and DeAndre Hopkins' hands.
"We can talk to him just like how a college coach would, breaking down situations and he'd comprehend completely," McSpadden said. "He has a great mind and he's super athletic.
"It didn't come easy either. He had to work hard for so many things."
Mendez suffered his first knee injury at the end of his freshman football season. Re-aggravated injuries not only limited his sophomore and junior football campaigns to just a combined three games, they've also severely crippled his basketball and track career. He was effectively sidelined for the majority of his first three high school seasons.
He was told by his physical therapist that the young Outlaw should be open-minded. Basically, the adult in the room was trying to make the teenage football fan aware there was no guarantee after three knee surgeries that he'd ever get the chance to play football again.
"It was a rough time because I didn't know if I would be able to do what I loved," Mendez said. "It definitely motivated me. It took a lot from me, athletically, but I don't think my motivation would be where it's at without those obstacles."
He started hesitantly — worried about injury again. It took the first week of practice for him to play at full speed again and completely unencumbered.
"With that kind of chip and thinking he couldn't take anything for granted," McSpadden explained, "he reacted to things differently."
Mendez was an explosive receiver who dropped only a handful of passes — one of which came in the rain. That one's still eaten at him despite his 92.2 yards per game, 56 receptions and six touchdowns for the season. On defense he played safety unafraid of making contact, leading the Outlaws with 15.8 defensive points per game while averaging 8.0 tackles per game as a safety.
In McSpadden's PE class Mendez would confide his love for the game. He had dedicated himself since the summer and he started to see that work pay off. So McSpadden connected the senior with Black Hills State. They looked for a physical strong safety and found one. They'd been in conversations, Mendez went to Spearfish, South Dakota, for a camp, and finally signed in December.
"The way they talked about the plays and everything made me feel like home," Mendez said.
The senior said he's tentatively listed at slot receiver but he wouldn't be surprised if he was asked to play on the other side of the ball too. He chuckled that he could deliver a hit on either side.
He'd been looking forward to doing just that in June against the best of Wyoming. Instead, he'll go about proving it at Division II.
Follow sports reporter Brady Oltmans on Twitter @BradyOltmans
Get in the game with our Prep Sports Newsletter
Sent weekly directly to your inbox!