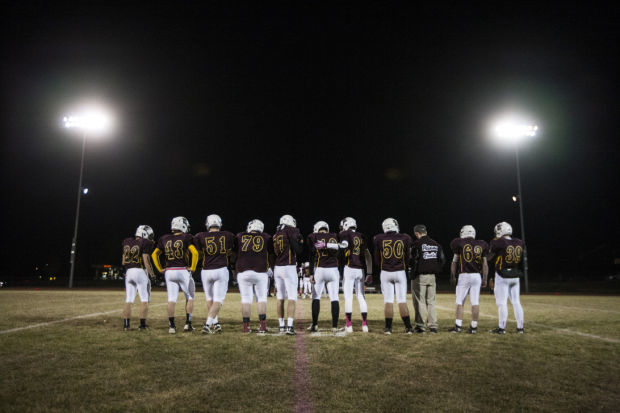 John Deti Jr. impacted the lives of those around him. He provided comedic relief and life lessons.
Here are some of what those close to him shared with the Star-Tribune.
"This is before Alzheimer's took hold. He told me, 'I just ordered pizza for the first time in my life and they delivered it right to the house.' You would have thought the guy just discovered electricity. He'd make a waitress roll up her apron and want to quit with the way he ordered food. I can't imagine him ordering a pizza.
"He could never figure out how to ride a horse. The only way he got off was getting thrown off. And he did six or seven times. He broke his wrist, collarbone, shoulder blades, ribs, several pairs of glasses. He was laid up one time and he was on the pull-out couch. It just hurt hims so bad to laugh and he looked so funny. My brother and I look at him and start laughing and he started laughing and had to tell us to stop."
"Every new class of seventh-grade boys got a letter from Coach Deti. It was called, "Dear seventh-grade football player letter." He'd say go play football because that's how he'd get them. He'd encourage every one to go out for football. It's 35-years old and it hadn't changed much over the years. When I graduated college I got the seventh-grade football letter. He hand wrote at the top that all the lessons are still the same. When I got my first job I went to DC to work for a senator. I got a letter when I arrived and it was that letter. I got the seventh-grade football letter when I got married. He never stopped being my dad."
John Cundall, former coach
"My last year we coached in the Shrine Bowl, we put the Deti package in there. That night it was a wide open, zero back with four out wide, all the way option football to the Deti package. Back in 2004 it was a wide gamut offensively and Coach Deti, even though he wasn't there that night, his package certainly was."
Jason Ostrander, former player
"He just was a crazy influence on my life. I was a kid that grew up with a love for football and passion. What I learned under John was how you tackle life. Things you go and tackle him about and things you couldn't talk to your folks about necessarily. People thought he was kind of weird. He was kind of closed off and mumbled to himself."
"Something he said was that you always hear things. Take care of the little things and big things take care of himself. Those are things I still preach to this day. I remember something Coach Deti said, just make the important things important. A lot of times all of us get going down that path. You've got to make the important things important."
You have free articles remaining.
"I heard all these Laramie stories about how they listen in the locker rooms. The lights are so bad, ball-colored maroon jerseys. Tape all their wrists white so they all look like they have the ball. They turn the heat up in the locker room. In 1996 we travel down there for the semifinal game. Real competitive that year. I heard all these stories about how dark it is there. There was a massive snow storm blizzard. Ten-foot high snow embankment around the field. Sun just reflected off all that snow. It was probably one of our greatest victories, top five for sure. We practiced scout team without a football all week. You look for a football in that offense and you're never going to find it."
Kevin Williams, former coach
"John's classic line during those all-state meetings was, 'Well, he was the unanimous choice all-state last year and he didn't get any worse.'
"He was ejected from a game once. He said he was wandering around so he went to the concession stand and went for a cup of coffee. Someone behind him said, 'Coach Deti, when did you retire from coaching?' He said, 'Oh, about 5 minutes ago.' He was one of a kind."
"I ran into John after a Shrine Bowl and he's lamenting the fact that the coach of the South had great running backs. 'You run it down there and all of a sudden they throw the ball over the place.' I looked at John and said, 'You know the quarterback was your son?' He said, 'I know, should of never let him throw the ball, I never did.'
Jamie Christensen, former coach
"You go to play Laramie at Deti Stadium and they're always so doggone good. He'd always be the guy that you'd look up at the clock and there'd be no time left and you didn't even touch the ball. They held it for so long."
Gary Johnson, former Shrine Bowl director
"The guy was so sharp with a great sense of humor. As you already know, he ran around with that silly stopwatch. You'd look out there and say this guy can't coach. But he had such a way of relating with kids. I don't think I ever saw a kid in the Shrine Bowl experiences that he didn't have eating out of the palm of his hand. They'd go through a brick wall for him."
"I asked why he wears the stopwatch constantly and he'd say, 'Time on task.' He'd time anything. He wanted to go for a jog. We would probably walk faster but we shuffled along, he had the timer set. I can do the Deti shuffle now. We'd chug up the road.
"When I tell kids about what Deti football was at Laramie it's because I'm telling them about paying attention to the little things. And stay humble through it. It's about lining up foot to foot and believing in something. It gave us an identity at almost every level. When we put the Deti (package) in it's kind of smash-mouth football. That's the best thing I can give them. Here's our package and here's why we call it what we call it. If we can't do those things necessary to run it, we won't run it because we're not going to tarnish the name."
Joe Benson, former player
"It was our senior year and our best player was our fullback. We ran the (Centennial) hill at 5:15 every morning. He didn't show up that morning. Coach Deti went up to the cabin and woke him up and ran."
Follow sports reporter Brady Oltmans on Twitter @BradyOltmans