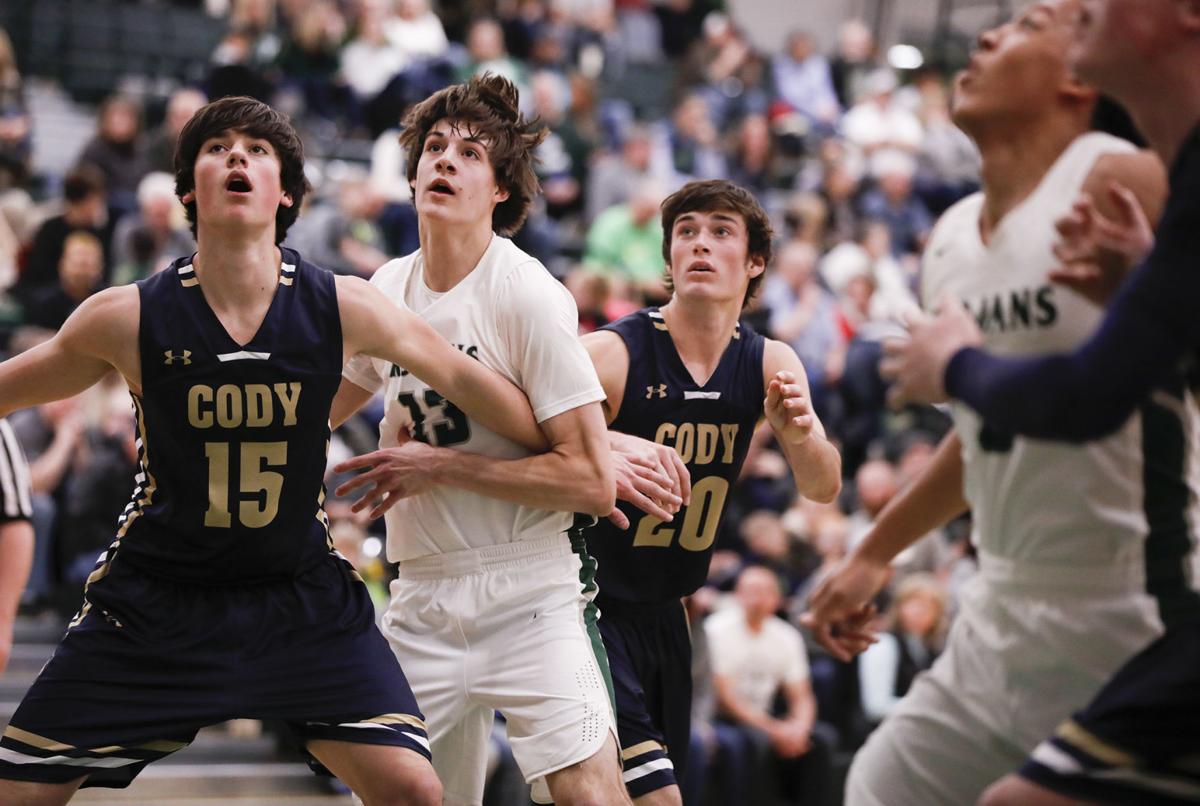 The Wyoming High School Activities Association knew there would be winners and losers when its Board of Directors floated the idea of mass reclassification just a few years ago. In an effort to reduce travel, expenses and time out of class, representatives proposed a new structure that separated classifications for volleyball, basketball and track and field by enrollment that limited the largest three classifications to 16 schools. Each classification would be divided into conferences and each conference divided into quadrants.
Barry Ward knew there would be issues with this as well. The Burns activities director has occasionally lobbied for the Broncs to compete in athletics at lower classifications due to its transient populace that often sees unpredictable fluctuations in enrollment between itself, Cheyenne and Pine Bluffs. Under the new classifications Burns was scheduled to compete in Class 3A. Not only did that put them at a competitive disadvantage, from Ward's perspective the reclassification defeated the purpose for Burns. This last year the school accrued 240,815 activity miles — far more than it had before.
"There could be a variety of reasons for that, but the main reason is the move up to 3A," Ward told the Star-Tribune in early winter. "We didn't choose this reclassification. It chose us."
The massive reclassification passed, starting with the implementation of the 2018-19 school year. Every two years those numbers get updated with some moving up and down the ladder. But each classification breaks down as 16-16-16-rest. The 16 largest schools in 4A, next-largest 16 in 3A, next-largest in 2A and all remaining schools in 1A.
Star Valley moved back up to 4A in this move. As did Riverton and Green River. Cody was the final addition to the largest classification. This brought a slew of issues for a school already isolated from its peers in the Northwest corner.
Moving into 4A meant Cody wasn't in the same classification as nearby Powell and Lovell. The Park County rivalries have remained through non-conference scheduling, although that hasn't been guaranteed. Cody activities director Tony Hult has experienced issues in scheduling Class 4A opponents in his non-conference schedule, with many schools refusing to make the journey that far. Home-and-home series against quadrant opponents alone average 212 miles and nearly 4-and-a-half hours for Cody. That's caused issues.
Hult has also stated the issue of competitive fairness. Cody's 619 average daily membership by 2020-21 numbers is 33 more than Powell (the largest 3A school by reclassification lines) but it also means the Broncs and Fillies compete directly against Kelly Walsh (1,996), Natrona County (1,943) and Rock Springs (1,642) for championships.
"That, to me, is unfair," Hult expressed. "I don't mind playing them. To win a championship, however, I think that's grossly unfair."
***
Dan Bleak, Wyoming high schools' statistics coordinator, crunched competitive numbers and found that larger schools won the majority of the time, on average 66 percent of games. That does include the issue of inter-classification inequality. The 4A East Conference is, at any time, home to eight of the top 10 largest schools in the state.
Class 4A teams in the newly formed East Conference were less affected than other schools. Cheyenne's three high schools, and nearby Laramie were conveniently placed in the same quadrant. Then came the two Gillette high schools, as well as neighboring Sheridan. That left the outlier. One of the two Casper schools — Natrona County and Kelly Walsh — through an agreement, alternate between the Northeast quadrant and Northwest quadrant, meaning one would travel to Gillette for mandatory quadrant games while the other would have to travel to both Cody and Rock Springs.
Outside of Burns, Class 3A saw little mass change. Rivalries (Powell-Lovell, Lyman-Mountain View and Buffalo-Douglas) were preserved in the change as separation between the 16 proposed 3A programs narrowed. The difference between largest and smallest 4A programs was over 1,000 ADM. That same difference in 3A is less than 400.
Then there's the issue of hard-line distinction. The smallest 3A program according to 2020-21 ADM is Kemmerer with 188.70. Moorcroft's the largest 2A program according to those same numbers with 188.08. That distinction meant the difference between playing Powell (3A) or Riverside (2A) for a possible state championship is a fraction of a person.
"Somebody's going to have to occur an expense," Moorcroft activities director Dusty Petz previously told the Star-Tribune. "The size of Wyoming, it's just not geographically realistic to get everybody perfect."
That's led some to believe the lines of distinction need softening. School enrollment, especially in a state like Wyoming where populace alters with every boom and bust, is largely fluid. Handcuffing classification distinction to number of teams and not to enrollment has brought furrowed brows. But that was always going to happen.
***
Hanna activities director Russ Wigham once served on the WHSAA Board of Directors, where he became familiar with its system and 17 representatives. That's given him comfort since leaving the board and heading a 1A program with an ADM of 62.
"A lot of our intentions are really good and we listen to concerns about travel and time out," he said, "but when you look at our state, the distances that are there, we also have to understand that if we want to have competitive programs, we need to travel and have that flexibility to go when we can."
Programs like Hanna that sit near borders often go out of state for competition. It's easier, cheaper and sometimes more advantageous. Jackson and Star Valley, for instance, go to Idaho and Utah in addition to nearby Evanston and Pinedale. Newcastle often plays in South Dakota, Torrington and others play in Nebraska. Carbon County programs often frequent Colorado.
Tournaments and invitationals have become staples of volleyball and basketball season. Splitting five games between two days limits travel to one location. Even with an overnight stay, that typically saves programs money while bringing ample competitive opportunities of multiple games.
Then there's the unforeseen issues not everyone thinks about. Tongue River, for example, was in the West Conference. That meant the Eagles needed to traverse its neighboring mountain to play quadrant games.
"That throws an extra hurdle since we're miles away from those schools over there, time-wise," Tongue River activities director Steve Hanson previously told the Star-Tribune. "The biggest hurdle is expecting a storm. Then we're talking about going through Billings and around. That puts an extra burden on transportation."
Tongue River doesn't have that problem in the next reclassification. They'll play in the East Conference.
***
Football's always been treated different in classification, limiting the largest classification to 10 teams. It's worth noting that 257 ADM separate Sheridan (10th-largest school) with Jackson (11th-largest), a clear separation.
Swimming and soccer draw separate distinctions with multiple classifications. Wrestling competes in three classifications with firm distinction lines. The same holds true for golf and cross country. Tennis is one classification with separate North-South conferences. Skiing and indoor track compete unencumbered by separate classifications and or conferences.
The upcoming reclassification alteration will see some minor changes. Kemmerer replaces Big Piney in the 3A West, Southeast drops to 1A with St. Stephens leaping up to 2A. These don't bring colossal change. Some programs inevitably win from the change while others predictably lose. That's just the way it works out in Wyoming.
"It's going to cost money regardless," Meeteetse activities director Scott McBride said. "It's just important that the state continues to support our kids."
Follow sports reporter Brady Oltmans on Twitter @BradyOltmans
Get in the game with our Prep Sports Newsletter
Sent weekly directly to your inbox!