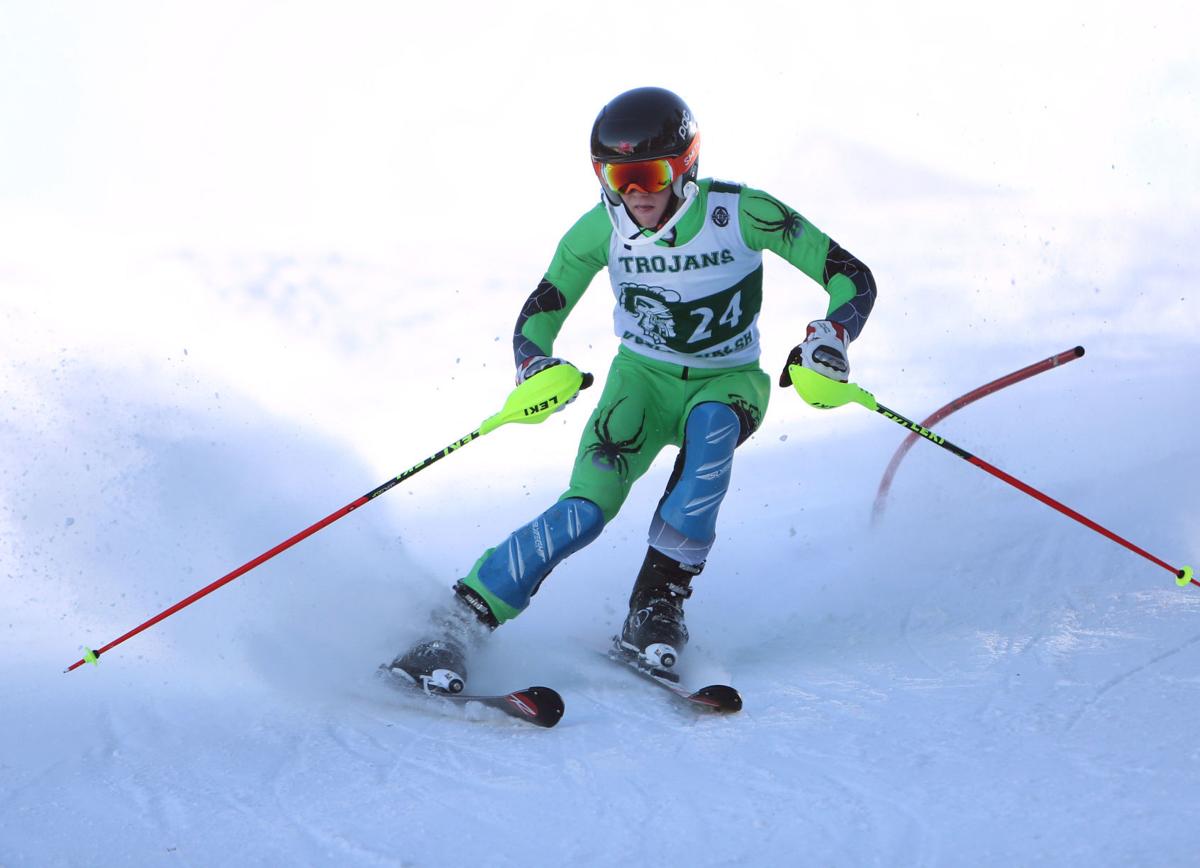 Here's Dane Rasmussen, traversing down a hardened snow-covered mountain at considerable speeds. The chilling wind slashes his face every moment of his sub-minute slalom run. He's gotten good at side-saddling poles by hurdling obstacles before even bracing on each run.
Rasmussen caught the fever when he was a 3-year-old following his parents up to Hogadon Basin Ski Area on weekends. Once he learned the craft and developed a love for the sport, he craved more. He practiced all he could during Hogadon's limited run times. When school limited his Hogadon days to only two or three times per week, he'd watch World Cup skiers — the best skiers in the world — and study them. In those videos he created idols and goals while his schedule forced him to stay in town.
"It's very rewarding and makes me very happy," the Kelly Walsh senior summarized after last weekend's ski meet at Hogadon. "Especially because I ski twice or three times a week. Those Jackson kids can ski every single day. When I put together a good run it's very nice."
Just because he'd have a day off didn't mean he could practice either. This year's been the first time since he started skiing for the Trojans' alpine team that Casper's only ski area opened in November. And just because Hogadon's season has opened doesn't mean skiers can practice their runs. Hogadon's only ski lift has been forced to a standstill as Casper's signature brutalizing winds whipped across the mountain.
In that narrowing gap, semantic obstacle after another laid in front of him, Rasmussen's found time on the slopes.
"Week after week it's been practice, practice, practice," he explained. "I'd learn what I could then just come up here and practice again. Then the wind blows and the lift closes and you wait for more practice."
You have free articles remaining.
Considering those factors, he's been satisfied with his high school career thus far. Last year he made the leap into the top five at the state meet in the slalom. He would have also cracked the top five in the GS if a disappointing first run didn't force him to settle for tenth. He carried that momentum into this season. He won the GS at Kelly Walsh's home invite last weekend. That came a day after he posted the second-best first run in the slalom — although he registered a did not finish in the second run.
He's found encouragement in the positives and motivation in the negatives.
"So far I'm pretty happy with my limited time on snow," he said. "I'm pretty happy so far. This year I'm feeling really good."
The Trojan standout isn't unrealistic. He knows that the cards are stacked against him and the field going into Grand Targhee for the state meet later this winter. Few have ever challenged the Jackson alpine ski team and less have ever succeeded in dethroning the resort town titan. But Rasmussen does know what it'll take to accomplish such a feat — the same thing he's been doing since he was 3.
"A lot of practice," he affirmed. "I know what I need to work on. So I've got to work hard at it to make up for that limited time I've got on snow.
"When state comes around I'm not going to say that I don't want to win but I just want to go out there and ski my best, ski how I want to ski, commit and do it."
State championship gold already hangs in his home from the numerous titles he's won as part of Kelly Walsh's three-peat boys' golf champions. When the snow's gone, he's out on the links to improve his game there as well.
The brutal cold and anticipated winter storm mean the bunkers have to wait another few months. He's got one more shot at clearing the big hurdle he's been working towards for nearly 15 years.
Follow sports reporter Brady Oltmans on Twitter @BradyOltmans