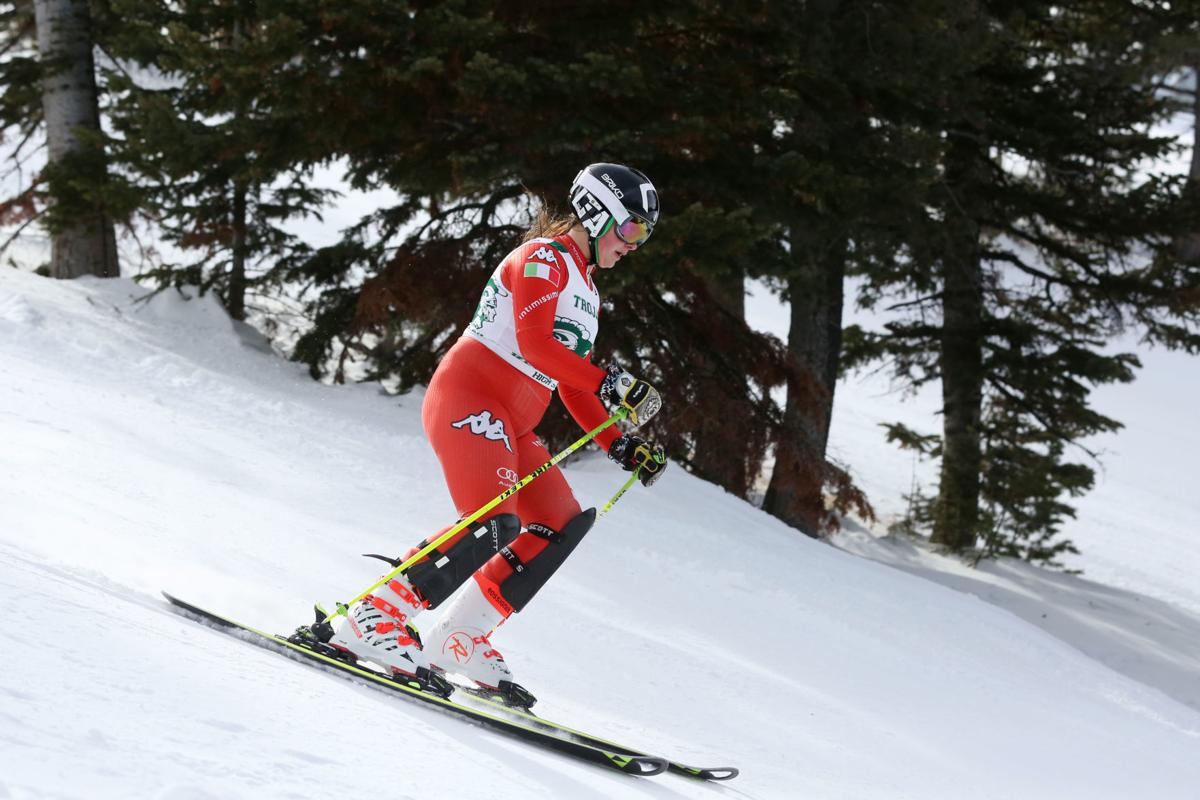 Perched atop a course constructed on a mountain, Ludovica Polvara stood less than a minute from the bottom and over 5,000 miles from home.
She exhaled and pushed her body off the starting ledge. That's where she's comfortable. "At least I have some idea of what I am doing when racing," Polvara smiled.
Polvara is a foreign exchange student originally from a resort town in Italy that holds roughly the same populace as Casper. There she spent her days on either the slopes or beaches, sharing her views with her Instagram followers. The social Kelly Walsh senior's overcome a bout of homesickness and residual injury to become a beloved member of Wyoming's ski community despite not knowing much about the least-populated state in the nation before hopping aboard a stateside-bound plane.
Her exchange student company chose the location. She only got to choose the preference of geographical advantages. She wanted to keep skiing despite tearing her ACL in a skiing accident a year ago. The company matched her with Casper and she arrived on Aug. 10. She didn't know anyone, obviously, so she joined the swimming team. A few of those teammates also ski. "Ludo" knew who to warm-up to right away.
"The people here are really nice so it's easy to make friends here," Polvara said.
Kelly Walsh alpine ski coach Ben Schanck has doubled as her exchange coordinator. He's almost constantly marveled at her willingness to throw herself into unknown positions. In the first few days of ski practice her comfortable true self blossomed.
"You wouldn't necessarily know she was new because she's a very open kid that makes relationships with other kids easy," Schanck explained. "She really just kind of mixed right in. A lot of positivity. She's one of our biggest cheerleaders, not just for us but for everybody."
Polvara's infectious smile was noticeable from afar as she cheered on skiers from Cody and neighboring Natrona County alike before second runs at the Kelly Walsh Invitational last month. It's just something ingrained in her soul. How could she not be her happy, friendly self when she's sharing what she's always loved with a recurring group of soon-to-be friends?
"I've always been a skier, I've always loved it," Polvara said. "It's always been a thing that I'm doing with my dad. And then I started the ski team at home when I was 7. I don't like competing that much but I like going to races with my friends, hearing them cheer, them cheering me on. That's the best part of the race.
You have free articles remaining.
"It's cool to ski down and see how you're in this beautiful place. The best part is the friends and the experiences."
She's shared those experiences, and her infectious smile, with nearby and international friends alike through the Instagram account she started back in 2015. She's only had 38 posts but totals over 1,300 followers and averages over 300 likes because of her atmospheres. She's posted updates on her travels in Ireland, New York, California and from her first-time experience with American football watching the Wyoming Cowboys at War Memorial Stadium. She hasn't figured out how that game works but she enjoyed that trip. She's also fondly posted about her hometown of Lecco — showcasing the beachfront of Lake Como to the West as well as Monte Resegone's 5,450-foot elevation above the city, just 50 kilometers (31 miles) away from Milan.
"I like taking pictures and I like sharing pictures," Polvara explained. "I've had it for awhile and I've traveled a lot, met a lot of people. Instagram is the best way to keep in touch with people so that's how I get a lot of likes."
The support system she's built through the social media app served her well during the Christmas season. That's a particularly family-oriented time for Italians and for the first time in her life Polvara spent the joyous holiday season away from those closest to hear heart. Despite all her travels, this has been the furthest she's ever been from her family. That's taken its toll.
"Ski practice really helped her get through that," Schanck said. "It helped her get beyond that because she really was going through some homesickness there."
Throwing herself into the escapism of her passion and new friends, Polvara is establishing herself as a budding skier in the states. Wearing a full orange jumpsuit with the signature "ITA" initials of her native Italy down her right side, she has routinely posted top-10 finishes this season.
Then came the knee tweak at the meet in Pinedale. That was the first time she felt her knee jolt in her first season since knee surgery. So Kelly Walsh's training staff went to comfort and prepare her.
"We've got her working with our trainer and doing specific exercises to get that out of her head," Schanck said.
Polvara's stayed in contact with her ski coach back in Italy. He's said he can't wait until she comes back to the Italian slopes. Schanck said he doesn't want her to go home. He wished that he could have another few years of "Ludo." Her teammates wouldn't mind more time with her either.
At least they'll always have Instagram.
Follow sports reporter Brady Oltmans on Twitter @BradyOltmans
Get in the game with our Prep Sports Newsletter
Sent weekly directly to your inbox!