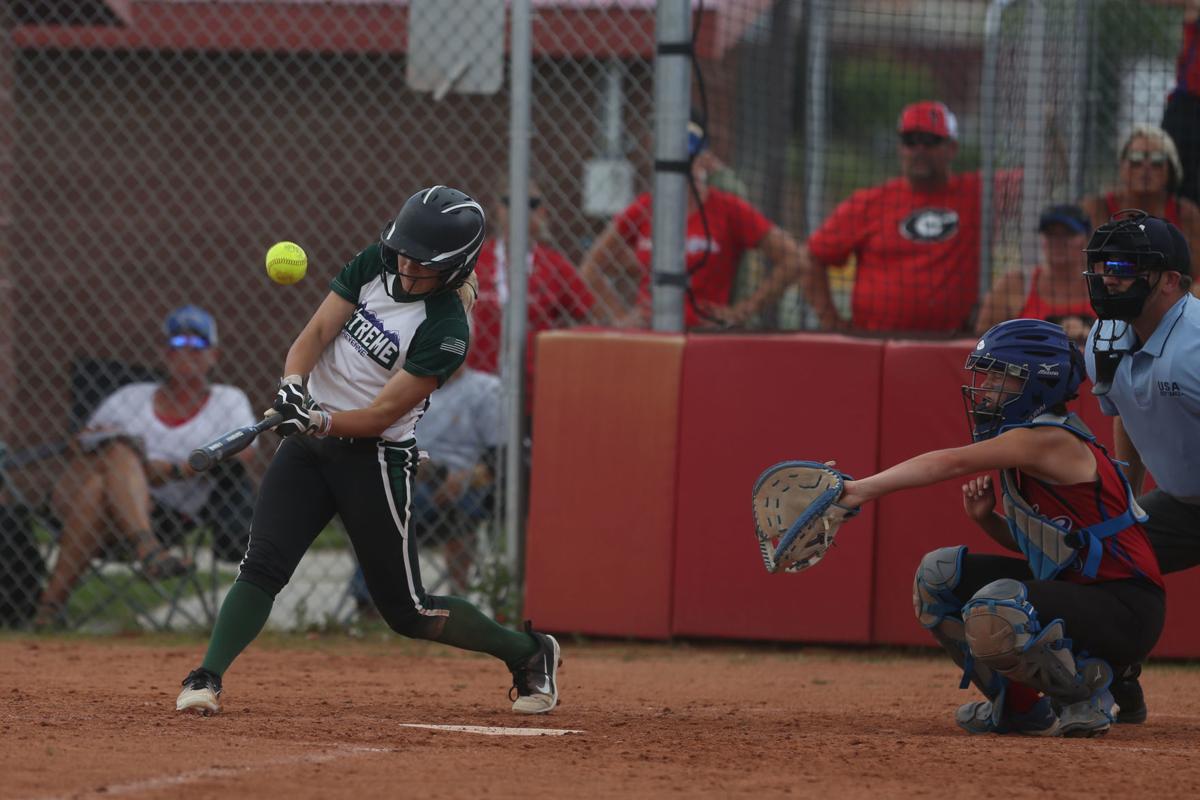 Sweetwater County School District No. 1 was the first school district in Wyoming to vote in favor of high school softball. The vote came at a school board meeting in October 2018, with approximately 150 girls, parents and supporters in attendance.
One of those to witness the landmark vote was Heather Anderson, treasurer and coach with the Rock Springs Storm.
"We have a huge softball community here and I think we had a lot of support," Anderson said. "We had girls come back from when the fall ball movement started. That's incredible and I commend those girls. Some are 17 and 18 and they won't get the chance to play, but they did what they could to move forward with it."
Anderson has lived in Rock Springs her entire life, save for a short 4-year stint in Laramie while attending the University of Wyoming. She told the Star-Tribune that she's been wanting to play women's softball for 35 years and she's actively helped push the possibility of high school softball for the past 12 years.
She aligned with Keith Ungrund, a coach and then-president of Cody Pride. Ungrund spearheaded the outreach and Anderson called out to other softball communities across the state to pressure their respective school boards.
For years she'd seen Wyoming high schools, and by extension the Wyoming High School Activities Association, sanction more boys sports than girls. She thought the inequality would have been dealt with years ago with Title IX, but 47 years after that landmark ruling the Equality State kept an unequal amount of opportunities.
"Even when it's about softball, it's not about softball," Anderson said. "You always thought with Title IX we were going to get this because it's the right thing to do. But here we are years later and it hasn't been done."
Then came the addition of Park County School District No. 6, a vote she counted on because of Ungrund, upcoming Cody Pride president Erin Evans, and the vocal softball community there. The dual high school systems of Natrona County School District No. 1 and Campbell County School District No. 1 brought the softball movement to within one school of their goal. That's also where their first moment of doubt came.
The Albany County School District No. 1 board split a vote 4-4. One board member was retiring while the others wanted to wait until new budget numbers came forward.
You have free articles remaining.
"We had momentum, but they decided to table it and that was a real concern," Anderson said. "Gosh, what happens now? Do people table their efforts, do we have to go through the court system?"
Anderson and Ungrund were prepared for the judicial system had softball not gained enough votes. Then came a revisited vote from ACSD and softball had the votes. The WHSAA, which had been arranging a softball season, unanimously voted in favor of sanctioning softball on first and second reading. Those board of directors maintained that if the schools were there, they'd sanction softball.
Laramie County School District No. 1 approved softball between those first and second readings, adding all three Cheyenne high schools to the slated softball programs.
Evans, who took over in Cody for Ungrund, learned of the official announcement from her colleagues. All their hard work had paid off.
"The addition of high school softball is the result of players, parents and coaches from every corner of the state coming together and working towards providing more opportunities for girls to be involved in a team sport," Evans told the Star-Tribune. "Softball teaches girls strategy, sacrifice and how to work together. Learning these skills help girls develop the necessary attributes to be successful in life. The benefits of playing softball will continue past high school.
"Having the chance to compete at the high school level will lead to the receipt of scholarships for some girls to play in college. Thank you to every person that has helped to make the dream of high school softball a reality."
The specifics of the first softball season, to be played in the Spring of 2021, remain unknown. The WHSAA has made plans for scheduling softball during its next scheduling meeting in 2020. They also stated at Tuesday's board meeting they plan on implementing a soft deadline for additional programs to start softball programs around the start of the new year. That's so they don't have to deal with additional teams after making initial schedules. There's also the need to schedule camps, certifications, officiating and coaching clinics.
While not official, the current softball calendar is planned to begin and end the same weeks as soccer and track seasons. Gillette's made a bid to host the first two state softball tournaments at the Energy Capital Sports Complex.
That's left more work on the table. Not only for the WHSAA but for those who aided the grassroots movement. Anderson, for instance, will continue to coach Rock Springs Storm in the summer and work with her respective school district going forward.
In the meantime, she's taken the moment to enjoy the culmination of 35 years.
"You'd thought it had been a forgone conclusion for a long time but it was a real fight," Anderson said. "It's amazing. Long overdue."
Follow sports reporter Brady Oltmans on Twitter @BradyOltmans