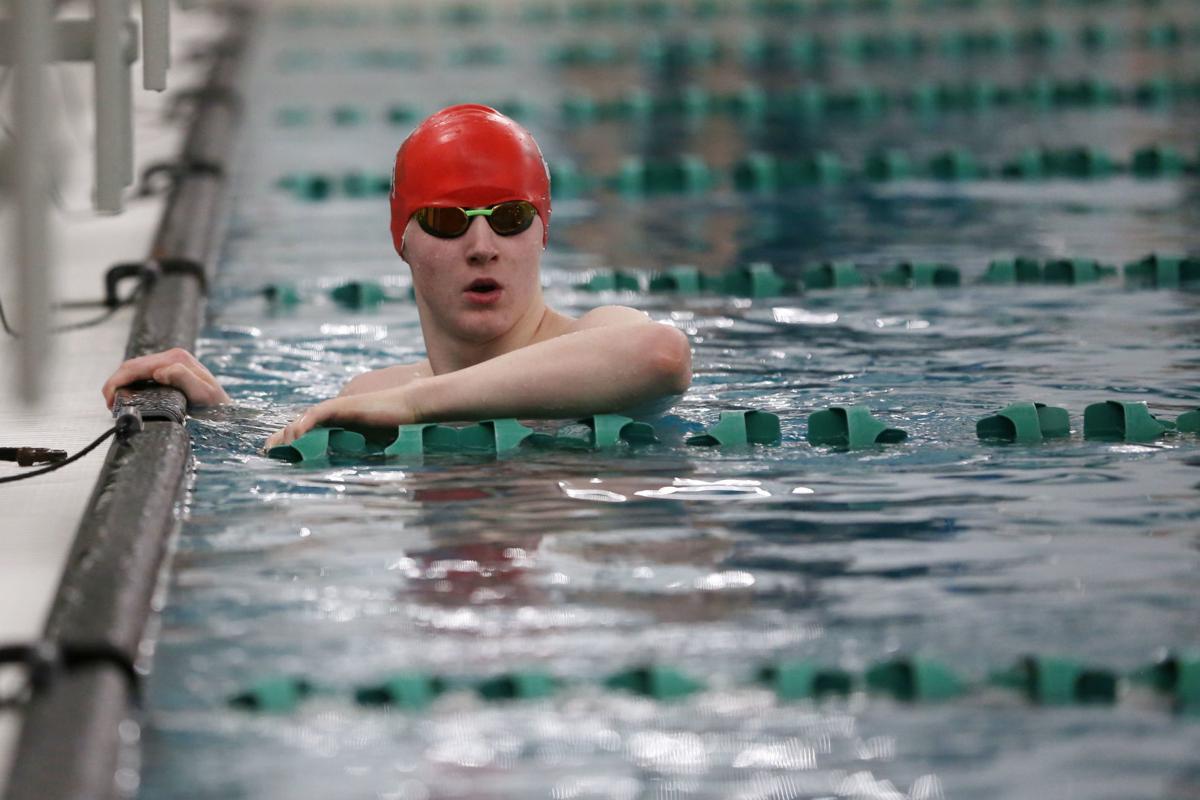 Ethan Merrill was a standout swimmer for Cheyenne Central before he jumped into the pool at the team's first practice this winter. He'd hardly gotten his bearings when Central coaches started instilling the mantra: "Start with the end in mind," into an ambitious team.
With wisdom beyond his 14 years, the Tribe's freshman has already come into his own while cutting through pain and metaphorical walls. During last month's Kelly Walsh Invitational he took time to share each component of his first high school year and the confidence boost he gained before it.
As a primer, almost a taste of what he could accomplish, he conquered his first noticeable obstacle during what Wyoming swimmers call "Summer State" before he started high school. In a classification-blurring race, he squared off against Lander standout Jonny Kulow in the 200 breaststroke and conquered the course in 1 minute, 2.41 seconds, beating one of the state's finest.
"That was kind of an eye-opener and I almost beat him two nights before in the 100 so I was kind of ready for that," Merrill said. "That was really where it showed that all the hard work paid off."
The youngster admitted training for that race was a "different kind of animal" because it meant swimming the course in a 50-meter pool instead of Central's typical yards pool. As grueling as those training sessions were, he came out on the other side of it with a tangible result and brimming confidence.
At that Kelly Walsh Sprint Invitational just before Christmas he swam as part of two relay teams and in the 50 and 100 free. This is where his remarkable maturity comes into play. He casually mentioned how he doesn't like swimming the 50, dropping only a slight grin, before he acknowledged why he was in that event.
You have free articles remaining.
"I'm accepting that I'm not going to be doing the events that I want to do," he said. "Obviously (at the Kelly Walsh meet), we're just trying to see what we can do. In most meets I'll be in events where I can get the most points for the team, and that can include events that I don't like."
Merrill's impressive maturity has also shown in what he's taken joy in this season. More than his state-qualifying times or event victories, he pointed out that he's taken the most pride in watching what his younger teammates have done with their times. The first few weeks of the season were high-intensity with lots of yards, even forcing Merrill to tweak a few back muscles and force him to swim in pain. His teammates endured the same workouts and saw immediate improvements.
"My favorite thing is just watching the other kids who aren't as good on the team," Merrill beamed. "It's super fun to see them cut chunks of their time off and get super excited about that."
The freshman knew he wouldn't cut that much time off, at least until he started tapering his workouts, so he took solace in his teammates' joy. A month later, he's cut into his times just enough to further his place in the standings. He posted state-meet qualifying times in the 100 breast and 50 free during Central's dual with Cheyenne East last weekend in addition to swimming on two winning relay teams.
The 100 breast is, admittedly, one of the freshman's best events. He hopes to continue swimming that in the final month of the season in order to improve on his current event-best time he posted at the Gillette Pentathlons. Maybe then he'll be satisfied with his opportunity of earning medals at his first state meet. Or even help contribute to Central's push for a team title.
"I think we've certainly got things in mind for the end of the season," Merrill said.
It's still the beginning of his high school career and there's plenty of room to grow. But Merrill has internalized his coach's advice and he's starting with the end in mind.
Follow sports reporter Brady Oltmans on Twitter @BradyOltmans