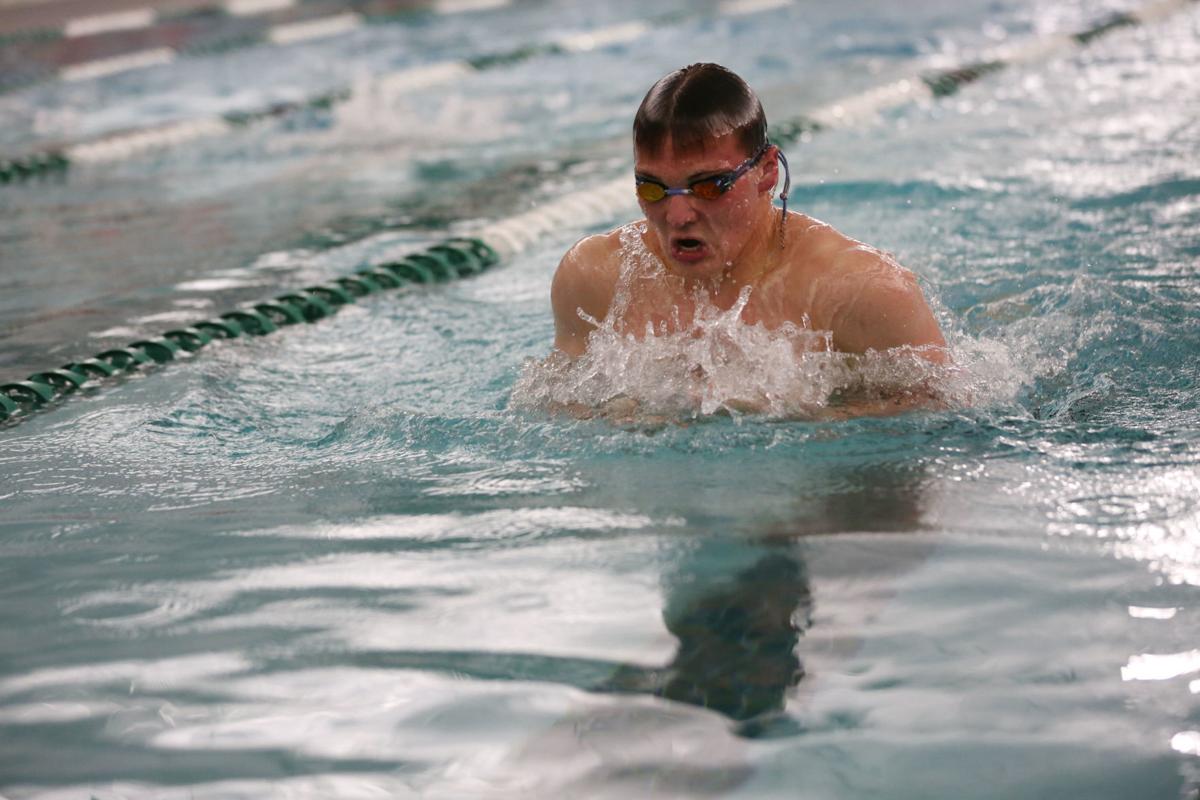 Nearly eight years ago Kellen Chadderdon entered the pool for the first time. He'd tried other sports — soccer, football, baseball, etc. — but none of them captured his heart and attention like that first time he swam lengths. On Wednesday he made the official decision to continue his competitive swimming passion for another four years.
In front of friends and family in his own Kelly Walsh High School, Chadderdon signed his letter of intent to swim at the University of Wyoming after his graduation from Kelly Walsh.
The senior spoke with the Star-Tribune previously, at the Trojans' home Kelly Walsh Invite last month. He didn't talk about his decision then as much as his love for the sport he gets to continue, and the lack of pressure he swims with in his final season.
Chadderdon, a multi-year standout for the Trojans, revisited the first time he submerged and how the rest of his athletic outlook fell into place.
"I hopped in the pool and felt it instantly," he reminisced. "I love getting better, I love going faster. I love that feeling you get when you walk out of the pool and you're just like, 'Man, I got that much better today.' It's my favorite thing in the world."
The reigning 100-yard breaststroke state champion, who swam at the Arena Western Zone Series Finals during the summer, has already posted nine first-place finishes this season.
Those are impressive stats to throw out so soon but the swimming season is short and the Trojans haven't taken it easy in the pool since the start of practice.
You have free articles remaining.
"We're tired, we've been training hard," Chadderdon shared. "But we feel really good. I love swimming so it's just awesome to come and compete on the weekends."
The senior said that he, along with his teammates, still have noticeable room for improvement. He's developed into more of a leadership role this season than in years' past. As one of the few seniors on the team he's enjoyed setting a standard for the rest of the team to follow, as well as extending a helping hand to his younger teammates. This has been evident in the relay teams thus far.
Chadderdon's swam on all three relay teams this year. At the Kelly Walsh Invitational he swam on just the 200 medley and 400 free relay teams. Both of them won. Those relays are a direct tie between Trojans seniority and youth, and their golden results draw the rest of the team even closer.
"We stand behind the blocks and we huddle up and we say a prayer on those relays," Chadderdon said. "It means so much to each one of us, to have that fellowship with us. We've just got that strong bond between the younger guys and us older guys."
One of the items the Cowboys' latest signee is conscious of: pressures. He swam on the Kelly Walsh team two seasons ago that felt the weight of golden ambitions and struggled at season's end. So he, along with his classmates, go through this season without pressures.
Sure, they've got goals for the season. Each swimmer has their benchmark times or accomplishments they want. But what's made swimmers like Chadderdon so successful has been harnessing that same love they found in the pool years ago instead of focusing on the pressures at the end of the line.
"The big thing is just having fun," he said. "A lot of seniors feel like they have a lot of pressure on them to perform really well. They'll say, 'This is it, last race of my life.' Then a lot of them end up choking the big one. Really, this is about having fun."
Each weekend for the rest of the season, right up until the state meet in late February, he's focused on doing just that. And signing to continue his swimming career at a Division I school, that's pretty fun too.
Follow sports reporter Brady Oltmans on Twitter @BradyOltmans