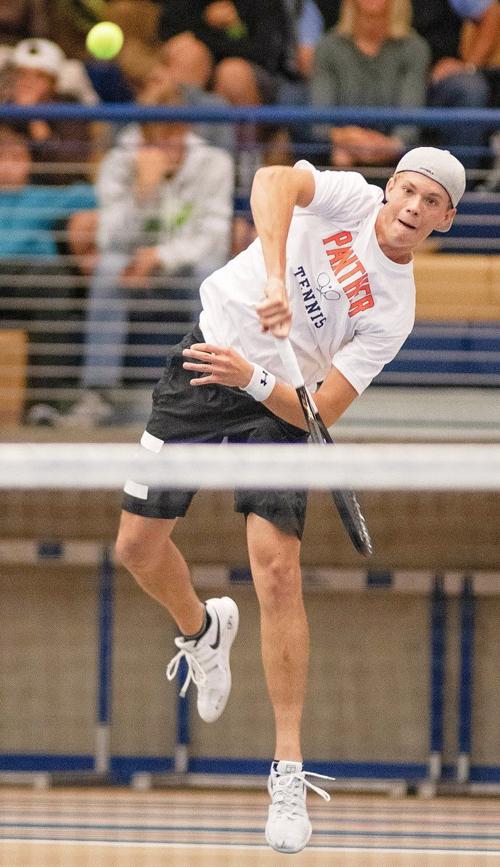 Achieving new marks in the spring track and field season could have opened some collegiate doors for Dylan Preator. He'd worked meticulously each previous year and this time he rode the momentum of a historic state tennis championship into the winter, where he made podium in two indoor track events.
Uncertainty in not knowing what could have been has sometimes been the hardest part. Preator and every other high school athlete from Wyoming and 23 other states have seen their spring sports seasons canceled due to the coronavirus.
"There could have been a lot of different events I could have done well in and that's where I determine to do what's best for the team," he said. "I think we could have been in good competition for a state title and I could have done well at pole vault."
The Powell senior tried to get track scholarships for college. He's allowed that ship to sail and instead remembered the historic season he was able to put together in tennis. In the fall Preator successfully defended his No. 2 Singles state championship and helped the Panthers win their first team tennis championship in program history. Pitted against the rest of the state in the one-class sport, they'd proven themselves before consolation and championship matches.
"I told people I was just along for the ride," Powell tennis head coach Joe Asay laughed. "It was a remarkable opportunity for Powell tennis to not only compete at a state-wide sport but be able to get out there and dominate. We had it locked up before the day was done on Friday."
That was certainly a team effort. Preator originally played football but couldn't find playing time and tried tennis after playing recreationally in the summers.. He finished his last two years as Powell's No. 2 singles player — winning the state championship at the end of both years.
"As he went through that junior year he scraped and fought and didn't have great results but at the state event he got it done," Asay explained. "It was really just getting out there and playing a match as a junior, winning that title and just establishing himself as a dominant player for us."
Powell felt like they could have made a charge the previous year, but outlying factors just never came together. So this past fall the Panthers combined their potential with energy in order to make it happen.
"I knew we could compete because in the years past we competed pretty good but I never really knew we could execute," Preator said. "Then I knew after the first few (matches) that we were going to have a pretty good shot. After we put so many into the semifinals I knew gold was assured."
Powell put an individual or team into every semifinal. No. 1 single Jesse Brown finished fourth, the No. 1 doubles team of Aidan Jacobsen and Justin Vanderbeek finished second, as did the No. 2 doubles team of Grant Dillivan and Ethan Bartholomew. The No. 3 doubles team of Jey Cox and Logan Brown joined Preator as state champions.
Asay described Preator in terms of athleticism. The silver-medal triple jumper, finalist sprinter and pole vault hopeful can cover the court quickly and find the resilience to answer in trying situations. That resilience sometimes opened the door to victory.
"He'd start matches against opponents and get in their heads," Asay said. "I'd never seen a kid move so quickly and cover the court."
Preator, like everyone else, was disappointed by the track season's cancellation. When it was merely suspended he'd go out to the track with a few friends and they'd go through workouts.
"Once the (Wyoming High School Activities Association) canceled it I didn't have the motivation anymore," he said. "That was devastating."
He felt the Panthers had the potential to win it all — just like in tennis. Now they'd never get a chance to prove it.
Preator's decided he'll likely serve his 2-year mission for the Church of Latter-day Saints and then pursue a physical therapy degree. His collegiate athletics prospects ended before he could stake his name and potential. So he's left that in the past to focus on his future.
Follow sports reporter Brady Oltmans on Twitter @BradyOltmans
Get in the game with our Prep Sports Newsletter
Sent weekly directly to your inbox!