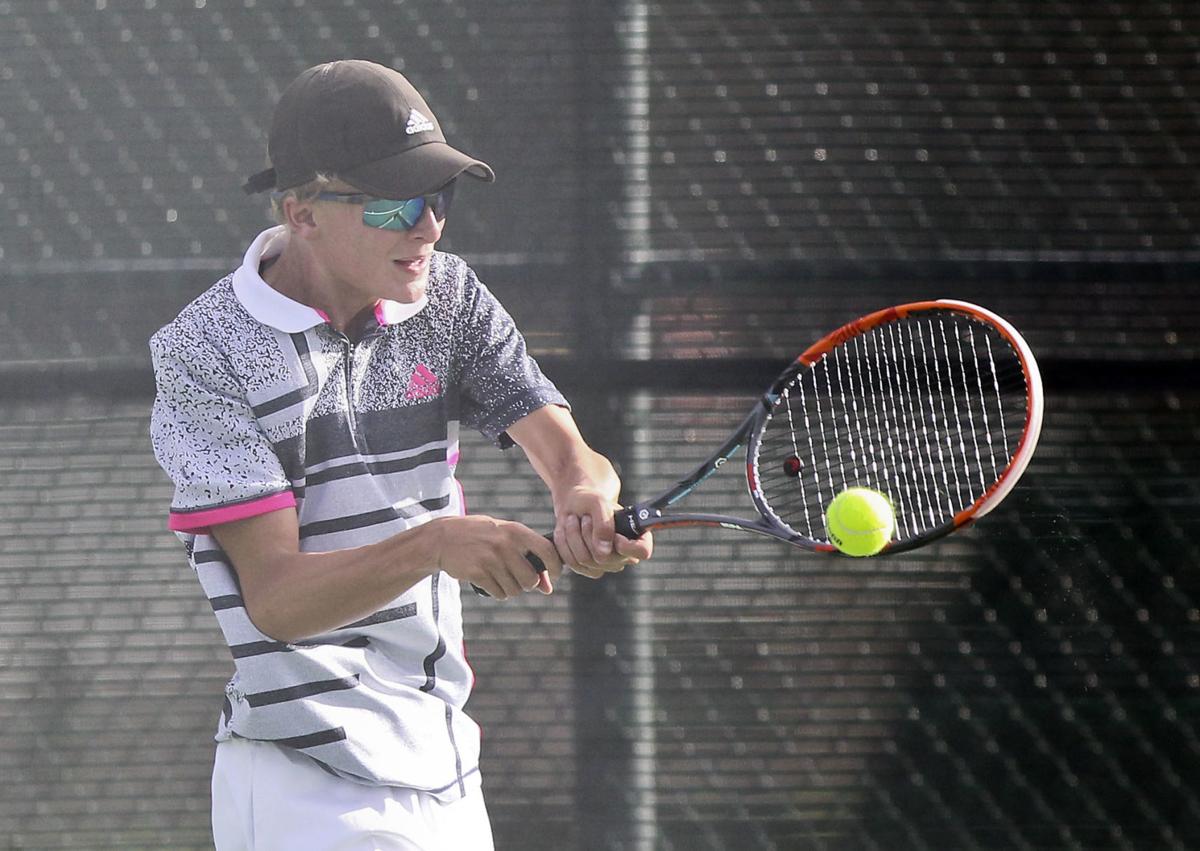 Wyoming's tennis community needed a spark. Almost impossibly that spark came from a former hopeful hockey player.
Brendan Lock laid the groundwork to an impressive tennis career throughout his time in Cheyenne, overcoming the stigma of his native state and his high school that never won a duals match before he arrived. He wanted to just play tennis. Then he wanted to get a Division I scholarship. Then he wanted to take Cheyenne South tennis to new heights. He's set to graduate with all three accomplished, pulling more goals onto his horizon.
Earlier this year Lock signed to continue his tennis career at Dixie State — a Division I-bound program out of St. George, Utah, scheduled to start a men's tennis program in the fall of 2020. By doing so he's found himself in a similar position he inherited as a freshman phenom at South.
"Even though South started back in 2009 the team wasn't really quite as successful as what we did last season," Lock told the Star-Tribune. "We helped build a stronger team and create new goals for next season, and that's what's going on at Dixie State."
Lock was a perfect candidate for Dixie State's inaugural team. Josh Cossnitt, Lock's private and high school coach, has witnessed a young man made to lead by example ever since they first connected when Lock was a fifth-grader and just a year into his tennis career.
The college-bound athlete started playing hockey when he was 3 years old. He loved it and grew into a capable left wing. But since ice time's scarce in the summer, he decided he needed something to do. He watched his sister try to get into tennis and decided to give it a try himself.
"It just went on from there," Lock said. "I just realized I got hooked into that."
Already trained with impressive hand-eye coordination through his time on the ice, Lock quickly turned heads. Cossnitt said that even as a sixth-grader Lock would have competed for the top four at any high school program in the state.
Lock then came to the realization that he wasn't built for hockey's longevity. Even then he was undersized and playing among giants. So he shifted his attention to tennis. That immediately elevated his game. He'd already been a promising prospect at regional tournaments, but his shift heightened his reputation even further.
"He was maybe the best player in the state as an eighth-grader," Cossnitt testified.
Lock's always been a goal-driven person and, admittedly, he wanted to be a four-time state champion. He appeared well on his way with an undefeated freshman season heading into the state meet. He won his first three matches, moving him closer to his immediate arrival. Then he stared across from Gillette's Dawson Miessler in the finals. Miessler was more familiar with the speed and spin placed on the ball. He was also bigger and stronger. The hometown crowd cheered Miessler as the Camel withstood Lock's long-term strategy to win the championship.
No surprise, that match has continued to eat at Lock.
"Basically, I wanted to clean the slate the entire match and just restart it," he said. "He had size and strength, he was hitting stronger balls and he was used to the court surface. The crowd was in his favor also. None of those things were really on my side."
That was the only time he would ever lose in his high school career. Lock went undefeated throughout his last three years to finish his high school career with a 74-1 record. The Bison standout credited his physical and mental maturity throughout each year to help him reckon with the changes and grow.
During that time he approached his goal of gaining a Division I scholarship. That process started last year and ran throughout this past December. He hoped to sign by then but the world of collegiate recruiting can be harsh. Lock needed to compete for one of only four full scholarships spots divided out against teens from across the world.
"He knew you've got to fight for offers and get a D-I coach to look at you," Cossnitt said. "You're competing against the world for spots and coming out of Wyoming the exposure is a bit minimal."
Lock attracted some attention from Northern Colorado and Montana State but grew comfortable with playing at tournaments in Las Vegas. Coaches at Dixie State in nearby St. George fancied his abilities. They'd begun recruiting to join the Western Athletic Conference after spending previous seasons in the NCAA Division II Rocky Mountain Athletic Conference.
Following a visit to the campus Lock made his commitment.
"I figured just because it's a lot warmer down there throughout the winter," Lock said, "and I'll have time to train all day and get the school work done to improve."
Cossnitt summarized Lock as one of the best athletes he's ever coached. Not only has the former hockey player elevated Cheyenne tennis, he helped a South team — that had never won a duals match previously — to a winning record this last year. He's played in some 200 matches, outside tournaments included. He was voted homecoming king and attended possibly his first high-school dance afterwards.
The South coach mentioned Lock's younger twin brothers, upcoming freshman. Time will tell if they're able to match their brother's standard. That's a tall task. After all, he elevated tennis for the entire state of Wyoming as well as the Lock family. And he's ready to do the same at a new program.
Follow sports reporter Brady Oltmans on Twitter @BradyOltmans
Get in the game with our Prep Sports Newsletter
Sent weekly directly to your inbox!