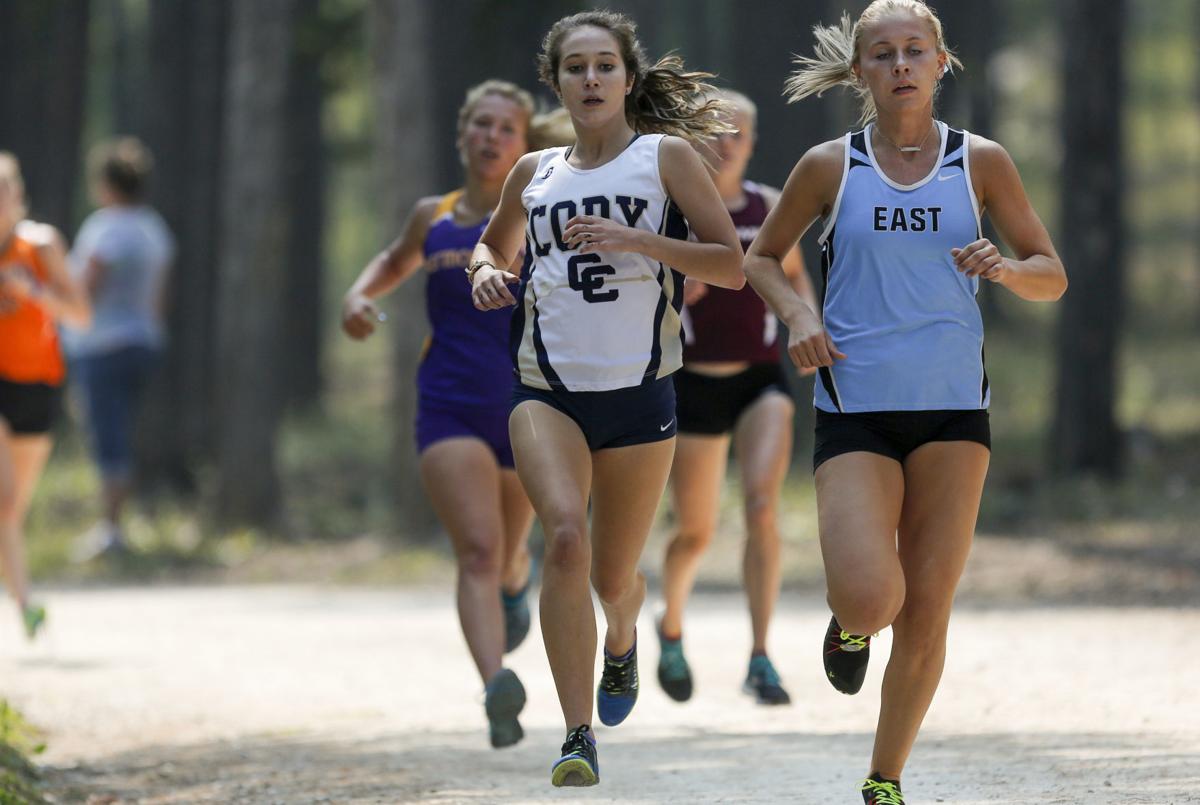 Even on a day when Sutton Perry thought his legs didn't have it he simply dug deep and remembered: beat dad. Perry's father cleared 6-foot-5.25 in high jump back in high school. So the Douglas senior wants to clear 6-6 this year.
Perry won the high jump at Saturday's season-opening Natrona County Invitational at the Mustangs Activity Complex and stood alone in the spotlight trying to break 6-6. Either his back or his heel clipped the bar every time. His quest to better his dad continued for at least another week but he still felt good about the win, especially considering he surprised himself on getting up that high.
"This is my first meet so it feels good to come out like that," Perry said. "And last week I only had one day of practice so it's nice to come out and start like that."
Perry comes off a fourth-place high-jump finish during the indoor season (5-10) and a bronze finish during the outdoor season (6-0). He stated that his goals for the season are the aforementioned 6-6 jump, maybe even 6-8. He'd also like to win state, which would very well come with a leap like that. Or, as Perry summarized his goals, "the usual."
He thinks that he could do it. Not only because he surpassed everyone else on a day when his legs weren't feeling up to the challenge, but because he's one of the few young faces left standing.
"It's kind of exciting to come back when all those other kids have graduated," Perry said. "I thought I might be the top dog this year."
You have free articles remaining.
Cody junior Riley Smith provided another dominant performance in the season-opening meet by winning the 1,600 with a near 14-second gap between herself and the competition. Smith finished in 5 minutes, 12.52 seconds, a satisfactory start to the season after a trying few months.
Smith finished second at the Class 3A state cross country meet while her mind wandered. She didn't feel like she was where she needed to be, mentally, at the end of the season. So much so that she didn't even attend Nike Cross Regionals. She just wanted the season to be over. So she took a few weeks off before returning to her training. She wasn't sure what kind of shape she was going to be in this weekend.
"I just started running a lot of miles," Smith said. "It takes the first race to get back into the groove."
At this time last season she would have been pleased with a 5:15. This year, not so much; she's got higher aspirations than that. But as she, and her mother (cross country coach Maggie Kirkham) stated, she also ran most of Saturday's race alone and apart from the competition, so it was a promising start. Smith took a lead within the first 10 meters and never looked back.
Smith's not even thinking about this past cross country season when it comes to moving forward. She's reverted her goals back to last outdoor track season and wants to build off that. She set a PR during her sophomore season with a 5:01 and has her sights set on more.
"I definitely want to break 5 (minutes)," she said. "But I don't know if it's going to happen in indoor or maybe outdoor. Definitely would prefer indoor."
Also in the early results, Natrona County's boys successfully defended the MAC in the 1,600 sprint medley with the team of Avery Cox, Isaac Palomo, Nolan Valdez and Mason Henry finishing in 3:48.37. The Cheyenne East girls won the same event in 4:36.54. The Thunder Basin girls and Cheyenne East boys won the 4x800 relay.
Rock Springs senior Alyssa Bedard swept the 55 dash (7.37) and 55 hurdles (8.77). Sheridan's Brock Bomar won the boys' 55 dash in 6.68 seconds while Big Horn's Kyler Ostler won the 55 hurdles in 7.97.
Follow sports reporter Brady Oltmans on Twitter @BradyOltmans