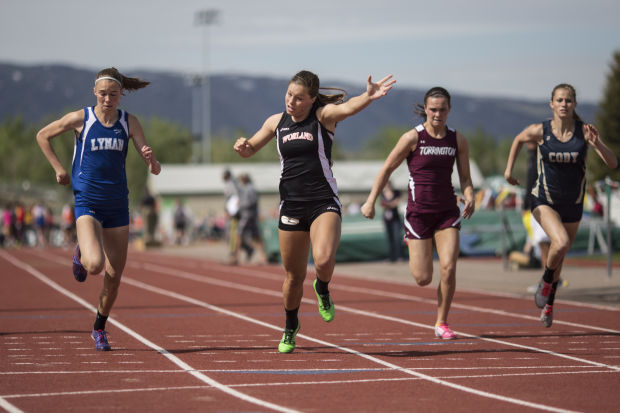 Worland junior Shayna Soderstrom acknowledged the window of opportunity presented by the graduation of Star Valley's Ivy Myers -- the defending Class 3A girls state champion in the 100 and 200 meters -- and trained accordingly following her third-place finish at last year's Wyoming State Track and Field Championship to try to claim the throne as the fastest girl in the classification.
Her preparation paid off during Saturday's finale of the 2014 edition of the state meet, winning the 100 with a time of 12.75 seconds for the first state title of her career. She nearly won the 200 as well, barely finishing behind Powell's KaDee Harrison, who won the crown in 26.29, just ahead of Soderstrom's 26.33.
"I knew from last year, placing at state, that the girls ahead of me were seniors so there was a good opportunity to get a state championship title," Soderstrom said. "I'm still in shock over what happened. It's weird to think that my title is a state-champion track 100-meter dash winner. I can't even say it without wondering, 'How? Why?' but I'm very happy that it happened. It's an amazing feeling, I just don't think it's hit me yet."
Soderstrom couldn't carry over the speed that earned her victory in the 100 into the 200, as she was stymied by a slow start and her limited endurance. Harrison took advantage, pulling away for the win at the very end.
Soderstrom intends to develop greater speed maintenance with the hope of winning both event titles next season, while Warriors coach Dean Dupree said he has plans of adding the 400 to her repertoire. Soderstrom also ran in the 4x100 and 4x400 relays this weekend, though her status as the anchor leg on the former and second leg on the latter demonstrate where her talents currently lie.  
"I can definitely feel myself tightening up. I tense up a lot and I get very nervous, and that's when I need to tell myself to relax," Soderstrom said. "That's something that's really hard for me. The last 10, 20 meters I need to focus on that and finishing." 
Contact sports reporter Jeff Kirshman at 307-266-0615 or jeff.kirshman@trib.com. Follow him on Twitter @jeffkirshman.