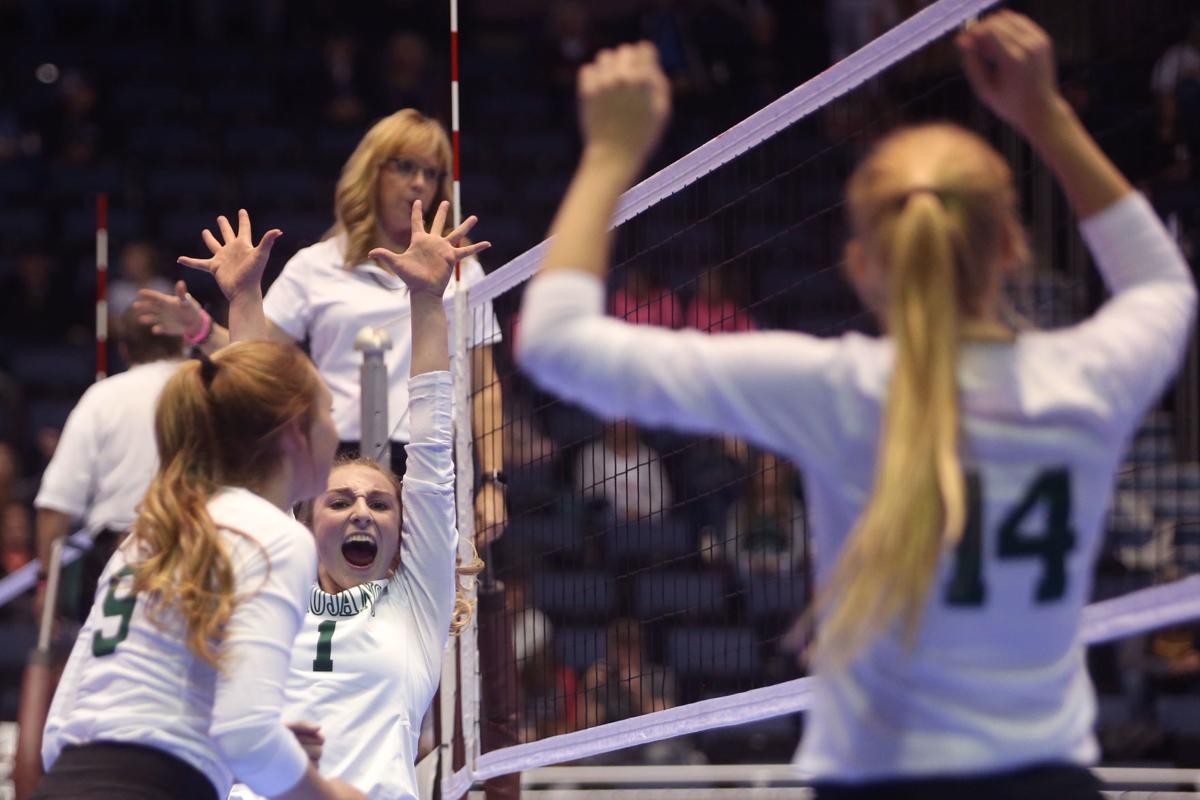 Sufficient victories from Kelly Walsh, Cheyenne East and Thunder Basin made for a chalk Thursday at Casper Events Center in the quarterfinals of the 2019 Wyoming State High School Class 4A Volleyball Championships.
Cheyenne East started the action and survived to live another day with a four-set win over Riverton (25-18, 25-15, 19-25, 25-22). The Thunderbirds stormed out to comfortable wins in the first two sets. Junior Ashley Marshall and senior Madison Blaney led a formidable East attack to wins to establish momentum early.
"I'm pretty nervous," Blaney said. "The first day of state is always nerve-wracking. Especially with our team, we're all really nervous being the first seed on this side."
Riverton, led by University of Wyoming commit Naya Shime, delivered more consistent offense starting in the third set. Shime delivered multiple punishing swings to help the Wolverines regain their footing. And in that set the Wolverines, who missed the playoffs last year, notched a set win over prestigious East.
The Wolverines stayed on the offensive halfway through the fourth set when East turned around a 11-9 deficit. Blaney took a kill to her shoulder for a Riverton point that galvanized the Thunderbirds the rest of the way. East took the lead at 14-13, led 21-19, a Ky Buell ace made it 22-19, and then East held on to win the final set 25-22. With that came an exhale. Onto the semifinals.
Unfortunately for the T-Birds, it doesn't get easier. They'll meet East Conference No. 2 Thunder Basin in the semifinals after the Bolts scored an impressive sweep (25-16, 25-17, 25-22) over Rock Springs.
The Bolts used their versatile attack to gain the advantage early. Senior Rigan McInerney, juniors Gabby Drube, Elsa Clark and Kate Hladky, and freshman Eagan Clark guided the second seed to the cusp of a sweep, where the Bolts had problems closing it out.
You have free articles remaining.
"Whenever we make mistakes we just shake it off," Drube said of when the team's in rhythm. "It just feels like we're playing together and everyone's doing their job and everyone's playing good. We're just prepared for that."
Rock Springs' strength in sophomore Brenli Jenkins and junior Cali Pollastro was called upon multiple times. Jenkins scored a kill through a double-team to cut the lead to 15-13. Pollastro scored a crucial block to spring a Rock Springs' five-point rally that ended with a Bolts timeout stuck on match point, 24-22. Then came the decisive blow, a set from Drube for Clark that her fellow junior put away. And with that came the safety of living to play the following day.
Two-time defending state champion Kelly Walsh also made quick work of its opponent, dispatching Cheyenne Central in a sweep (25-13, 25-19, 25-12).
Freshman Peyton Carruth was visibly nervous coming into the match, fidgeting with her sleeves and shifting her focus to the myriad distractions. But once she put down the first kill she felt back at home.
"It all just kind of goes away and it's just kind of fun to play the game," she said.
The freshman ended the first set with an ace. If there was any doubt of the team's comfort, it was put away with that point. Central played more competitive in the second set but still couldn't overtake the champions. Senior Corin Carruth put away the decisive kill in that set. Then came a lopsided third set that, fittingly enough, Peyton put away with a kill.
Kelly Walsh advanced to the semifinals yet again to play the team they defeated in last year's state championship: Laramie.
The Lady Plainsmen advanced with a clean, powerful sweep of Star Valley (25-16, 25-12, 25-19) on the back of a strong performance from senior outside hitter Jessica Crane.
Nothing but net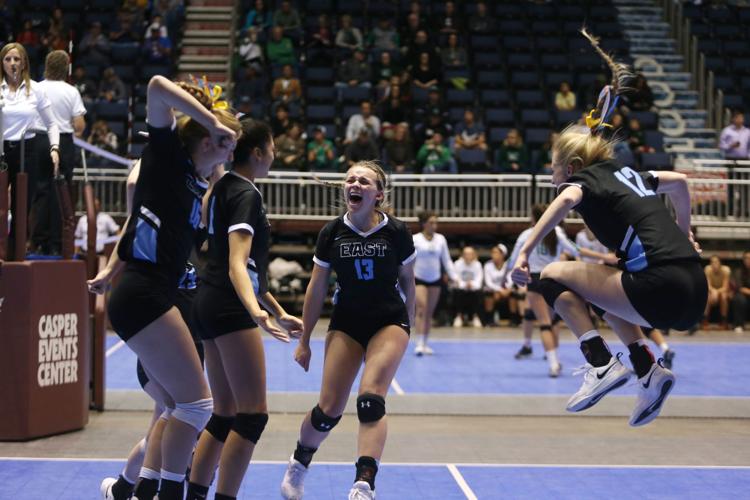 State Volleyball cheyenne east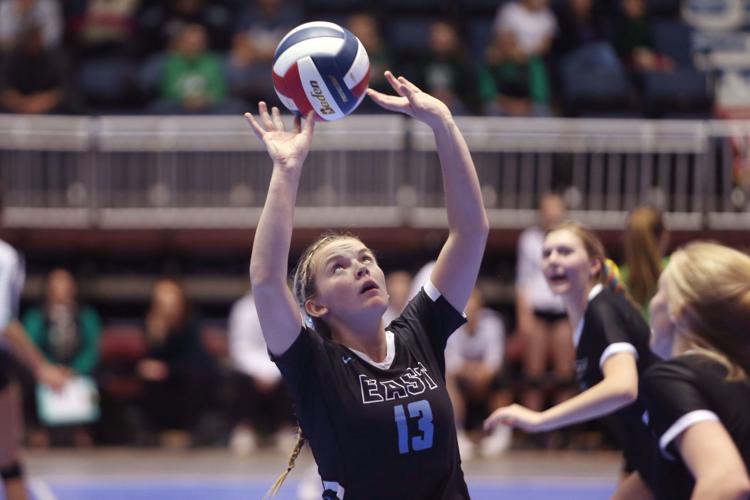 State Volleyball douglas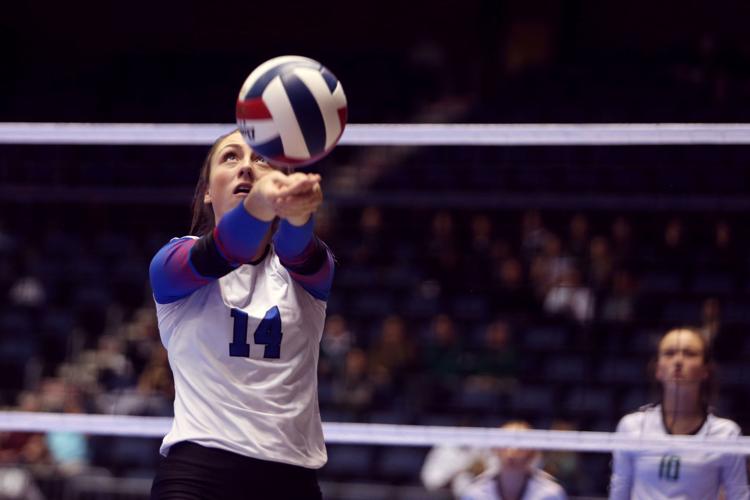 State Volleyball meeteetse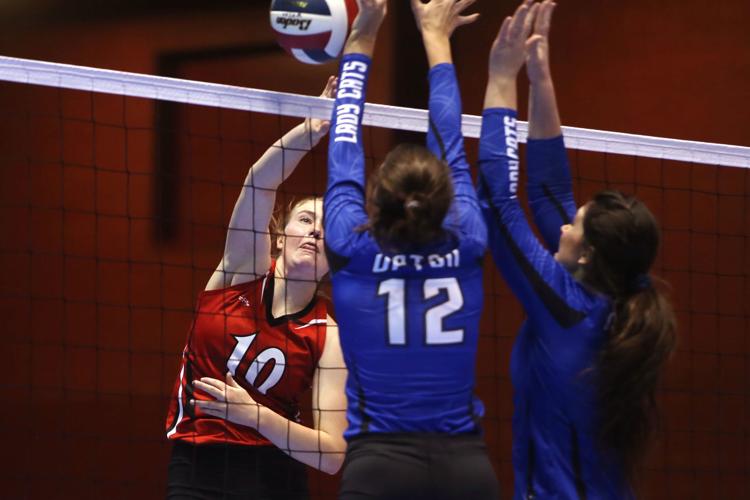 State Volleyball cheyenne east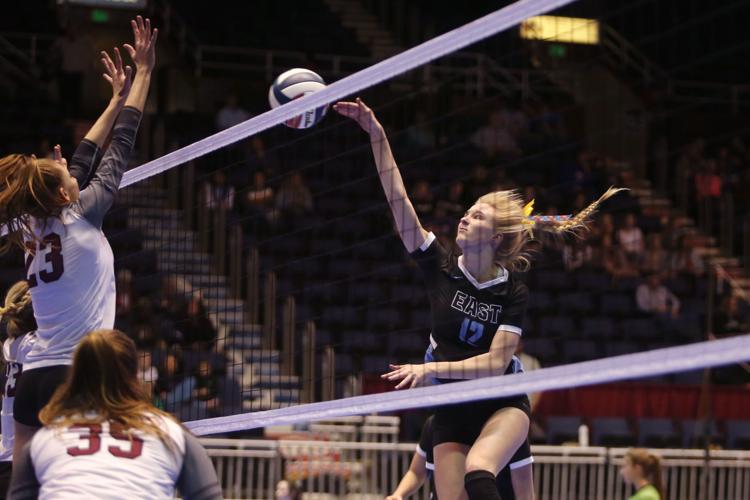 State Volleyball douglas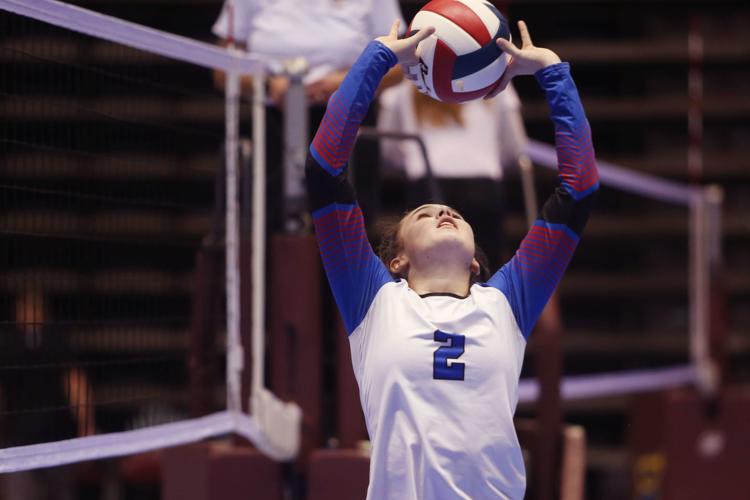 State Volleyball poster photo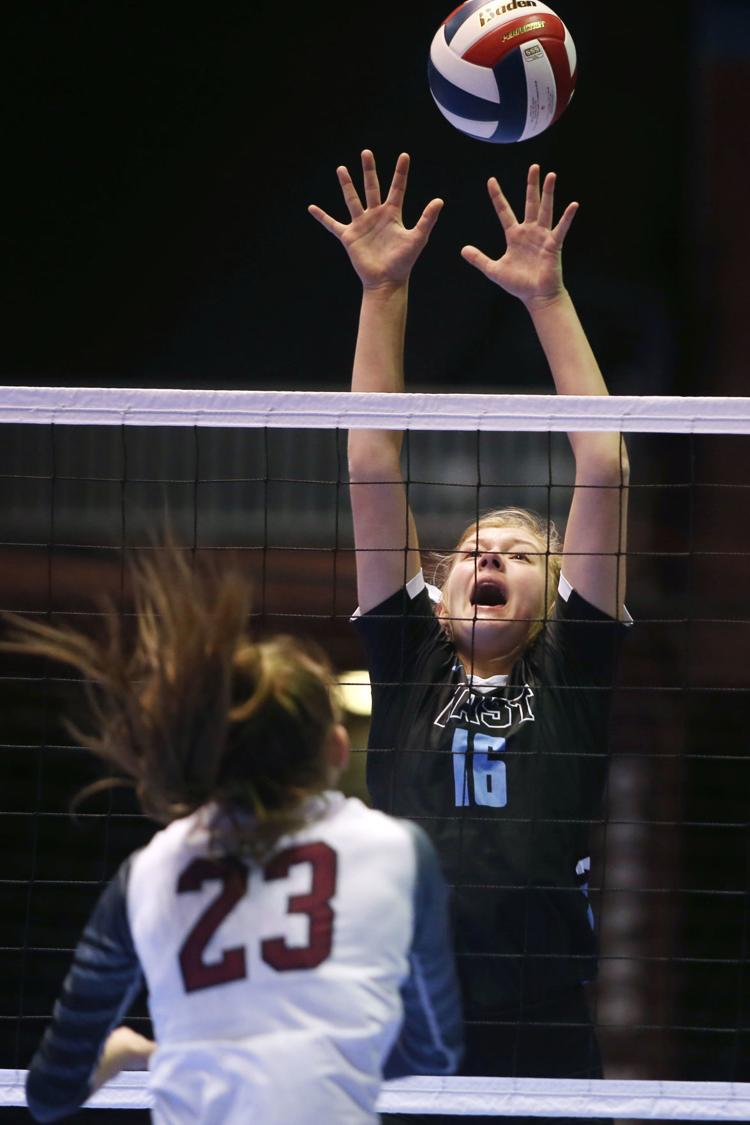 State Volleyball meeteetse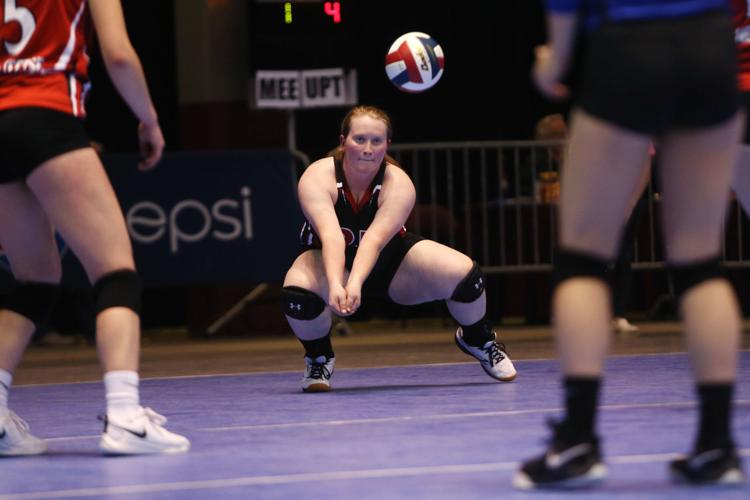 State Volleyball cheyenne east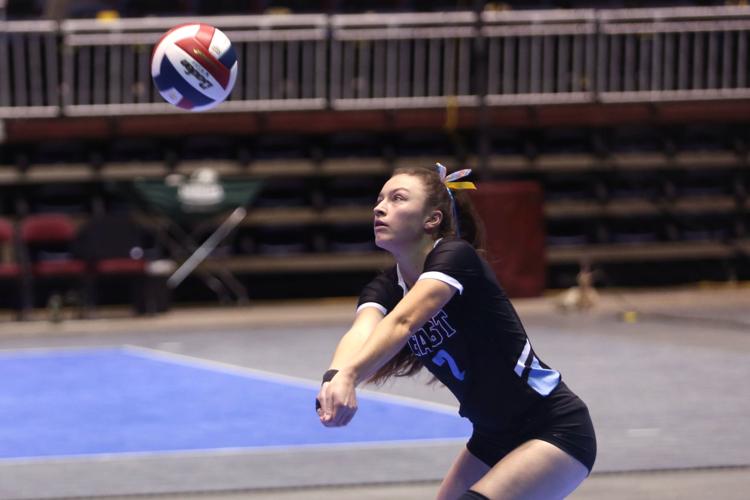 State volleyball Kelly Walsh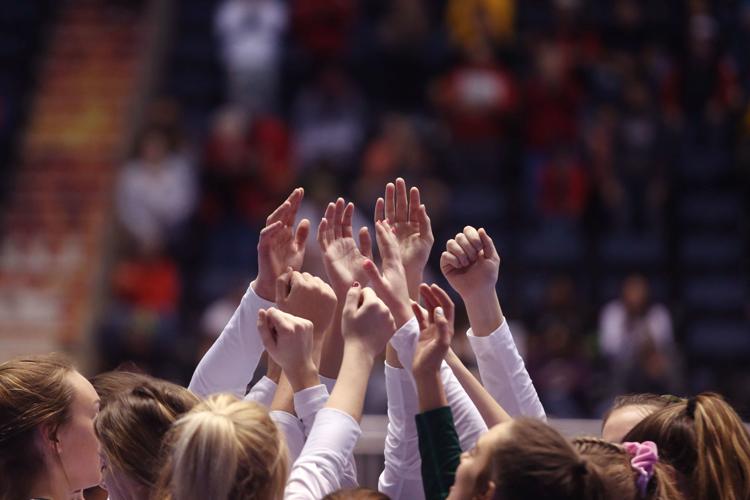 State volleyball Kelly Walsh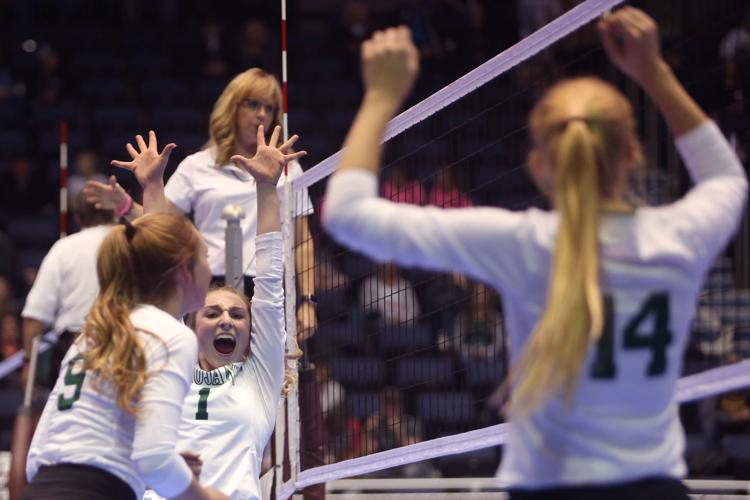 State volleyball Pine Bluffs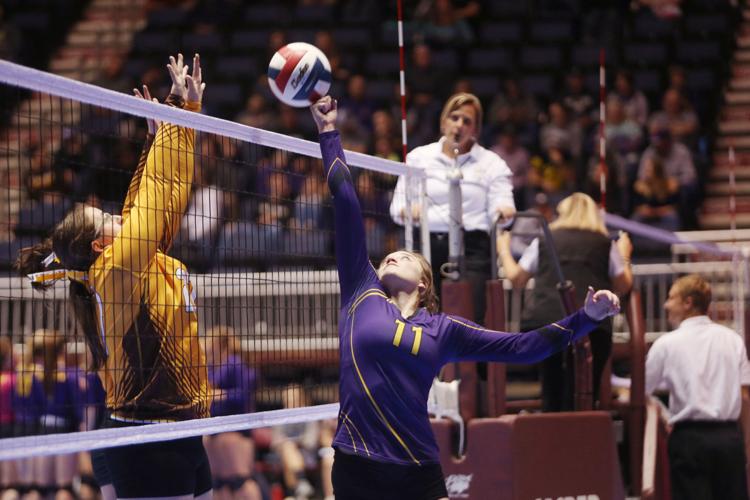 Follow sports reporter Brady Oltmans on Twitter @BradyOltmans