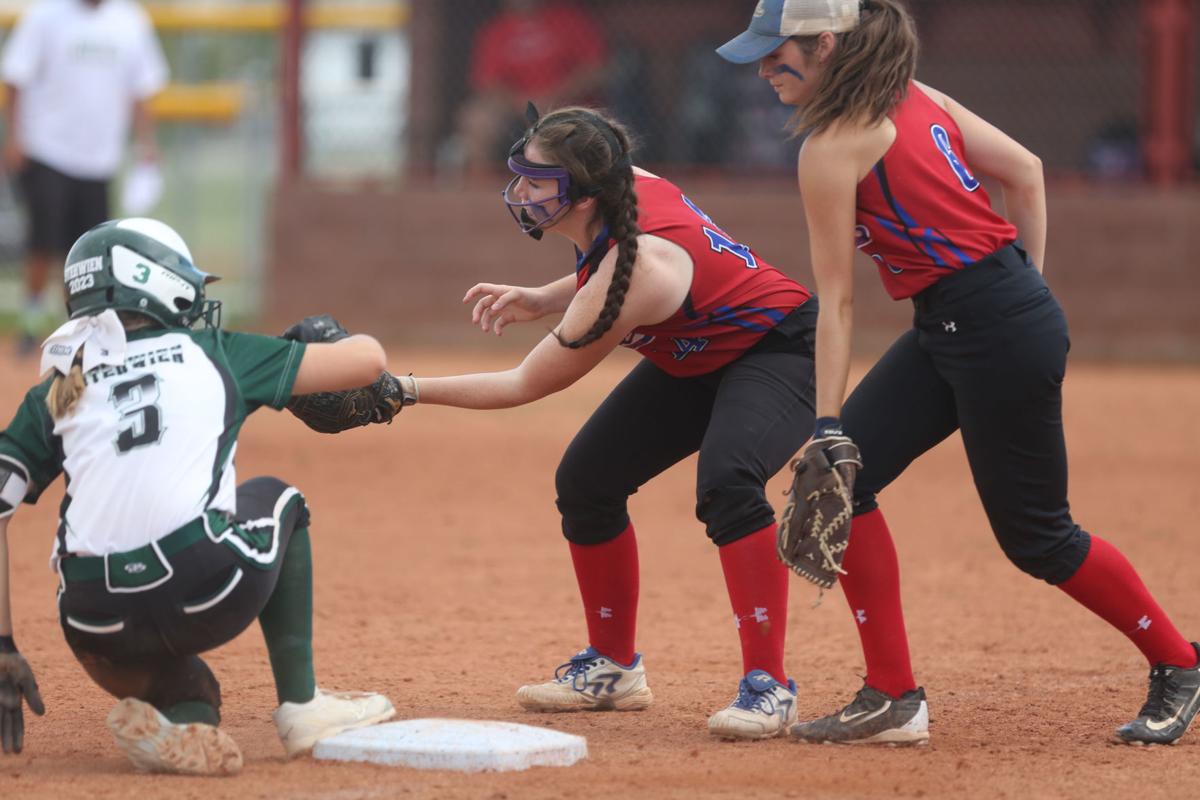 If Crystal Redding was Worland's chosen one, it was because of her own ambition. She lobbied for softball with Worland's former activities director even when the idea was a pipe dream for the sport's most aspiring movers and shakers.
Then came the groundswell. A grassroots movement out of Cody spread to Sweetwater County and the rest of Wyoming to get various school districts to adopt and approve high-school softball. Worland was the final domino to fall, approving a softball program shortly after the Wyoming High School Activities Association sanctioned the sport for the first time. It wasn't long after that current Worland activities director Mark Mortimer sent Redding an email about the coaching job and she responded within two minutes.
One of softball's most vocal advocates in the community, Redding assured Mortimer that she wanted to be Worland's first high school softball coach. She was interviewed and only told a handful of friends in her native Missouri how it went. Last week, the Washakie County School District approved her hire to officially make her the first high school softball coach in Wyoming's history.
"As soon as the board meeting was over I had to stop and think 'Did that just really happen?'" she remembered. "Then I saw it written down and I knew for sure that it was official. It was awesome."
Her history with the sport predates her two children and move to Wyoming. She started playing baseball in pee-wees at 5 and then moved onto softball at 9. She didn't play in college but she continued to exercise her love for the sport through slow-pitch and co-ed adult teams. She played for 6 years, possibly more, while living in Casper.
"I just have always loved it," she said. "I thought since it's finally coming maybe now is the time to stop playing and go on the other side."
She'd dipped her toes in the coaching waters before. Last summer she tried to help coach the two-time state champion Worland girls before her hectic schedule limited her involvement. She committed her summer to helping Dave Coronado coach the Worland girls this summer before the coronavirus.
By coincidence, she accepted the job during unpredictable times. Current social distancing guidelines and county ordinances prohibit the standard teaching and coaching behaviors. That's been difficult for the self-proclaimed "classroom teacher" who's been forced to adapt her math classes to the online medium. She's one to prefer sharing a room with her students and connecting with them. That's partly why she wanted to join Coronado in the dugout this summer.
"This whole thing has put a wrench in my plans of wanting to watch the girls and see how they play," Redding told the Star-Tribune. "I wanted to see it first-hand and in an actual game. Get a feel for each other. That way we're all on the same page when the school year and season starts."
Even with softball season still 10 months away, she asserted her goals stem from her love of the game. She simply wants to instill the same lessons softball taught her into her students and athletes. She said she hopes to spread her love for the sport to another ambitious generation. She's been encouraged by the support for softball in the community. Girls with no previous softball experience and those who play every summer have committed to joining the first Worland Warriors softball team in 2021.
"I want the girls to have fun and love and respect the sport," she said. "I'm reaching out to those new girls who have never played before and getting them to enjoy it, too."
Redding and her girls have to wait until then. That's been difficult to a certain degree but it's also given her time to schedule practices and get uniforms ordered. This has given her time to formulate a plan — a historic season laid out on paper before becoming reality.
Follow sports reporter Brady Oltmans on Twitter @BradyOltmans
Get in the game with our Prep Sports Newsletter
Sent weekly directly to your inbox!