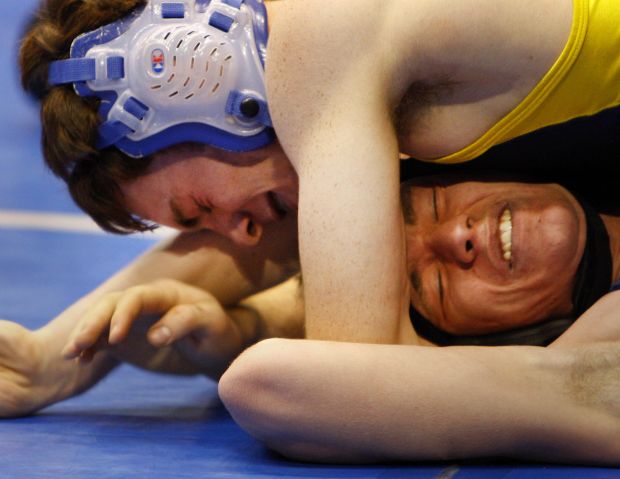 Thermopolis Vinchinzo Castle and Moorcroft's Dallas Taylor know each other all too well.
The two have wrestled each other in the 2A 106-pount weight class the past two years. Castle won in 2012 at 106 with an 8-4 decision while Taylor got his revenge in 2013 with a close 5-4 decision.
Both advanced to the finals Friday, Castle winning by tech fall (15-0) and Taylor by pin (3:18). And though it wont be easy, Taylor welcomes the challenge of facing Castle for the third straight year in the finals.
"It's something I look forward to. He beat me in overtime at Ron Thon, so I'm looking to get one back," said Taylor.
FIRST FOR WYOMING INDIAN: When Wyoming Indian's Jose Gonzalez advanced to the semifinals Friday, it guaranteed him at least a sixth-place finish at the Class 2A Wyoming State High School Wrestling Championships.
Doing so makes him the first wrestler from his school to place at the state tournament. Gonzalez lost in the semifinals Friday.
ITS A FAMILY THING: Cokeville's Teichert family has 19 individual state championships in their family. Brock and James Teichert are hoping to add to that total as both reached the finals in their respective weight classes Friday at the 2014 Class 2A Wyoming State High School Wrestling Championship.
"We're not always thinking about the family thing," said James Teichert before his semifinals match. "We've seen all of our cousins do it and now we want to do it for ourselves. Giving more titles to our family just comes along with it."
Both Brock and James have two titles to their names already. Brock won it all in 2013 at 152 and 2012 at 138. James, only a junior, has two previous titles at 126 and 113.
ONE LAST SHOT: The 160-pound weight class features a senior who is still fighting for his first state title.
JJ Crichton (Shoshoni) reached the finals Friday night for the first time in his career. Crichton pinned Lusk's in the first round and tech falled Brandon Banville (Burns/Pine Bluffs) in the quarterfinals.
"It'd feel amazing to get a title as a senior. Me and Kodiak [French, of Wright] have been battling this year," said Crichton before his semifinals match. "He's beat me twice this year, but third time's a charm. I want to beat him."
He'll get his chance after winning a 5-4 decision over River Schroeder to punch his ticket to the finals. French advanced via major decision.
BACK FOR MORE: Moorcroft is looking to defend it's team title from 2013 and has put itself in comfortable position to do so after the semifinal round. The Wolves lead the team scores with 176.5 points. Cokeville sits in second with 111.5.