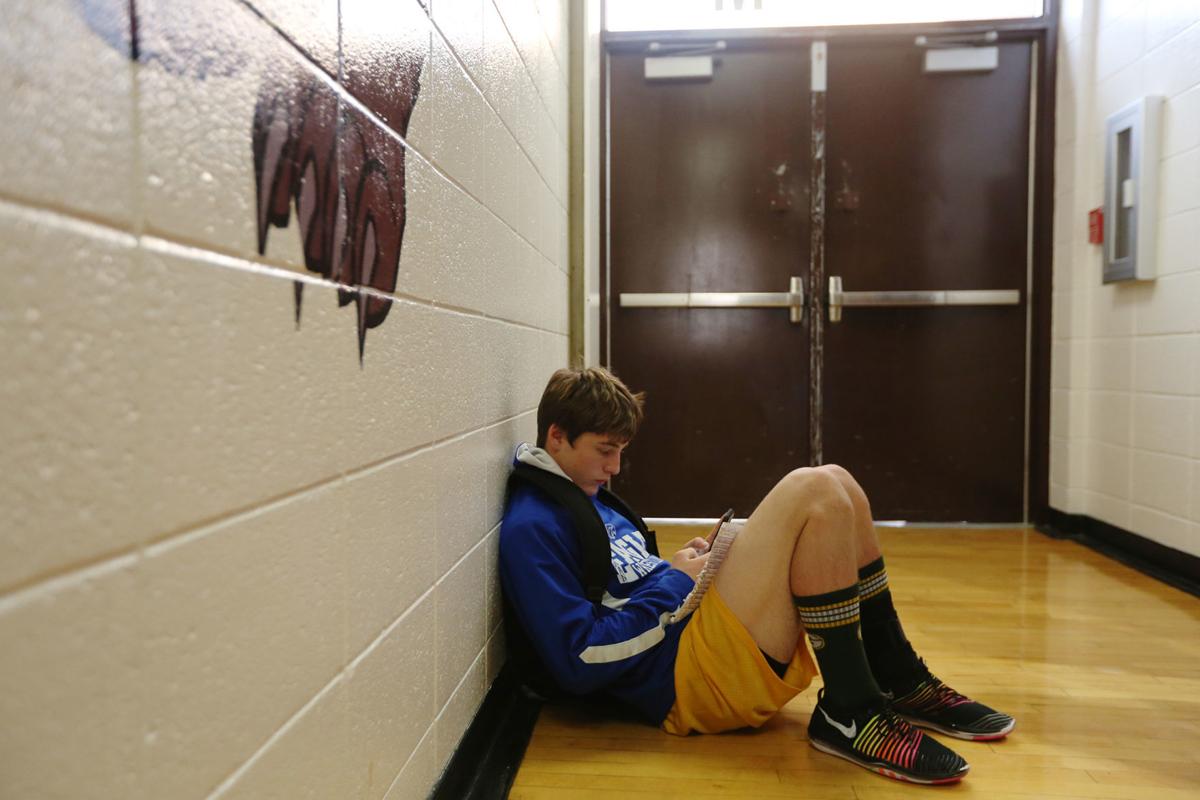 The Ron Thon Memorial Invitational, Rumble In The Rockies, Wyoming state tournament — these are some of the biggest wrestling tournaments available to Wyoming wrestlers. Gymnasiums, arenas filled with hollering fans drowning each other out to create deafening atmospheres under bright spotlights in a sport that's already predicated on one individual finding weakness in the other.
Hagen Lamoreaux has always liked that about wrestling. He started wrestling year-round in Lyman when he was about six years old and that laid the groundwork for his impassioned determination when he got to middle school. He idolized his cousins and they always wrestled. There was no stopping him at that point.
"I wanted to do it after them," he said. "And I like how it's individual and how it's all on you."
A state championship always eluded Lamoreaux. He found points, placements and podium finishes under the brightest lights but could never conquer the immense competition at the top of the mountain. Yet he's set to graduate from Lyman without regrets. He overcame the most frustrating hurdle of his life thus far and that's good enough for now.
The varsity wrestling learning curve wasn't as steep as he expected. Sure, the first few tournaments brought some humbling aspects, but nothing like he anticipated wrestling against reputable programs like Star Valley and Powell. His inexperience cost him a few times. He ensured those mistakes didn't happen again.
"I got used to it pretty fast," Lamoreaux explained. "I was driven by not doing as good as I thought I could."
His first Ron Thon changed everything. Taken aback by the stage initially, Lamoreaux stepped to the spotlight. An initial win started his ascent. Even a quarterfinal loss and coming away a win shy of placement couldn't dampen his enthusiasm.
"That was the tournament that turned it around," he said. "It was pretty crazy being a little freshman and trying to compete with the whole state."
But there he was. At one point he stood on the same level as former state champions Caleb Nathan, Cameron Metcalf, Nathan Redmond and late Moorcroft great Dylan Humes.
"It just gave me a huge boost of confidence that I could wrestle with anyone if I really tried," Lamoreaux beamed. "I think that and the finals at state my freshman year for sure were my favorite memories."
The young Lyman standout stood across from former Torrington 120-pounder Trey Rodriguez. Lamoreaux scored two pins and a decisive decision win to make it that far. He attacked with that confidence and the two traded points. After 6 minutes passed Rodriguez finished ahead by 4 points. Lamoreaux finished shy of gold but proved he belonged.
Then came his greatest obstacle. Early in his sophomore year the ligaments in his ankle started tearing away from the bone. That forced him into a walking boot for 8 weeks and onto the sidelines right up until the regional tournament. He was only 11-5 all year when he returned to finish second at regionals. He lost to that same person — Riverton's Ridge Briggs — in the third-place match at state. Admittedly, he couldn't regain his confidence after sitting out so long.
Lamoreaux didn't make the state championship match until his senior year when he once again lost to Briggs. His high school career ended before he could cement his name among the record books.
"You always want to make a name for yourself when you get there," he said. "Once you get there it's just one match at a time and you do your best."
He's recovered well since. He decided to join the Navy a week before national precautions were implemented to stall the coronavirus' spread. He gave a good laugh about his precise timing. Lamoreaux stumbled onto his dream of becoming an aviation mechanic. He said he's still scheduled to join boot camp on September 1. He's signed on for a 5-year deal then can extend his stay after that.
His appetite for big stages and individual accomplishment haven't necessarily come to an end. And yet, in a way they have. There's no official Navy motto although many cite "Non sibi sed patriae," which is Latin for "Not for self but for country." That's a change. As for big stages, however, the stakes don't get much higher.
Follow sports reporter Brady Oltmans on Twitter @BradyOltmans
Get in the game with our Prep Sports Newsletter
Sent weekly directly to your inbox!