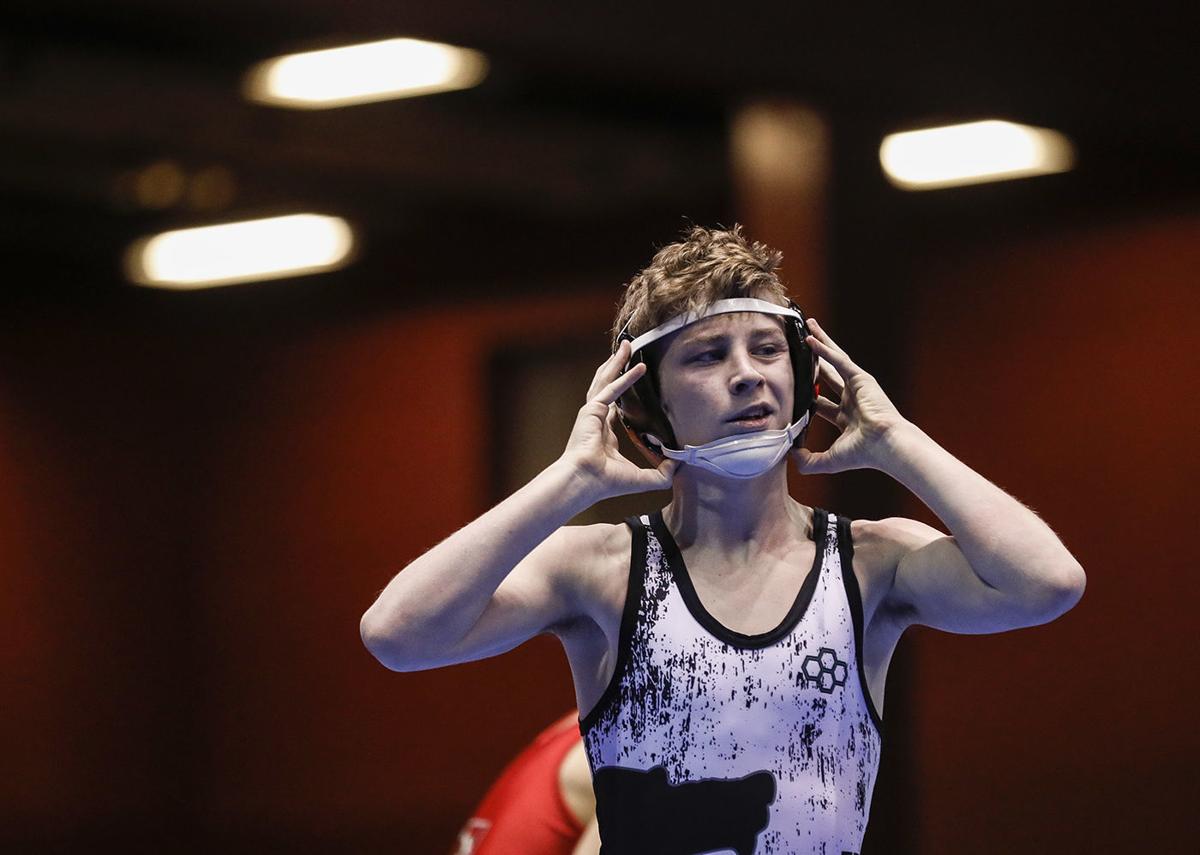 Three Green River wrestlers left Riverton with new belts on Saturday to help the Wolves snap Thunder Basin's two-year run as Ron Thon champions. Thomas Dalton (106 pounds), Clayson Mele (120) and Payton Tucker (182) all won their respective weight classes at the all-class tournament just a month away from the state tournament. That's Tucker's third, Mele's second and Dalton's first Ron Thon championship. Kelly Walsh, with just one champion, came in second.
Trojans senior Jace Palmer was the only representative of the defending 4A state champions to earn a belt this weekend, giving him his third Ron Thon championship. Two other Trojans — Noah Hone (138) and Analu Benabise (145) — made the finals but settled for second after losing decisions.
Kelly Walsh came into the weekend injured and ill, and on a different trajectory than their opposition. They beat Laramie in an early-week dual with many of their best wrestlers out of the lineup.
"I don't like to put too much pressure on these guys about Ron Thon," Kelly Walsh coach Travis Peak said after that dual. "They put enough on themselves. I'd like to see them do well at the Ron Thon, we like to perform well as a team, but right now we're at the midpoint of our season where we're trying to make sure we're in the best possible shape we can be in, our technique is at the best possible place it can be in."
Natrona County junior Cyruss Meeks beat Hone in the 138-pound championship to win the belt. Meeks captured a 6-4 decision to earn his first championship. He was also the only Mustang to make a championship match. Their next-best finisher was sophomore Kaeden Wilcox, who settled for fourth at 152 pounds after losing the third-place match by injury late in the first period.
You have free articles remaining.
Wilcox, who went into Ron Thon on the heels of an overtime win in Thursday night's dual against Sheridan, said he sees great potential in the young Mustangs — it's just a matter of work.
"We've got to go 100 percent," Wilcox stated after the dual, "condition more and keep on pushing."
All other champions crowned were first-timers. In fact, including Dalton and Meeks, nine of the 12 winners at this year's Ron Thon had never done so before. Douglas senior Cody Pinkerton was the closest among them to repeating after finishing second in last year's tournament. Pinkerton won the 220-pound crown with a major decision win against Thermopolis' Logan Cole.
Star Valley earned multiple championships with belt winners Trent Clark (195) and Parker Merritt (heavyweight). Clark held on to beat Burns/Pine Bluffs' Ben Banville in a 5-4 decision while Merritt, the undefeated senior, scored a 53-second pin win against Lovell's Coy Trainor.
Powell's Bo Dearcorn won the 170-pound championship with a third-period pin of Cheyenne East's Blaise Ronnau. Reigning state champion Luke Goncalves of Worland defeated Wheatland's Seth DeWitt in a 7-4 decision to capture the 160-pound title. Lyman undefeated sophomore Sefton Douglass earned his first Ron Thon belt with a 9-4 decision win over Green River's Dominic Martinez.
Warren Carr scored a 9-1 major decision win over Powell's Seth Horton in the 152-pound championship to give Thunder Basin an individual champion in a fifth-place team finish. Pinedale sophomore Cody Phelps held to his lead and beat Sheridan's Hunter Goodwin in the 126-pound championship with a 6-4 decision.
Hometown senior Ridge Briggs scored the 5-2 decision win at 145 pounds to lift the belt for Riverton.
Follow sports reporter Brady Oltmans on Twitter @BradyOltmans