POWELL — By the time Brody Karhu finally found his car keys under a pack of artificial sweeteners, his little sister had already left the house and made it to school. Like seemingly every other moment of her life, Emma had somewhere to be.
The two siblings, only a year apart, each have their own transportation, a car and a truck. The Karhu family lives 5.3 miles outside of Powell, which allowed both to attain restricted driver's licenses as early as their 14th birthdays. Their father, Rory Karhu, knew those "hardship permits" were a good idea. It would teach them about responsibility and accountability, he thought. Rory and his wife, Veronica, didn't anticipate that different personalities in their two youngest children would also become beneficial reasons for separate vehicles. But they've grown more thankful for them with every instance of Brody taking a longer shower, or stopping to watch a basketball game, while Emma drove to her different club meetings.
Any reconvening is typically done at either the family's home, just in time for dinner and homework, or after school at the gaudy, orange wrestling room of Powell High School. Even Rory joined them at practice early last week. The padded room welcomed him to relive old memories and experience new ones through his two youngest kids. That day Rory watched aloof Brody, now a junior, prepare his state championship defense while Emma stewed in the corner of the fluorescent room. Last year as a freshman, she became the first girl to place in a 3A state wrestling tournament, and she wasn't happy to be held out of drills that day while coaches took precautions with a suspected injury.
"I'm the kind of person that doesn't enjoy sitting around," she said. "I'd rather be wrestling."
Rory was a standout wrestler in high school before injuries kept him from fulfilling his championship potential. He became a USA Wrestling coach and naturally wanted to share his love of wrestling with his children. Rory remembered taking his oldest daughter, Eliana, and Brody to a wrestling practice during the brief time they lived in Casper. Eliana wrestled boys and Brody initially stood behind his fathers' legs.
"I don't want to do this," Brody told his dad.
After a few more practices Brody started to enjoy it. The family then moved to Basin, which required Rory to take Eliana and Brody to wrestle in larger Greybull. Emma, the smallest, tagged along uneventfully until the day when some of the 35-pound boys needed someone to wrestle. Emma, typically shy and reserved, couldn't take any more sitting aside and volunteered. She was about 3, as she remembered it, and became immediately attached.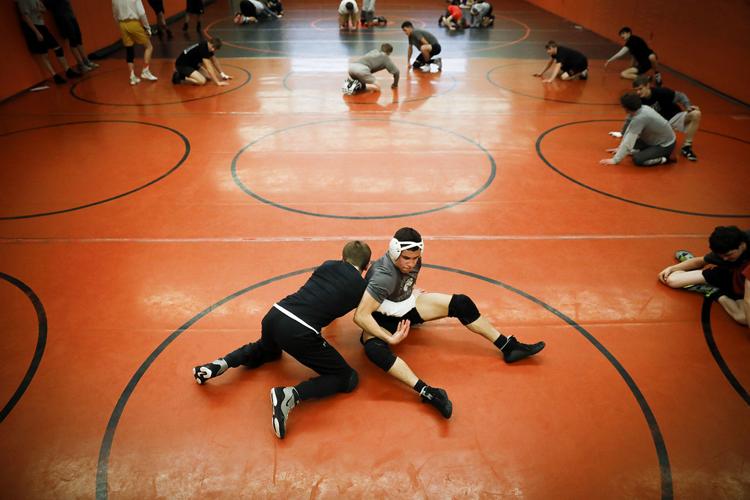 All three Karhu siblings spent years wrestling together. They organized fundraisers, sometimes going door-to-door selling fruit in order to afford trips to Iowa, Oklahoma and Texas to wrestle against the best the country had to offer.
Then Eliana decided to step away from wrestling just before middle school, leaving only Brody and Emma left to continue. Emma remembered she needed to persuade Veronica to let her continue wrestling along with her brother. The Karhu matriarch wasn't thrilled about the idea. There were other options to keep her youngest daughter busy: gymnastics and volleyball, for instance. But Emma's continued commitment became the winning argument. She chuckled at the memory of her father, who always supported her decision to wrestle, saying, "It keeps you tough," during some of those conversations.
"I just wanted to keep pursuing it because I thought it was something I was successful at and something I could keep doing," Emma said.
Powell is one of three towns in Wyoming — along with Cheyenne and Laramie — that does not sanction sixth-grade sports. Repeated attempts to overturn that ordinance always fail. This meant Brody, along with teammates Michael Maddox and Bo Dearcorn, traveled to Lovell every day to wrestle in sixth grade. The next year Emma, along with teammates Seth Horton and Josh Hine, were in the same position. Their days started with the 22-mile trip to Lovell for morning practice before they returned to Powell for school. After school they returned to Lovell for more practice, where they'd always arrive a few minutes late.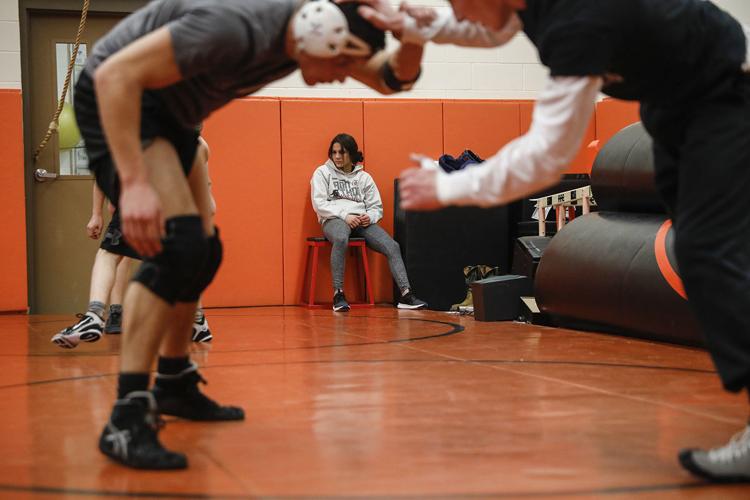 That silenced any criticisms of the wrestlers' dedication. Yet, still with something to prove, Emma thought about the Montana Open where Powell High School head coach Nate Urbach would be watching.
Urbach and Rory went back years. They were high school teammates, and sparring partners even, and were in each other's weddings. The thought of Rory's kids being coached by Urbach was a touching draw when the Karhus moved from Basin.
"This is where you show him that you can wrestle," Rory told Emma. "If you keep pursuing it then you're tough enough to be in the sport in high school."
Urbach had kept an eye on Brody and Emma while they were in Basin. He remembered that Brody was a raw talent with his athletic attention drawn in multiple directions. But Urbach needed convincing, he recalled, that Emma wouldn't join the likes of her older sister as a standout girl wrestler whose interest for the sport dissipated.
"Rory always talked about how she loved the sport and in some ways she loved it more than Brody did so she was a natural fit," Urbach said. "Her love for it is really what separated her from the others who didn't make it as far."
From that point on, Urbach started using the phrase "to me she's not a girl, she's a wrestler," when talking the inevitable subject with other coaches and curious parties. News found Emma that she'd join her brother on the varsity wrestling team. Her dedication to the sport, so many hours talking about matches with her dad and brother, was validated.
"I wanted to show him that I could wrestle tough and that I belonged on the team," she said of Urbach. "When he decided that I could, that was just really cool."
For years, Emma had been subjected to second glances. There were a few noteworthy occasions of opponents withdrawing from matches against Emma, only to wrestle in the next round minutes later. There was also an infamous incident where a father told his son to injure Emma in their match to, in their minds, prove girls didn't belong on the mat. Emma won by forfeit when her opponent performed an illegal throw, dropping Emma on her head. The boy, and his father, were ejected from the tournament. Emma continued to wrestle.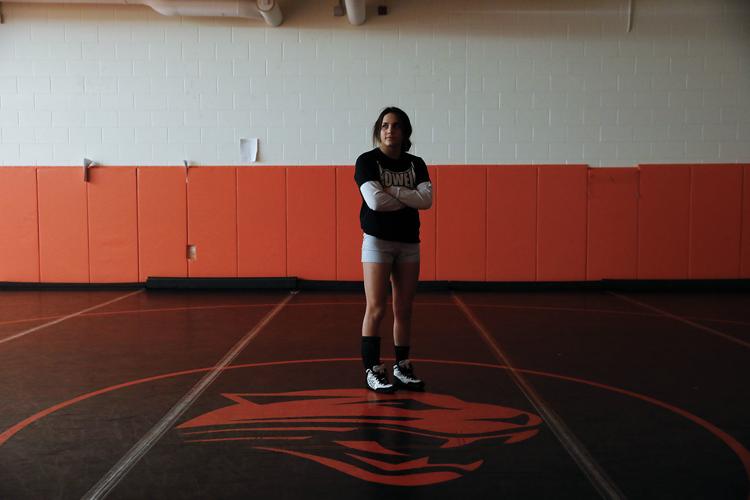 Brody kept an eye on his little sister at the beginning of her freshman season. He was admittedly nervous. After all, these were high school kids now and she'd be going against older, more muscular wrestlers at 106 pounds. Brody, having finished sixth at state the year prior, went through his competition with ample time to watch Emma, who eased his nerves with every match.
"She ended up doing fantastic," Brody remembered. "She'd wrestle these really salty guys and she just pounded them.
"When you get down to 106, those boys are really small and Emma, she's pretty dang jacked. She's got a lot of strength and that really helps her out wrestling some of these salty guys."
After her matches the roles reversed. She kept an eye on Brody as his offseason work began to pay off. Even when Brody inadvertently fell asleep at team camp shortly before one of his matches only to win anyway, Emma watched her eccentric brother with admiration. That continued going into the state tournament.
"I just think it's cool how successful he is," she said. "It would be cool to be like him, be as successful as he is."
In many ways, Urbach explained, Emma wasn't expected to place in her first state tournament. She was seeded just outside the top six, but a fourth-place finish at regionals set the stage for a final push. She lost in the quarterfinals by a 3-1 decision, ending any hope of gold. She wrestled her way back in the consolation bracket, ending with a victory over the same wrestler who beat her in the quarterfinals. That win meant she finished fifth, becoming the first girl in Class 3A to place in a Wyoming state wrestling tournament. She didn't know that, however, until others told her.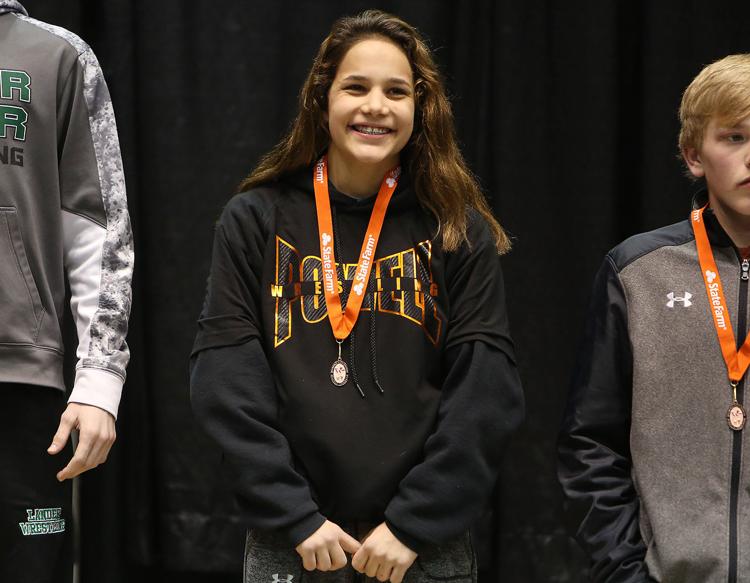 "It was really awesome that I was able to show people, or prove to people, that girls are capable of doing the same," she said. "And I was glad my coaches and family were proud of me and of how I did."
Hours later Brody secured his fourth consecutive pinfall in the state tournament, making him the 2018 state champion at 152 pounds. He remembered howling after getting his arm raised, celebrating with his coaches and father. He'd remembered them telling him during a circle drill near the beginning of the season that he could be champion. Those words repeated in his head as he paced the center-stage mat.
The two siblings were reunited on the floor as part of the medal ceremony. They posed together for pictures while celebrating each other's triumphs.
"When I did my freshman year I got sixth, so she did better than me," Brody said through a growing smile. "I went from sixth place to being a state champion.
"And then the first thing I thought after that was 'What if Emma could do that? That would be awesome.'"
A week before the 2019 state tournament, Brody happily strolled into the family kitchen after taking a post-practice shower and peaking his head into the basketball game at the high school. An electric wok full of cajun stir-fry, his favorite, steamed an enticing welcome.
Emma, punctual to her FFA meeting, had already returned home from practice and left again.
The new team calendars that Veronica designed arrived earlier that day and lay stacked on the table. Brody and Emma, as returning state placers, featured prominently alongside a general team photo. The design garnered a big thumbs-up and head nod from Brody.
Over their meal Brody and Rory remembered some of Brody's eccentric moments. There was more sleeping before matches. Once at a meet he puffed his cheeks out and urged anyone to poke them in.
Rory brought up the first time Brody pinned him.
"There was so much pride, in that moment," Rory said. "I'll never forget it."
Veroncia began cycling through Facebook albums and stashed photos of the kids throughout the years. There was one of a kiddish Emma, mischievous smile in a hoodie, that Veronica explained was taken about the time Emma started wrestling. Then there were the pictures of all three kids standing together as a wrestling team, taken well before Eliana stepped away to pursue her artistic interests.
"We couldn't have made her love wrestling," Veronica said.
She pulled out a yearsold video of Emma singing the national anthem before a wrestling dual. Rory and Brody observed how Emma, who still occasionally sings the anthem before meets and duals, now has a much fuller voice. They talked about how she also competes in swimming and diving in the fall, track in the spring, and barrel racing in the summer. If she arrives home with enough daylight remaining, she's quick to hop on her horse and ride until nightfall. Brody said there were times she pushed those boundaries and could have benefited from reflectors.
Then came an old photo of Emma after a match. Veronica guessed her youngest was about 7 in the photo. Emma stood in focus with the referee holding her arm up in victory, a smirk on her face and a "The Little Mermaid" T-shirt under her singlet.
Done with that day's meetings, Emma returned home to grab a bowl of dinner. Once caught up on conversation, she looked at her phone and decided what to do next.