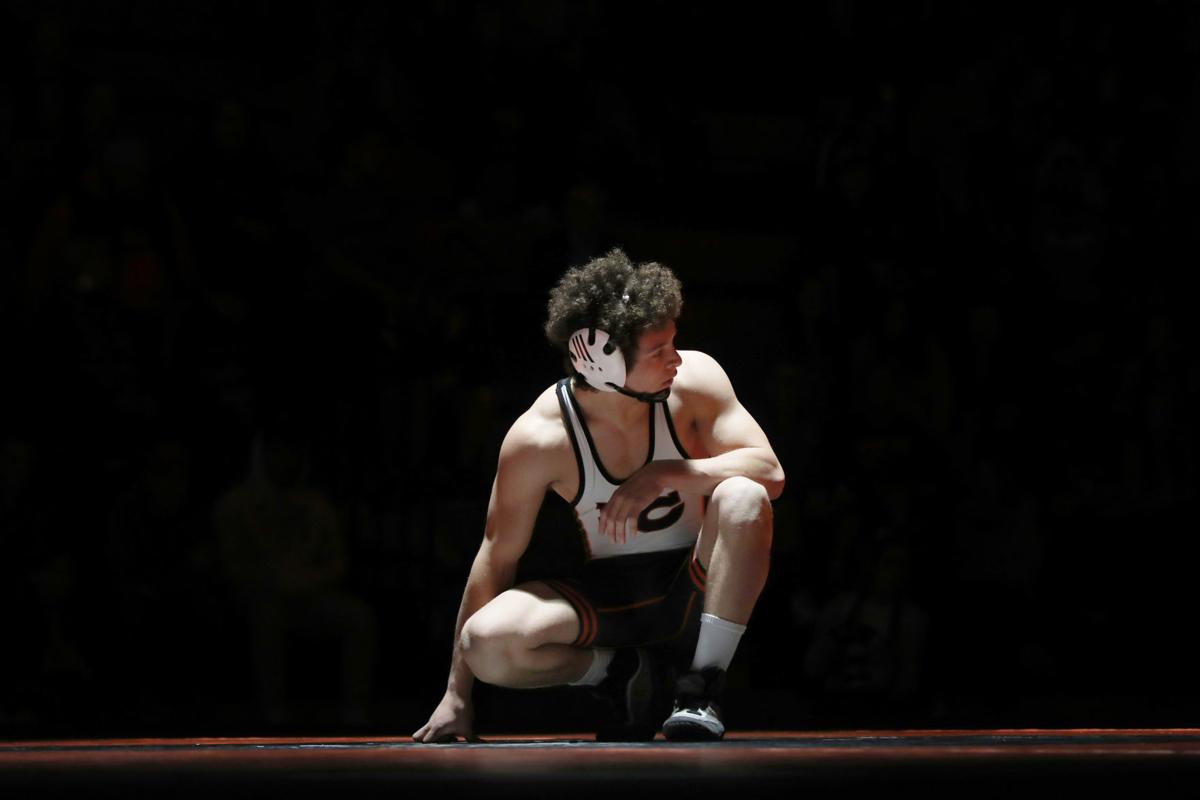 This season's ushered a new era of Natrona County wrestling, one born out of circumstance as much as necessity. The Mustangs graduated both of their state champions from last season and come off a second consecutive sixth-place finish at the state tournament.
In an effort to rebuild, the Mustangs have turned to their promising youth crop that's already shown their potential. Six sophomores captured half of Natrona County's wins in a dual victory against Riverton last week and nearly all of them finished on the podium at this past weekend's Shane Shatto Memorial Invitational in Douglas.
The Mustangs go into this weekend's Trojan Border Wars as the No. 4-ranked team in Class 4A with just one senior in their starting lineup. Longtime head coach Scott Russell, overseer of several successful Mustang teams, pointed out the difference between youth and inexperience after the win over Riverton.
"We're fairly young," Russell said. "But we've got some guys that have been paying their dues through the kids wrestling and then off-season stuff during the summer. They're rewarding of us and it's starting to pay off."
Among the most notable youths thus far has been Tate Tromble, the top-ranked wrestler at 106 pounds in 4A. Tromble earned individual gold in Douglas last weekend, further solidifying his standing. He's been wrestling for several years already and has found a love for it. He spent an average of three days in the wrestling room over the summer to help make the leap this season.
While inexperience may not accompany the Mustangs' youth, energy certainly has. Tromble's high-speed approach has captured the attention of his teammates. They've seen his energy and results as rallying points.
You have free articles remaining.
"He's a firecracker, for sure," Russell explained. "You'll never know where he's going to be if it's right or left, or on top or bottom. That's what we like about him."
Then there's junior Cyruss Meeks, who could state that the Mustangs' rebuilding efforts began in earnest last season. Meeks was sophomore co-captain in 2019 and rightfully earned that distinction again this season. He's helped establish the intensity the Mustangs practice with. And he sees the youth's willingness to match it as an encouraging sign.
"I've been a leader since the start, looking after these kids in our lineup," Meeks said. "Even though they're young they came out here to bang."
That pace, frantic energy with matching intensity, has been one of the team's calling cards in practice. They showcased it against Riverton, going for pins instead of settling for major decisions or technical falls. That transferred over to the tournament results sheet where they placed eight on the podium in Douglas last weekend.
Russell praised that aggression after the dual and Meeks followed up on it among his run for bronze at the Shane Shatto. Meeks went even further, painting a picture of what his ideal match is at this point in the season.
"Just going after it," the junior stated. "Always on the attack and never sitting back, waiting for my opponent to shoot."
The co-captain's stated intention is to win the elusive state championship this year. At this point he's the No. 2 wrestler at 145 pounds in Class 4A but he'll likely finish the season at 138 pounds, the weight he wrestled at in Douglas. He's also got a few state records on his mind, although those have been shoved to the side for now.
Meeks' attention, as with that of his teammates, has transferred to this weekend's Trojan Border Wars, where they'll cut their teeth against some of the best in-state and out-of-state competition. It'll be an establishing test to see how much enthusiastic aggression remains after seven grueling duals.
Follow sports reporter Brady Oltmans on Twitter @BradyOltmans