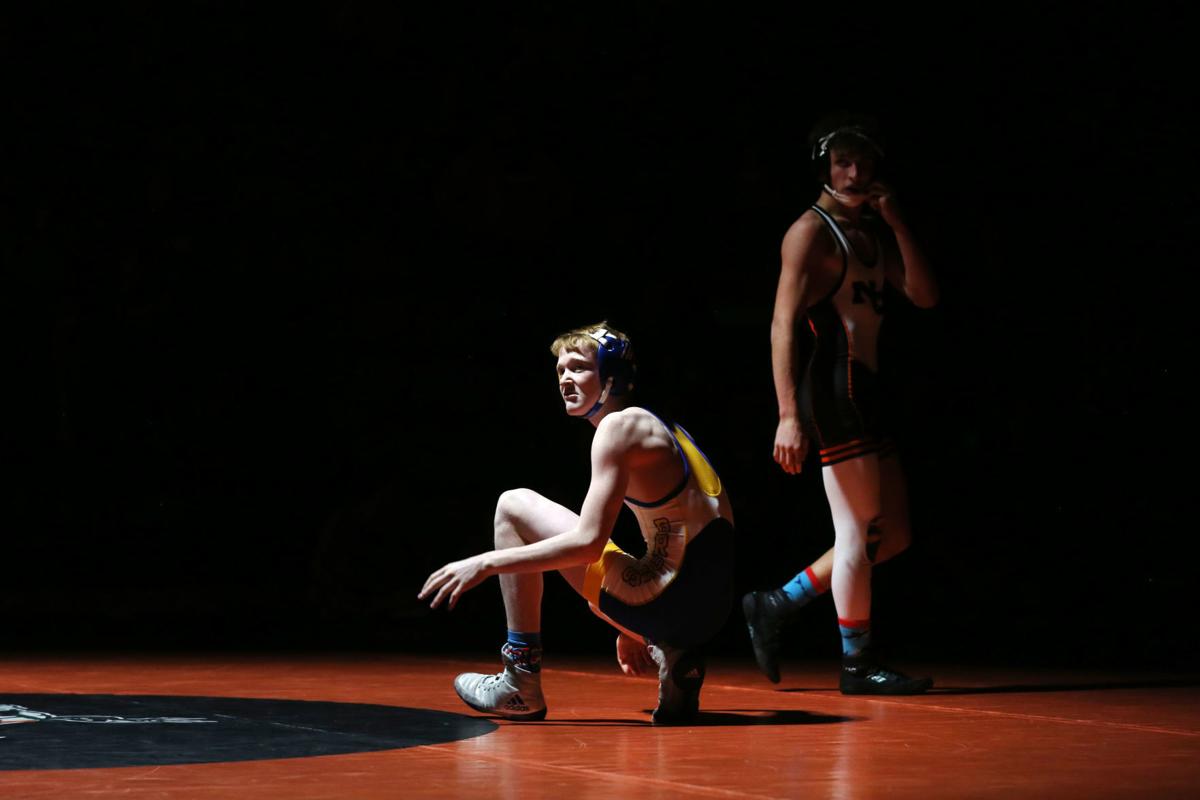 Nearly a year removed from what he calls the greatest loss of his career, Hunter Goodwin's hungry for more.
The Sheridan junior had just beaten Green River standout Kade Flores in the semifinals to punch a ticket to his first state championship match. Understandably, he had high hopes. Those were almost immediately dashed by Cheyenne East's Amos Solano, who dominated the match and won by major decision.
That hasn't sat well over the past 11 months.
"I really want to get revenge on Solano," Goodwin told the Star-Tribune after Thursday's dual win against Natrona County. "That's big for me. He humbled me last year and that was big. Could have been the best loss of my life because it pushed me to be that much better."
Goodwin nearly got his first match with the East senior at this year's Ron Thon but Solano was bounced to the consolation bracket with a semifinal loss. Instead, Goodwin battled through the 126-pound division and finished second to Pinedale's Cody Phelps. That brought some satisfaction for a wrestler who's determined to disprove the doubters.
His season didn't start well. He bumped up weight classes and struggled at 138 pounds. He made the quarterfinals of the Shane Shatto Memorial Invitational at that weight but suffered two consecutive losses and didn't place. That was the first time he didn't finish on the podium since the 2019 Shane Shatto.
"I kind of got beat up a little bit there, honestly," Goodwin said. "I was a little smaller, not good at managing weight. That's big. Coming down, it just made me hungry for more. I've got one goal at the end of the season and I'm gonna go get it."
You have free articles remaining.
That goal is where he fell short last season: a state championship. If he has to go through Solano in order to do that, even better. And every match between now and then helps him achieve that dream.
The brief stint in the heavier weights didn't suit him. He couldn't maintain weight, he wasn't comfortable and the losses affected his confidence. Now that he's back down to his comfortable weight, the results have followed and given him that boost of confidence.
Goodwin was the third-ranked wrestler at 126 pounds in Class 4A before notching a 53-second pin against No. 4 Nathaniel Sausedo on Thursday and then making a second straight Ron Thon finals — he won last year's.
That could be enough to make him jump either Flores (second) or Solano (first) in the standings next week. And that's an affirming thought.
"I'm happy to be back on track and my confidence is up again," Goodwin basked. "Just having fun and enjoying it."
It's been 11 months since that loss to Solano and a month since he cut weight and got back into his comfort zone. He's said that he loves being the underdog. He loves thinking that out there, somewhere, there's someone doubting his ability to win each individual match. So much so that when he wasn't winning all those matches, it crawled under his skin.
But now he's back; ready to make that next step and put the past behind him. Not, however, until he gets what he's after.
"This helps my confidence knowing where I am and where I can be," Goodwin said. "I know it's a step towards becoming a state champ."
Follow sports reporter Brady Oltmans on Twitter @BradyOltmans