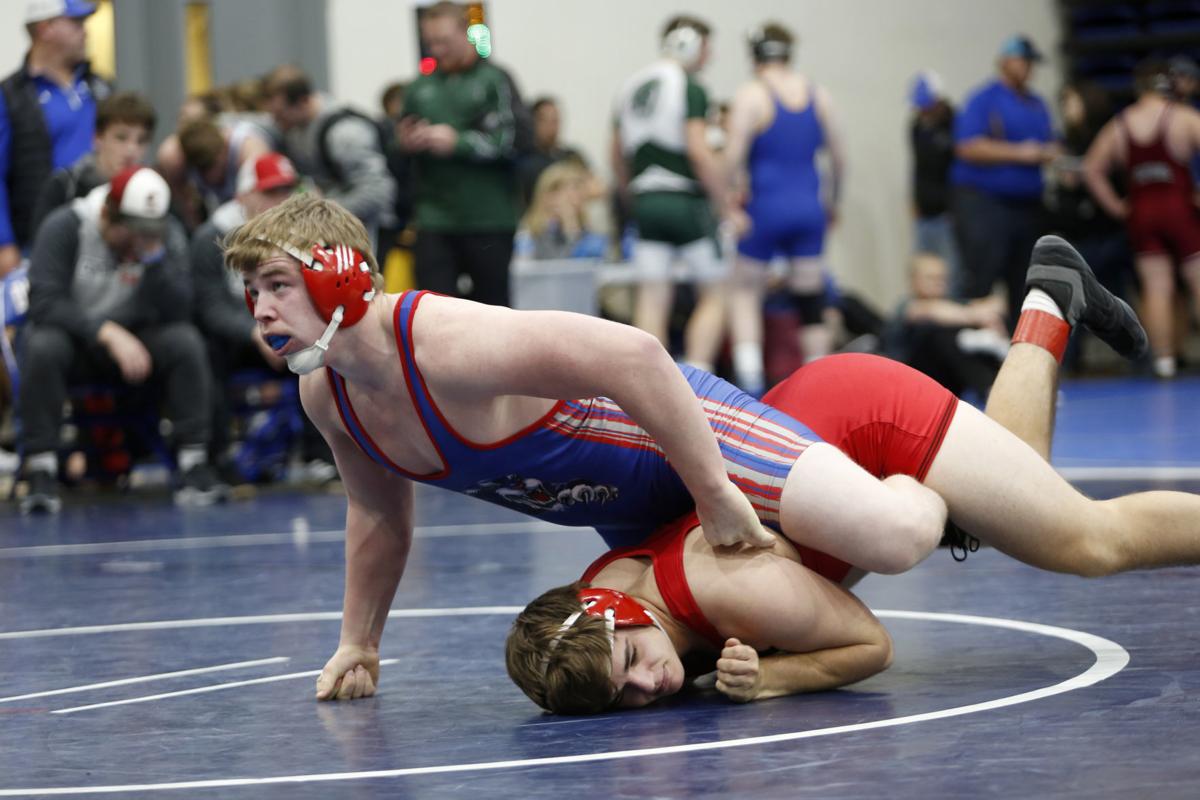 The referee raised Cody Pinkerton's arm in victory and the Douglas senior turned to the Bearcats cheering section to give them a flex. He saw a flurry of challengers all year and stood tall among them all to finish on top.
Pinkerton successfully repeated as state champion back in February, pinning his opponents in just over 5 minutes to finish 55-0. That record alone stands as the longest undefeated streak in program history. That mark stretches to 68-0 when dating back to his last loss — 2019 Ron Thon championship.
The pudgy underdog did it.
"He's made his mark on Douglas wrestling just by being who he is and working hard to get to where he got," Douglas head coach Bob Bath reflected. "Those records may stand for years."
He didn't have this vision when he started wrestling at 3 years old in Glenrock. Wrestling was fun and he always found join in it. Admittedly, school was difficult. His only friend in grade school was wrestling teammate Dawson Stinson. The other kids made fun of him for his weight. Pinkerton continued to wrestle for Glenrock through middle school until the bullying got so bad that he transferred to Douglas for eighth grade.
The bullying hit an emotional chord. Pinkerton's the proud brother to five adopted siblings who all have Down syndrome. He didn't want his family to endure what he did. Through wrestling he found his escape.
"It was awesome and just something to help me get away from everything and prove I was a good athlete," Pinkerton said. "I was a little chunkier and wrestling helped me see my potential."
Coach Chad Gibson immediately put Pinkerton through the gauntlet to fulfill that potential. Those practices laid the groundwork for his state-championship appearance as a freshman. Admittedly, Pinkerton described himself as a deer in the headlights before that match. He lost by technical fall in the first period. But that result didn't resonate as much as the stage and potential for the next three seasons.
Between wrestling and football camps, Pinkerton never spent more than 10 days at home in the summer. He loved his time at JROB in Minnesota. It's a 14-day intensive camp that involves a 4:30 a.m. wake-up and a five-mile run before breakfast. Then there's grueling practices and a night run before homework in dorm rooms before falling asleep at midnight or later. Then repeat.
"It mentally drains you but by the end of camp it rises you," Pinkerton explained. "It taught me just mental thoroughness and being able to prove myself."
Pinkerton, as well as Bath, reaped the rewards of that work each winter.
"It was a year thing for him," Bath said. "He's got talent but it's self-made talent. He wasn't a gifted athlete but he's worked hard to get better at what he does. Coaching a kid like that, you hope he inspires other kids."
He continued his efforts because wrestling continued to be a fun escape, be it through those camps or just rough-housing with his siblings. They've provided him a valuable perspective on life that few his age could comprehend.
"It's awesome to be able to give a home to those kids that didn't have a loving one before," Pinkerton said. "They were in group homes and didn't know what a family was until they came and lived with us."
Inspired and determined, Pinkerton made the state championship match the following three seasons. He made the ultimate match all four of his high-school years. That was, admittedly, a great feat. Winning his first state championship as a junior finally took him to the next level and left him with only a few accomplishments left to pursue this past season.
Pinkerton won his first belt at the 2020 Ron Thon. There he proved he was Wyoming's best 220-pound wrestler regardless of classification. But that wasn't as satisfying as winning the 220-pound division of the 2020 Shane Shatto Memorial in the familiar comfort of the Douglas gym.
"It was my home tournament and I hadn't won it," Pinkerton remembered. "It was a weight off my shoulders. Ron Thon and Shatto were the only ones I lost in as a junior."
No one bested him the rest of the way. He finished his senior year undefeated and as an all-time great for the program. Pinkerton has committed to continue his wrestling career at Northern State in Aberdeen, North Dakota, where he'll pursue his Special Education degree.
He can do more leading in North Dakota. Even more with that degree. His future influence can't yet be measured but the one he left in the Douglas wrestling room could be permanent.
"He dedicated everything to wrestling and it paid off," Bath said. "That's the whole goal behind anybody who coaches is to try and get kids to believe in themselves and see what hard work will do for them.
"We'll use him as an example for years to come. Those younger kids will know him and say 'Yeah, I remember Cody Pinkerton.'"
Follow sports reporter Brady Oltmans on Twitter @BradyOltmans
Get in the game with our Prep Sports Newsletter
Sent weekly directly to your inbox!