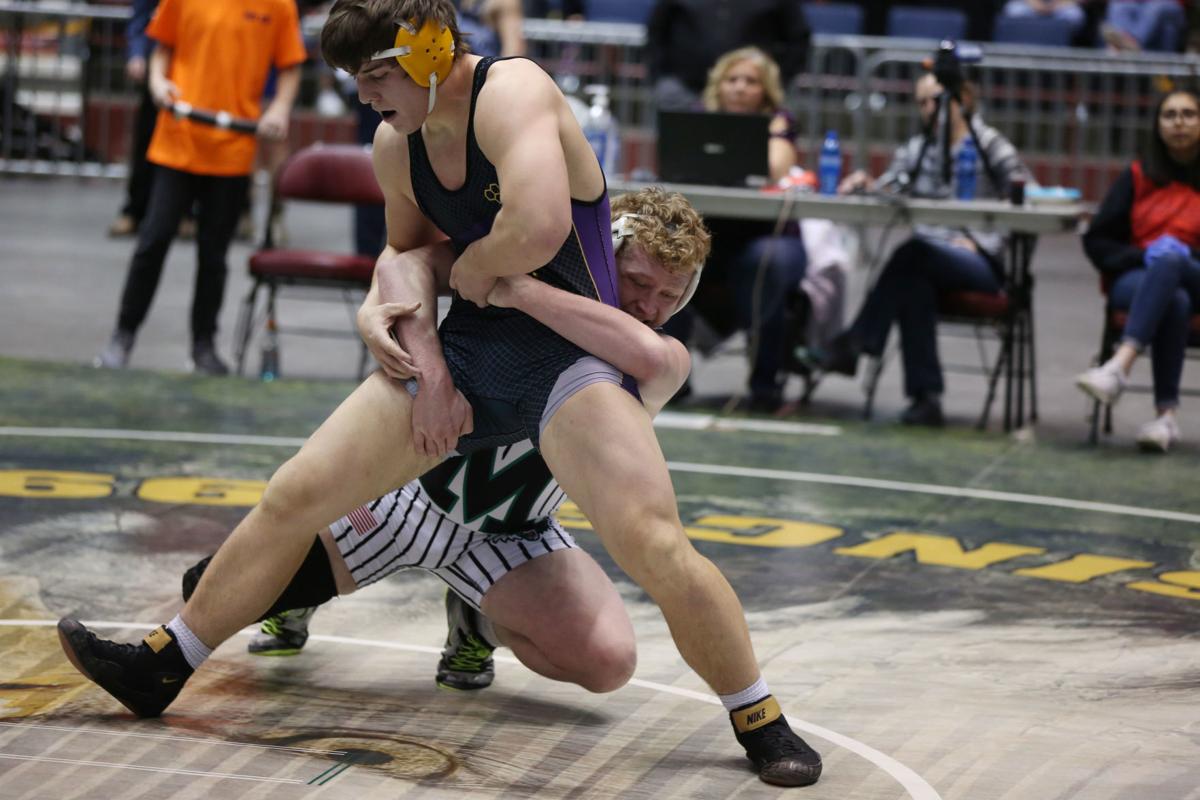 WYOMING COACHES ASSOCIATION ALL-STATE
Class 4A
106: Thomas Dalton, Green River; Colt Welsh, Gillette; 113: Dominic Martinez, Green River; Landon Trujillo, Cheyenne East; 120: Clayson Mele, Green River; Amos Solano, Cheyenne East; 126: Kade Flores, Green River; Hunter Goodwin, Sheridan; 132: Jace Palmer, Kelly Walsh; Reese Osborne, Sheridan; 138: Cyruss Meeks, Natrona County; Noah Hone, Kelly Walsh; 145: Analu Benabise, Kelly Walsh; Kaden Wilcox, Natrona County; 152: Warren Carr, Thunder Basin; Sam Henderson, Kelly Walsh; 160: Kevin Anderson, Kelly Walsh; Jackson Hesford, Cheyenne East; 170: Hayden Crow, Sheridan; Rigden Wagstaff, Evanston; 182: Payton Tucker, Green River; Vince Genatone, Natrona County; 195: Kole Kraus, Kelly Walsh; Kaden Lloyd, Green River; 220: Bradley Whitright, Cheyenne East; Phoenix Buske, Kelly Walsh; 285: AJ Kelly, Rock Springs; Dalton McInerney, Thunder Basin.
Class 3A
106: Colt Nicholson, Powell; Anthony Martinez, Worland; 113: Sefton Douglas, Lyman; Jacob Guild, Star Valley; 120: Colton Gehlhausen, Pinedale; Waylond Nelson, Star Valley; 126: Cody Phelps, Pinedale; Winston Green, Star Valley; 132: Lane Ewing, Douglas; Brayden Andrews, Star Valley; 138: Kale Corley, Newcastle-Upton; Zain Fitzgerald, Cody; 145: Ridge Briggs, Riverton; Hagen Lamoreaux, Lyman; 152: Seth Horton, Powell; Clay Reiner, Buffalo; 160: Luke Goncalves, Worland; Seth DeWitt, Wheatland; 170: Jack Sweeney, Lander; Bo Dearcorn, Powell; 182: Charlie Beaudrie, Cody; David Walker, Star Valley; 195: Trent Clark, Star Valley; Ben Banville, Burns-Pine Bluffs; 220: Cody Pinkerton, Douglas; Carson Olson, Powell; 285: Parker Merritt, Star Valley; Hunter Pope, Buffalo.
Class 2A
106: Colton Coffman, Lusk; KC Gibson, Wind River; 113: Brock Blevins, Southeast; Kaleb Fila, Big Piney; 120: Connor Vickrey, Kemmerer; Cael Thompson, Cokeville; 126: Quinton Hecker, Lovell; Preston Seamands, Wright; 132: Dawson Schramm, Kemmerer; Dustin Simmons, Glenrock; 138: Felipe Gaytan, Greybull-Riverside; Asher Nicholson, Lovell; 145: Parker Seeley, Moorcroft; Roedy Farrell, Thermopolis; 152: Tryston Truempler, Shoshoni; Kyle Breen, Tongue River; 160: Wes Teichert, Cokeville; Hunter Garoutte, Moorcroft; 170: Emery Bemis, Lusk; Joseph Kennah, Hulett; 182: Rowdy Pfeil, Moorcroft; Riley Shaffer, Thermopolis; 195: Tate Carson, Southeast; Colton Befus, Wind River; 220: Logan Cole, Thermopolis; Parker Schlater, Moorcroft; 285: Coy Trainor, Lovell; Will Baker, Southeast.
Get in the game with our Prep Sports Newsletter
Sent weekly directly to your inbox!