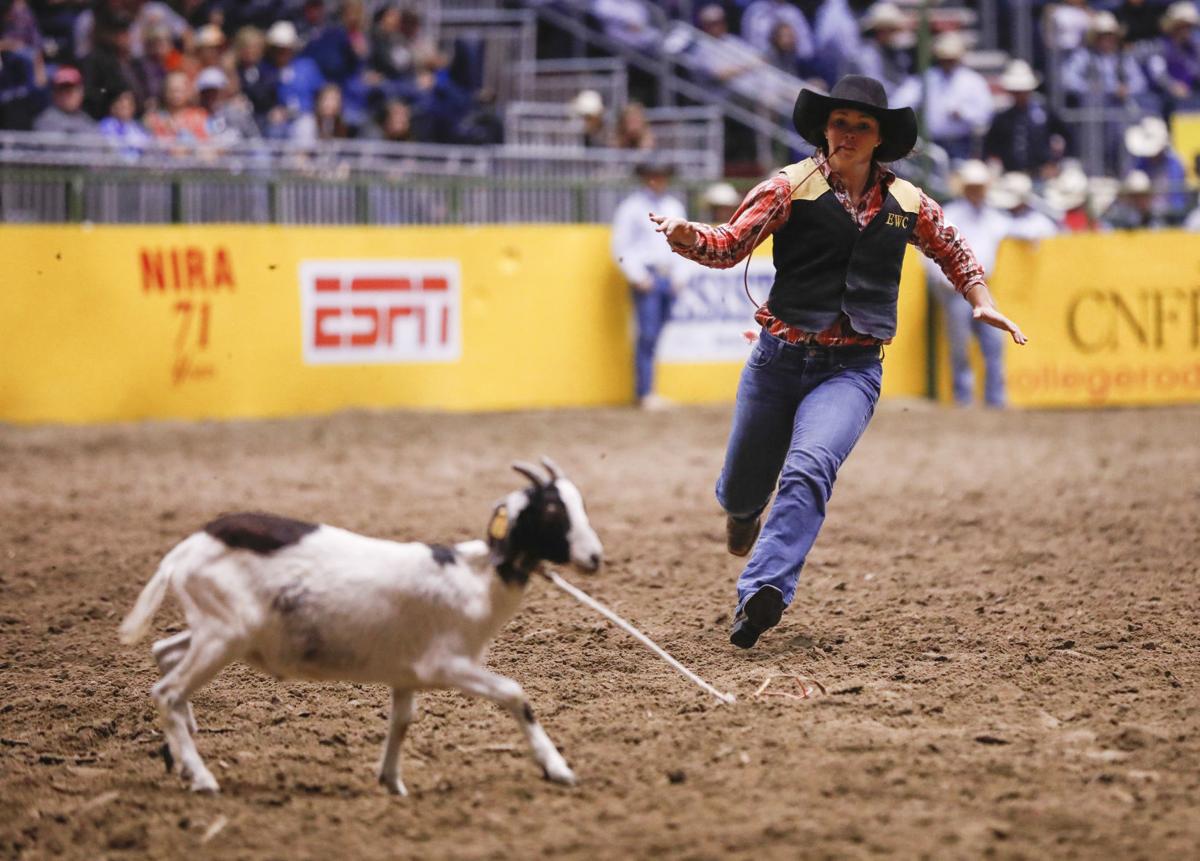 The Casper College men's rodeo team continued its early-season dominance at the Sheridan College Rodeo over the weekend.
The Thunderbirds used another strong showing in team roping and a first-place finish by K's Thomson in saddle bronc riding to total 630 points and win the team title at the second Central Rocky Mountain Region rodeo of the season.
Brothers Kellan and Carson Johnson won the team roping with a time of 11.6 seconds. The team of Clayton Backhaus and Beau Rees was third with a 12.4, and Cooper White and Jerren Johnson were fifth with a 13.0. In addition, Bryan Lemmon teamed with the University of Wyoming's Jase Staudt to place fourth with a 12.8.
Thomson had a two-head total of 153 points to finish ahead of Gillette College's Dylan Schofield, who had a 147.
Chadron State College was second in the team race with 380 points, Gillette College was third with 345, and Wyoming was fourth with 295.
UW's Seth Peterson finished first in both steer wrestling and tie-down roping and teamed with Dusty Taylor to place second in team roping to easily win the all-around title. Other event winners were Chadron State's Kyle Bloomquist in bareback bronc riding and Sheridan College's Coby Johnson in bull riding.
On the women's side, the Wyoming Cowgirls used a first-place finish from Justene Hirsig in breakaway roping and numerous top-5 finishes to easily win the team title.
UW totaled 470 points, followed by Casper College with 265 and Eastern Wyoming College with 170.
The T-Birds' Jenna Hoffman won the barrel racing and Eastern Wyoming's Karissa Rayhill won the goat tying, but the Cowgirls placed third through fifth in barrel racing and second through fifth in goat tying to take the lead in the regional standings.
The Central Rocky Mountain Region season continues this weekend with the Rustler Roundup at Central Wyoming College.
Team: Casper College 630 points, Chadron State College 380, Gillette College 345, University of Wyoming 295, Eastern Wyoming College 225, Sheridan College 210, Laramie County Community College 170, Otero Junior College 140, Central Wyoming College 45.
Bareback Bronc Riding: Kyle Bloomquist, CSC, 148 points Donny Proffit, UW, 135 Chase Rose, UW, 132 Jake Kesl, GC, 130 Josh Parker, OJC, 123.
Saddle Bronc Riding: K's Thomson, CC, 153 points Dylan Schofield, GC, 147 Garrett Uptain, CSC, 145 Houston Brown, UW, 129 Tyler Beebe, OJC, 126.
Bull Riding: Coby Johnson, SC, 147 points Seth Green, LCCC, 52.
Steer Wrestling: Seth Peterson, UW, 8.6 seconds Teigen Marchant, EWC, 8.9 Bernard Girard, LCCC, 9.1 Jace Berger, UW, 9.5 Bryce Batterton, OJC, 10.2.
Tie-Down Roping: Seth Peterson, UW, 16.9 seconds Jase Staudt, UW, 17.9 Jon Peterson, GC, 19.0 Cord Roberts, LCCC, 21.0 Justin Skarohlid, LCCC, 22.0.
Team Roping: Kellan Johnson/Carson Johnson, CC, 11.6 seconds Seth Peterson/Dusty Taylor, UW, 11.8 Clayton Backhaus/Beau Rees, CC, 12.4 Jase Staudt, UW/Bryan Lemmon, CC, 12.8 Cooper White/Jerren Johnson, CC, 13.0.
Team: University of Wyoming 470 points, Casper College 265, Eastern Wyoming College 170, Gillette College 130, Chadron State College 85, Laramie County Community College 45, Northeastern Junior College 10.
Barrel Racing: Jenna Hoffman, CC, 32.35 seconds Riley Addington, GC, 32.72 Laken Bice, UW, 32.74 Rachael Calvo, UW, 32.77 Taylour Latham, UW, 32.83.
Breakaway Roping: Justene Hirsig, UW, 5.4 seconds Rae Reimler, UW, 5.5 Emily Knust, CC, 6.0 Rieley Maier, CSC, 6.2 Sierra Lee, CSC, 7.5.
Goat Tying: Karissa Rayhill, EWC, 13.8 seconds Faith Hoffman, UW, 14.2 Taylour Latham, UW, 14.6 Jacey Thompson, UW, 15.0 Rae Reimler, UW, 15.1.
Be the first to know
Get local news delivered to your inbox!