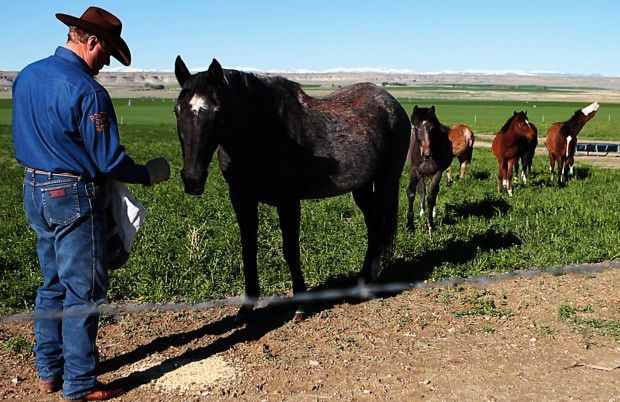 This rodeo season bestowed blessings upon Wyoming's own Powder River Rodeo. Last week, while working a circuit finals in Billings, Montana, the Franzen family learned they had been nominated for the Professional Rodeo Cowboys Association Stock Contractor of the Year Award. While the Riverton-based family business has never won the award, it's the ninth time Powder River Rodeo has been among the five finalists.
The Franzen family also learned that returning voting ballots showed they had won the 2019 Remuda Award. That award, voted on by roughstock riders on the PRCA circuit, goes to the stock contractor that provides livestock the cowboys think gives them the most fair chance of winning. That came as a humbling landmark award for the family.
"We've just worked really hard to build a program that is very sought after," Lori Franzen told the Star-Tribune. "We try to make and build and breed horses that cowboys want to get on. ...
"It's a family effort. When we started, this was our dream. We've been very successful at it and that's something everybody would be proud of."
Powder River Rodeo is, without doubt, Wyoming's largest stock contractor. Lori told the Star-Tribune that they've had aspiring cowboys throughout Wyoming ask what it takes to get to their level. The short message: sacrifice. Hank and Lori Franzen started the business with nothing at 26 years old. In February, Powder River Rodeo will celebrate its 35th year.
Of course, their children also have significant roles. Their son, John, played a major role after hanging up his career as a full-time bulldogger. In March he was selected onto the PRCA Executive Council as a general membership representative. Their daughter, Jill, coordinates music at rodeos all over the country. She was chosen as PRCA Music Director of the Year last year and she's nominated again this year.
"We worked extremely hard to have a company be where it is today," Lori said. "It's not an easy feat."
What's separated Powder River Rodeo livestock from some of their counterparts in the Southern states like Texas, at least in part, has been the size. Lori noted that their livestock is bred larger than that of their Texan counterparts. They bought Khadafy Skoal at 4 and raised him in Wyoming. Khadafy became the first animal to be live and on-hand for his induction into the Pro Rodeo Hall of Fame in 2012. Powder River was also responsible for Reserve Champion broncs Miss Congeniality and Skoals Frontier.
Recently they were asked to bring nine horses and five bulls to the National Finals Rodeo in Las Vegas. They'll leave Nov. 29th for the Thomas & Mack Center. Five rounds were won off Powder River livestock at last year's finals. So there's certainly something different about the Wyoming-raised horses and bulls.
"They just don't have the bigger-boned type of horses that we have," Lori said. "We breed for that."
Powder River Rodeo's also somewhat nominated for other awards. They contract through to multiple rodeos of various winnings. The PRCA holds annual awards for best small ($3,000 and below), medium ($3,000-$10,000) and large ($10,000 and over) rodeos. Powder River Rodeo contracts for at least one rodeo in the top five nominees in each category. The Blackfoot Ranch Rodeo in Blackfoot, Idaho, is nominated in the small category, the Black Hills Roundup in Belle Fourche, South Dakota, is nominated in the medium group and the Caldwell Night Rodeo in Caldwell, Idaho, stands among peers like Cheyenne Frontier Days in the largest outdoor category.
"To think that there's 90 contractors out there and we had one of the top five in each category," Lori said. "That speaks volumes."
Their successful 2019 has about a month left in it. And by the time they turn around and return from Las Vegas, they could do so with slightly larger winnings than in years past.
Follow sports reporter Brady Oltmans on Twitter @BradyOltmans
Be the first to know
Get local news delivered to your inbox!