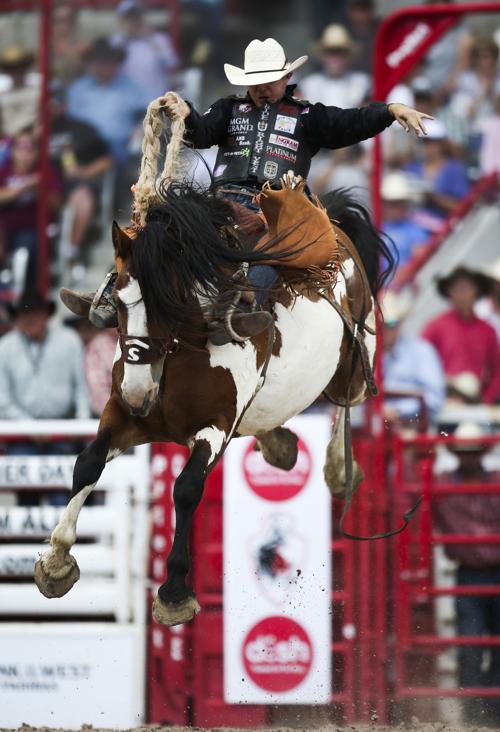 Outside of the National Finals Rodeo in December, the next few weeks are the most lucrative on the Professional Rodeo Cowboys Association circuit. Commonly referred to as "Cowboy Christmas," the stretch begins next week and runs through mid-July. And with the majority of last year's summer schedule canceled because of the pandemic, cowboys are ready to hit the road and make a move in the PRCA world standings.
The list includes a handful of cowboys, and one cowgirl, with in-state ties.
Gillette barrel racer Amanda Welsh is currently No. 4 in the world standings. Welsh, who qualified for the 2016 NFR, has won more than $31,000 on the year.
Kaycee bareback bronc rider Cole Reiner, who qualified for his first NFR last year, enters the weekend seventh in the world standings. The Kaycee native and former Sheridan College and Casper College standout has pocketed more than $37,000 to this point.
Hillsdale's Brody Cress enters the weekend No. 8 in the world saddle bronc standings with just under $35,000. Cress is working on a streak of four consecutive trips to the NFR and won NFR average titles in 2017 and '19.
Former Sheridan College saddle bronc rider Zeke Thurston, who won world titles in 2016 and '19, sits 11th in the world standings with just under $30,000.
Two former Casper College cowboys are just outside the top 15 in their respective events, with Shorty Garrett 16th in saddle bronc and Trey Yates 16th in team roping (heeling).
Even though the College National Finals Rodeo concluded its week-long run at the Ford Wyoming Center in Casper this past Saturday, some cowboys who competed at last week's CNFR have their sights set on the NFR.
Texas cowboy Cole Franks, who won both the bareback bronc riding and the all-around at the CNFR while competing for team champion Clarendon College, enters the weekend No. 21 in the PRCA world standings. Panola College tie-down roper Kincade Henry, who finished fifth in the event, is currently No. 9 in the world standings. And Northwestern Oklahoma State steer wrestler Bridger Anderson, who won the first go-round and finished second in the third go at Casper, is No. 30 in the PRCA standings. Anderson, who won the 2019 CNFR bulldogging title, placed sixth in the 2020 world standings.
Casper brothers Kellan and Carson Johnson, who won the national title in team roping competing for Casper College, are also looking to get in the mix with a solid showing during "Cowboy Christmas." Kellan is No. 42 in heading while Carson is No. 30 in heeling.