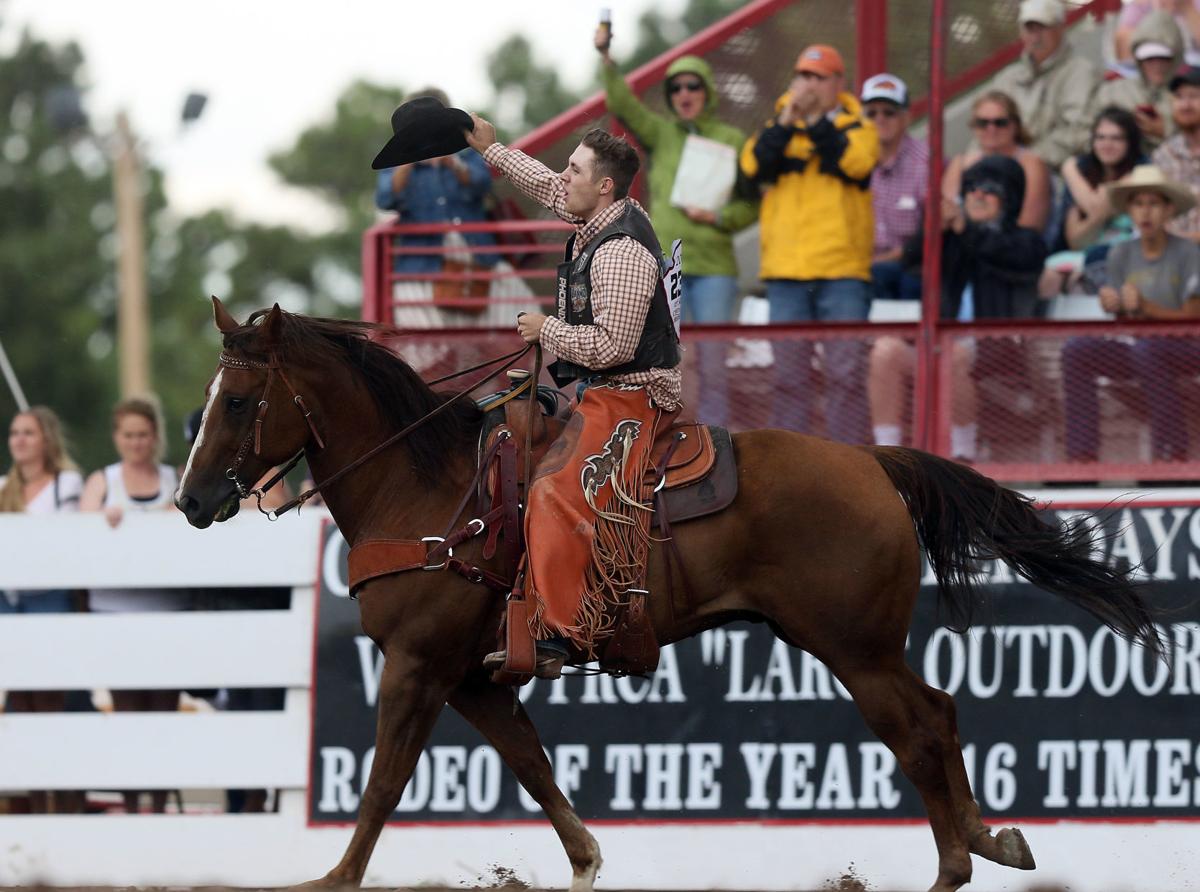 CHEYENNE — Brody Cress couldn't hear the final horn over the championship Sunday crowd at the World's Largest Rodeo.
For his second ride in less than 5 minutes, Cress successfully rode Sankey Pro Rodeo & Robinson Bulls' Black Box for a rodeo-best 88.5 to win the saddle bronc riding championship at the 2017 Cheyenne Frontier Days and fulfill a boyhood dream.
He earned the opportunity to ride Black Box after his initial ride of Rafter G Rodeo's Charlie's Angel stumbled near the gate. Cress did what he could but the horse didn't buck with conviction.
"I couldn't tell what that first horse was doing," Cress said. "I knew I did my job but I didn't know what they were going to do with him."
That ride earned him a 79.50 score with a re-ride option. He needed a 82.5 to win with just one rider remaining. His decision was obvious.
The Hillsdale native, who was a three-time state wrestling champion at Cheyenne East, the campus of which is 4 miles from the Frontier Days Rodeo grounds, unearthed a deafening roar from his hometown crowd and felt its energy. He ignored the notes of Eminem's 2002 song "Lose Yourself" from the speakers as he cinched his rope inside chute No. 5 and the gate opened on his nod.
An 8-second ride later, he rested his left arm on the gate in the middle of the arena with his eyes fixed on the video board that forced him to re-live his ride. The crowd dulled momentarily in anticipation, only to shake the grandstands to its foundation upon the reveal of his final score.
"I've been coming to this rodeo since I was a little kid and I've always dreamed of winning it," Cress said. "It was awesome to be able to go out and do that in front of family and friends and everyone that knows me."
From previous rides he knew Black Box would take an extended scoot out of the gates before breaking. But her scoot on Sunday was shorter than usual. Instead she bucked harder, earlier.
Cress clung to the braided rein with a vice-like grip and fell into the rhythm of the horse's bucking, even as she violently attempted to dismount the young rider.
"If I would have stubbed my toe at all she would have bucked me off," he said, "so I felt like I should see some points, but I didn't know what they were going to do with it."
Having just rode another bronc only minutes earlier didn't phase the Tarleton State student, who qualified for his second College National Finals Rodeo in saddle bronc in June.
He didn't mind having the quick turnaround. In fact, he preferred it.
The added ride reminded him of practice, where he would regularly ride on multiple horses. That helped him remain relaxed before getting in the chute.
"You get a warm-up with the first one," he said.
In order to seize the saddle bronc championship at the "Daddy of 'em all", he surpassed a multitude of seasoned veterans.
Jacobs Crawley, the 2015 Professional Rodeo Cowboys Association world champion, scored an 82.5 and finished sixth. Then there was defending world champ and former Sheridan College standout Zeke Thurston, who finished third.
Just before Cress rode for the first time he had to watch Cody DeMoss, who set the Frontier Arena record with a 91-point ride in 2010. DeMoss finished in fourth place.
Sandwiched between Cress' rides was Jake Wright, of the legendary Wright rodeo family. Wright came into the short go with the best average and scored an 84 to pressure Cress into needing an 84.5 to even tie.
But none of those riders were fueled by a hometown welcome.
"It pumps me up to be able to ride in front of this crowd in my hometown in my home state," Cress said.
Cress was 16th in the PRCA saddle bronc world standings before Sunday. He anticipates it may give him a slight bump in the standings with over a $5,000 gap between he and 17th-place Tyrell Smith.
He is determined to move up in the standings and he knows there's only way to do so, ride in more rodeos.
"In August we have 27 rodeos in 31 days so it's about to be pretty busy but I love it," he said. "It's what I like to do."
With his eye on the national finals he is determined to continue riding as much as possible.
He's already earned multiple victories this season but even he admitted, with the Frontier Days logo pinned to his back, that what he accomplished on Sunday was special. Even if it lasted for only a fleeting moment.
"This is the best one I've ever won," Cress said. "But I've got to keep going. You've got to win a lot of money to be able to make it to the finals so I can't stop and relax, I've got to keep going."
Follow sports reporter Brady Oltmans on Twitter @Brady_CST