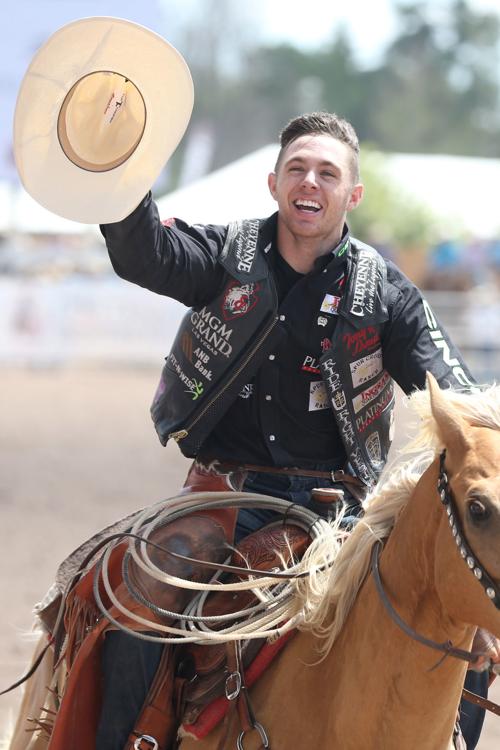 Hillsdale saddle bronc rider Brody Cress placed fourth in the second round of the National Finals Rodeo on Friday in Las Vegas and moved to second in the average.
Cress scored 88.0 points on Beutler & Son Rodeo's Nutrena's Hammer Stone, making him just one of two saddle bronc riders with two qualified rides. Rusty Wright leads the average with 167.0 points on two head; Cress has 164.0. Jesse Wright won the round with an 89.5 on United Pro Rodeo's Awesome Sauce.
Former Sheridan College cowboy Zeke Thurston, who won the first round, was one of 11 riders to post a no-score Friday. Thurston remains second in the world standings behind Ryder Wright, with Cress now sixth in the world standings.
Former Central Wyoming College cowboy Ty Breuer tied for fourth in bareback bronc riding with an 87.5-point ride. Nevada native Trenten Montero, competing in his first NFR, won the round with a 90.5 on Sankey Pro Rodeo's Prairie Rose.
Riley Pruitt, who rodeoed at Eastern Wyoming College, was 14th in tie-down roping with a time of 13.6 seconds. Marty Yates won the round with a 7.3 and leads the average with a two-run time of 15.7 seconds. Pruitt is 11th in the average and in the world standings.
Bull rider Garrett Smith had a 91.5 on Pete Carr Pro Rodeo's Black Gold to win the round and take the lead in the average.
Tyler Waguespack won the steer wrestling with a 3.6, Clay Smith and Jade Corkill won the team roping with a 4.4 and Dona Kay Rule won the barrel racing with a 13.69.
Be the first to know
Get local news delivered to your inbox!