Mid-Plains Community College's JD Draper has taken a business-like approach to this year's College National Finals Rodeo.
The sophomore steer wrestler tied for fifth in the first go-round with a 4.8-second run and followed that up with a 5.0 in the second go. Wednesday, Draper had his slowest run of the week with a 5.2 but his consistency has him leading the average with a three-run time of 15.0 seconds.
"The main thing I knew was to just go knock another one down smooth and try to stay in the average," Draper said of his run Wednesday, "because they're going to bring 12 back (for the finals).
"I look at it like it's another run, whether it's slack, practice pen, big lights. It's just another run. My job is just to move his head and score him."
Competing in his first college finals, Draper had a slight lead over McNeese State's Gabe Soileau (15.4) and the University of Wyoming's Ty Everson (15.5) going into Thursday's performance at the Casper Events Center.
Draper's week is even more impressive considering that he had to take his horse, "Chance," to the vet last week and wasn't able to ride him until they made their run in Monday morning's slack.
"That old horse has a heart of gold and never has let me down once," Draper said.
As far as whether he maintains his lead in the average with two more performances before Saturday's championship round, Draper remained matter of fact.
"What happens, happens," he said. "I did my job."
Tie-down roping
The expected duel between traveling partners Haven Meged and Ty Harris took a step back Wednesday. Tarleton State's Meged did his part with an 8.8, but Texas A&M-Commerce's Harris, the defending national champ, had trouble on the ground and posted an 11.0.
That left Meged leading the average with a time of 26.4 seconds on three runs. Harris, however, is now tied with Fresno State's Colton Campbell in second, 2.5 seconds back.
Colton Mazoch of Wharton County Junior College leads the go with an 8.5.
Team roping
Texas A&M tandem Kaine Warnken and Cord Kohleffel didn't have their best night, but did become just the third team with three successful catches. After posting times of 6.9 seconds and 6.8 seconds, respectively, in the first two rounds they struggled to a 12.4 Wednesday. Their three-run time of 26.1 does have them in third in the average, though, and should be more than enough to bring them back Saturday.
Stephen F. Austin's Kasen McCall and Panola College's Clayton Lowry took the lead in the go with a 5.1 and moved into fifth in the average.
Goat tying
Erryn Hodson picked a good time to put together her fastest run of the week.
The Weber State cowgirl tied for the second-fastest run of the rodeo with a 5.8 that moved her to the top of the third go standings and to No. 3 in the average with a 19.4.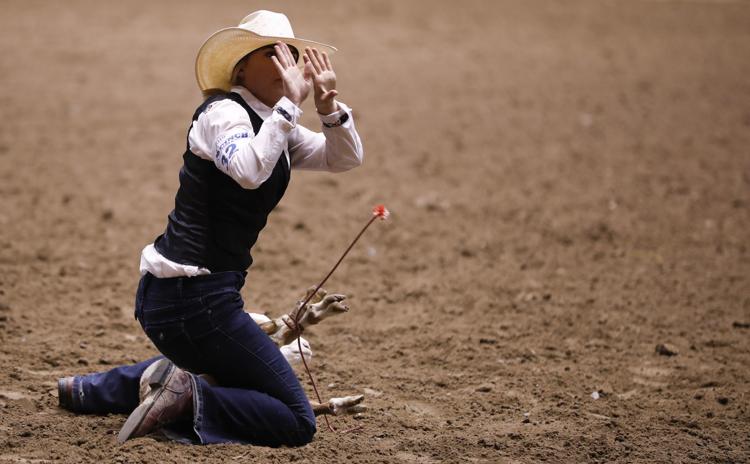 Hodson trails her sister, Weber State's Emma Hodson, who has an 18.9 and Sam Houston State's Lauren Bane, who has a 19.3.
After a 7.2 in the second round, Erryn Hodson was glad to finally find a rhythm on Wednesday.
"I was hoping to score a straight-through run so I could make up some time," she said.
Breakaway roping
Northwest Oklahoma State's Taylor Munsell took the lead in the average with a 3.0 second run. Her three-run time of 7.4 seconds gave her a commanding 1.7-second lead over both Shelby Boisjoli of Ranger College and Bryana Lehrmann of Texas A&M.
"My horse worked outstanding," Munsell said. "She got me there and gave me a shot. We just went and made the run and did what we could with what we had."
Defending national champ Mia Manzanares continues to lead the third go with a 2.2, followed by New Mexico State's Abbie Shofner with a 2.6 and Munsell.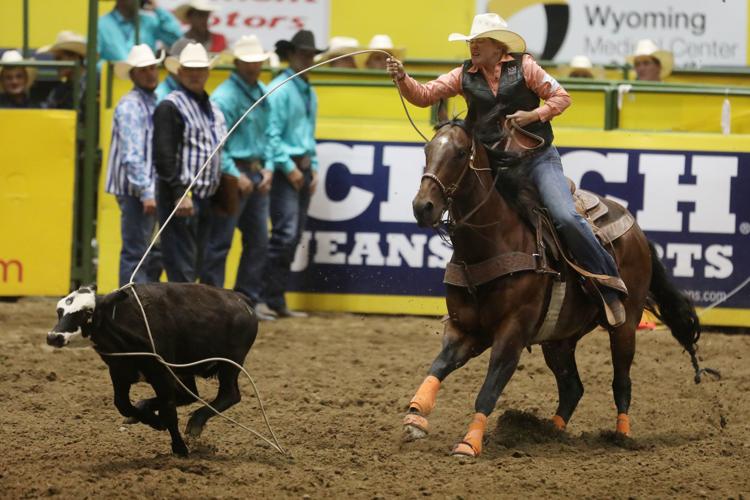 Looking ahead to Saturday, Munsell didn't plan on changing anything at this point.
"Just rope what you draw and do what you can with it," she said. "Take it one run at a time."
Barrel racing
Ashtyn Carlson from the College of Southern Idaho put together her best run of the week (14.38 seconds) to take the lead in the go-round and in the average with a three-run time of 43.00 seconds.
The University of Wyoming's Rachael Calvo is second in the average with a 43.30 but missed her chance to take the lead with a 14.56-second run, her slowest of the week.
-- Staff writer Brady Oltmans contributed to this report.