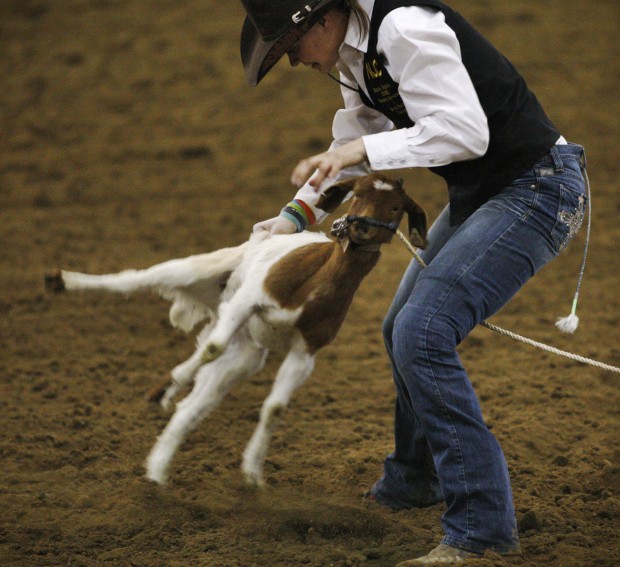 Hayden Segelke did just about all she could at last year's College National Finals Rodeo.
As a freshman, she won the all-around and scored all of her team's points in leading Northeastern Junior College to a ninth-place finish at the season-ending showcase. Segelke placed second and first, respectively, in the first two go-rounds of the barrel racing and finished sixth in the goat tying for the Sterling, Colo., school.
This year, however, Segelke will have company at the CNFR after NJC won the Central Rocky Mountain Region. The CNFR begins Sunday at the Casper Events Center.
Lysite freshman Coralee Spratt was third in breakaway roping in the region and will also compete in goat tying, while freshman Paxton Segelke, Payton's younger sister, will compete in breakaway.
"It's going to be a lot more fun this year," Hayden Segelke said. "Last year was pretty laid back, but I'm glad that I've got my sister and Coralee here. We've also got three guys from the [Northeastern JC] team here, so that makes it even better. Our whole team is like a family."
Segelke, the regional champ in the all-around and barrel racing, will once again be competing in barrel racing and goat tying at the CNFR.
The sophomore standout is ready for her return trip.
"It's nice to know the ins and outs of the arena," Segelke said. "I'm more relaxed this year. … I just don't want to hit a barrel."
Segelke would have broke the arena record with a time of 13.66 seconds on her third run, but knocked over a barrel and finished with an 18.66. The arena record is 13.74 seconds, set by Texas A&M's Elizabeth Sullivan in 2007.
Segelke didn't miss a beat during the CRMR season, winning five of 10 rodeos and placing in the top five in two others.
Spratt, a four-time qualifier to the National High School Finals Rodeo, said she couldn't pass up the opportunity to compete against Segelke on a daily basis and the chance to work with NJC women's coach Taya McAdow.
"Hayden is just so enjoyable to be around," Spratt said. "She's taught me to believe I can win every time I compete. I know I'm going to be nervous [competing at the CNFR], but I feel like I'm prepared and I'm really excited.
"I'm going to have a lot of support from my family and friends, so I just have to know that each run prepares me for [the short go] Saturday night."