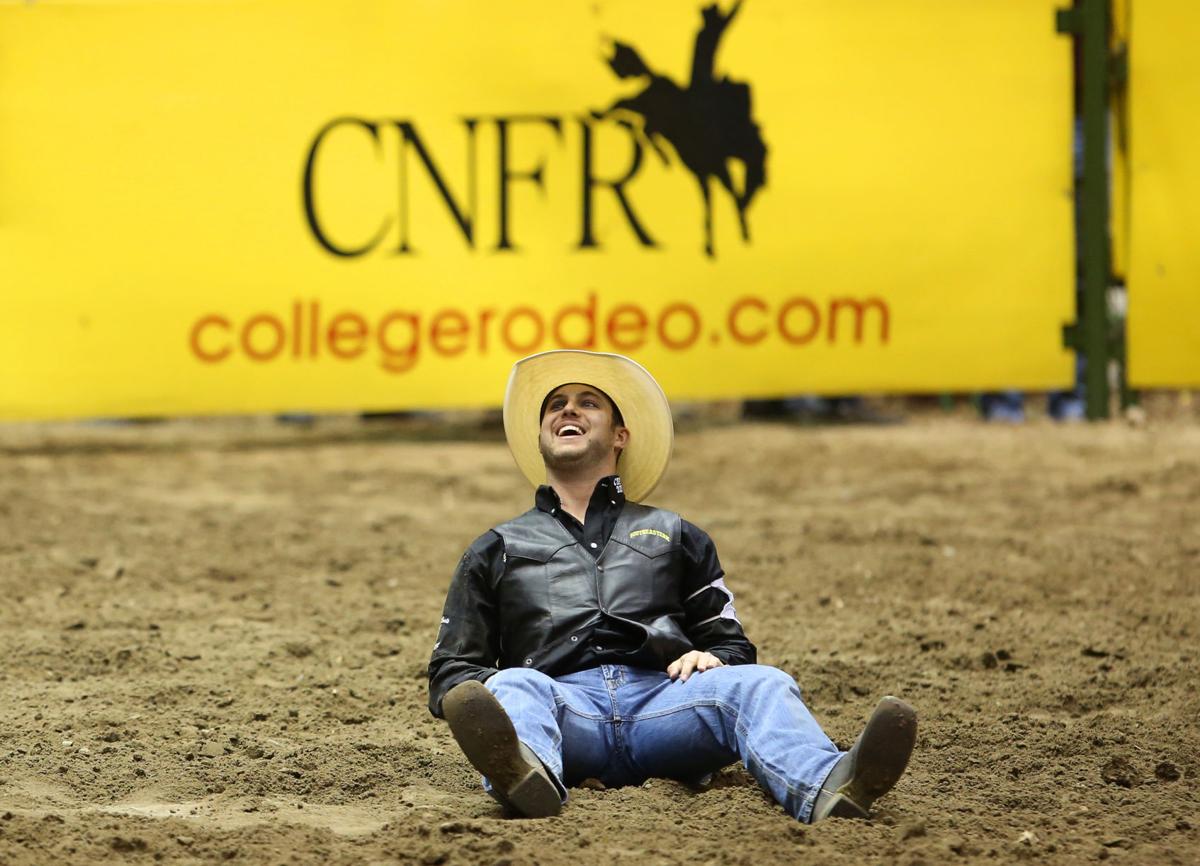 Staring at the rafters of Casper Events Center in disbelief as he learned he won the steer wrestling national championship at the 2017 College National Finals Rodeo on Saturday night, Denver Berry couldn't contain his excitement.
He then ran across the arena's dirt to the chutes where his dad, fresh off high-fiving and hugging everyone that approached him, was waiting.
"He was the first one to come congratulate me," Denver said. "It's an even better feeling to have your dad there to watch and experience that."
After wending their way around the gates, talking to cameras along the way, Denver stopped and told his dad that he didn't have time to get a Father's Day gift.
"I'll take the saddle," Ote Berry responded with a smile.
The four-time Professional Rodeo Cowboys Association world champion steer wrestler and 1998 Rodeo Hall Of Fame inductee passed on his knowledge to his son, who has now surpassed his father in some ways.
Denver was a regular at the National Junior High Finals Rodeo as well as National High School Finals Rodeo, where his father won 1980 steer wrestling championship.
But Ote never won the elusive buckle and saddle combination that came with college national championship.
"I never did make the college final so he's got that on me," Ote said. "I've told him all along that he's had as much or more talent than I did with his cinch work and his dedication and he's got a good start to his career."
It is no surprise that Denver Berry is continuing his family's legacy. He was born the same year that his father won his last world championship and was raised on the rodeo.
Ote saw the progression of his son and helped him train throughout for the numerous rodeos that consumed their schedules.
So when Denver sat atop his horse for Saturday's final go-round, he knew that his son would trust in himself and the work that he had put in for over a decade in order to bring home a national championship.
"What we've talked about here is just to trust your training," Ote said. "He's been doing this now for a long time, he's put a lot of hard work in the practice pen and this is where it pays off.
"Clear your mind and just focus on what you have to do and don't beat yourself, that's the main thing. We don't talk about hardly anything about steer wrestling, we talk about the mental aspect of it."
That's exactly what the senior did in his final go, catching up to the steer immediately and taking him to the ground almost as quick.
His father was one of those who told him not to go out in that run "not to lose" so he went straight for the win.
"Not only is he a great dad but also a great mentor," Denver said. "Not every guy has the opportunity to say their dad was a four-time world champion and get to practice with him everyday. I had my mom and my dad out here to support me and I couldn't ask for anything more."
Ote did plan on being at the CNFR regardless of how his son did, in order to talk with college coaches to help arrange scholarship money to award to the finest who competed in a junior steer wrestling program.
He had hoped to see his son as much as possible but because of scheduling conflicts with promoting his endeavor he was unable to attend the first three go-rounds.
"When he told me how he was up, I knew I couldn't be here to watch his first two runs on Monday and Tuesday," Ote said. "I was hoping maybe that he would get up on Wednesday, Thursday or Friday on his third steer so I could watch him and then he came right back Tuesday and I couldn't get here so I told him 'You're going to have to make the short round if you want me to watch you.'
"So we made a deal and he said he'd make the short round and it turned out perfect."
It was a touching moment for the two, who have both won their share of buckles in their careers, and it came on the eve of Father's Day.
Their plans, aside from returning to Oklahoma, weren't known before the championship ceremony that followed bull riding on championship Saturday.
Just before his father's reassurance that the saddle would do for a gift, Denver was ready for anything when it came to a suiting present.
"I hope this is good enough," he said. "But I've got a little money now so I can afford to get him something."
Follow sports reporter Brady Oltmans on Twitter @Brady_CST