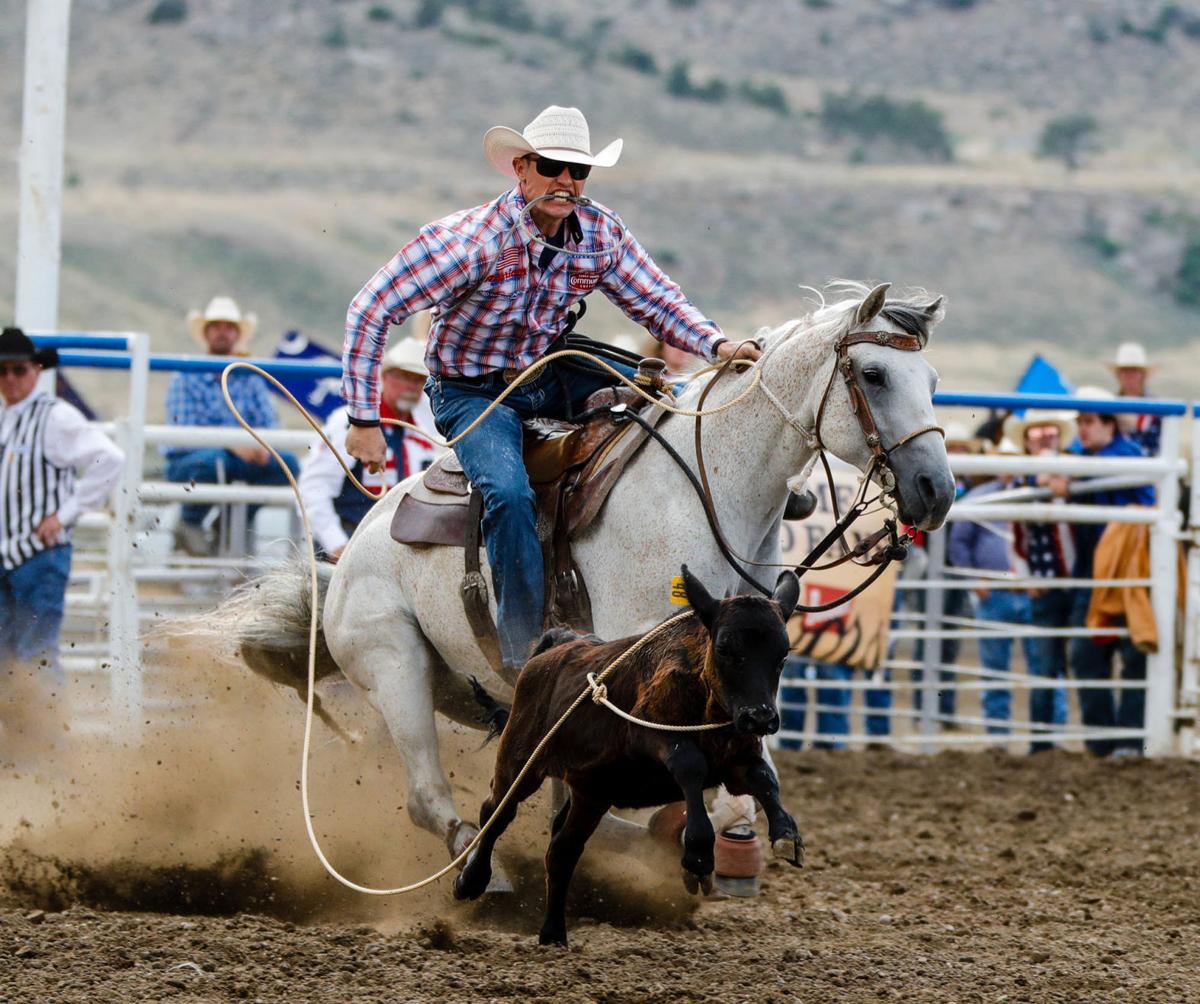 Champions were crowned Sunday night at the Cody Stampede when the 102nd edition of the one-header rodeo concluded its four-day run.
Four-time world champion Tuf Cooper won his second consecutive tie-down roping championship with an 8.3-second run. It was reminiscent of last year's rodeo when Cooper also claimed the title on the final day of competition.
Cooper pocketed more than $10,000 for the win and added another $8,000 by finishing second in the average at the St. Paul Rodeo. The earnings helped the Decatur, Texas, cowboy move into second in the Professional Rodeo Cowboys Association tie-down and all-around standings.
In tie-down, Cooper, who won world titles in 2011-12 and in 2014, increased his winnings for the year to more than $100,000 and trails leader Shane Hanchey by less than $5,000. The 2017 all-around winner trails Stetson Wright by more than $44,000 in the all-around race.
Also winning titles at the Cody Stampede were steer wrestler Jacob Talley with a 3.4-second run, team ropers Clay Tryan and Jake Long with a 4.0 and barrel racer Emily Miller-Beisel with a 17.03.
In the roughstock, Caleb Bennett won the bareback bronc riding with a 91.5-point ride on Frontier Rodeo's Gun Fire, Braden Richardson won the bull riding wiht a 93 on Frontier Rodeo's County Jail and Mitch Pollock and Wade Sundell split the saddle bronc title with 90-point rides. Pollock was on Frontier Rodeo's Maple Leaf while Sundell was aboard C5 Rodeo's Kitty Whistle.
Hillsdale's Brody Cress tied for fifth in saddle bronc with an 87.5 to pocket more than $1,100 and Ranchester bareback rider Seth Hardwick was sixth with an 84.5 to take home more than $950.
In addition to the Cody Stampede, a number of other rodeos also crowned winners to kick off the lucrative 10-day run commonly referred to as "Cowboy Christmas."
Bennett also won the World's Oldest Rodeo in Prescott, Arizona, and the Killdeer (North Dakota) Mountain Roundup PRCA Rodeo and finished second at the Home of Champions Rodeo in Red Lodge, Montana, as he pocketed more than $17,000 over the weekend to move into No. 5 in the world standings with nearly $60,000.
In addition to tying for fifth at Cody, Cress finished fifth at the World's Oldest Rodeo, second at the Killdeer Mountain Roundup and third at the Black Hills Roundup in Belle Fourche, South Dakota, to jump from seventh to fifth in the saddle bronc world standings. The two-time National Finals Rodeo average champ won nearly $10,000 over the weekend to push his earnings for the season to almost $54,000.
Former Casper College team roper Trey Yates vaulted from 24th to 16th in the heeling world standings after winning nearly $10,000 for the weekend. Yates teamed with header Tyler Wade to win the first go-round and finish third in the average at the St. Paul (Oregon) Rodeo, and finish second at the Black Hills Roundup. Yates, who teamed with Kellan Johnson to win the 2018 College National Finals Rodeo and won the 2018 NFR average title with Aaron Tsinigine, increased his season winnings to more than $25,000.
Former Sheridan College saddle bronc rider Zeke Thurston won the St. Paul Rodeo with an 88 on Big Bend Rodeo's Broken Camp to pocket more than $9,000. Thurston, who won world titles in 2016 and '19, moved up one spot to 11th in the world standings with just over $37,000 for the season.
Casper natives and brothers Kellan and Carson Johnson, who won the CNFR team roping title at the CNFR in June, placed third in the first go-round at the Mandan (North Dakota) Rodeo Days to earn more than $3,600.