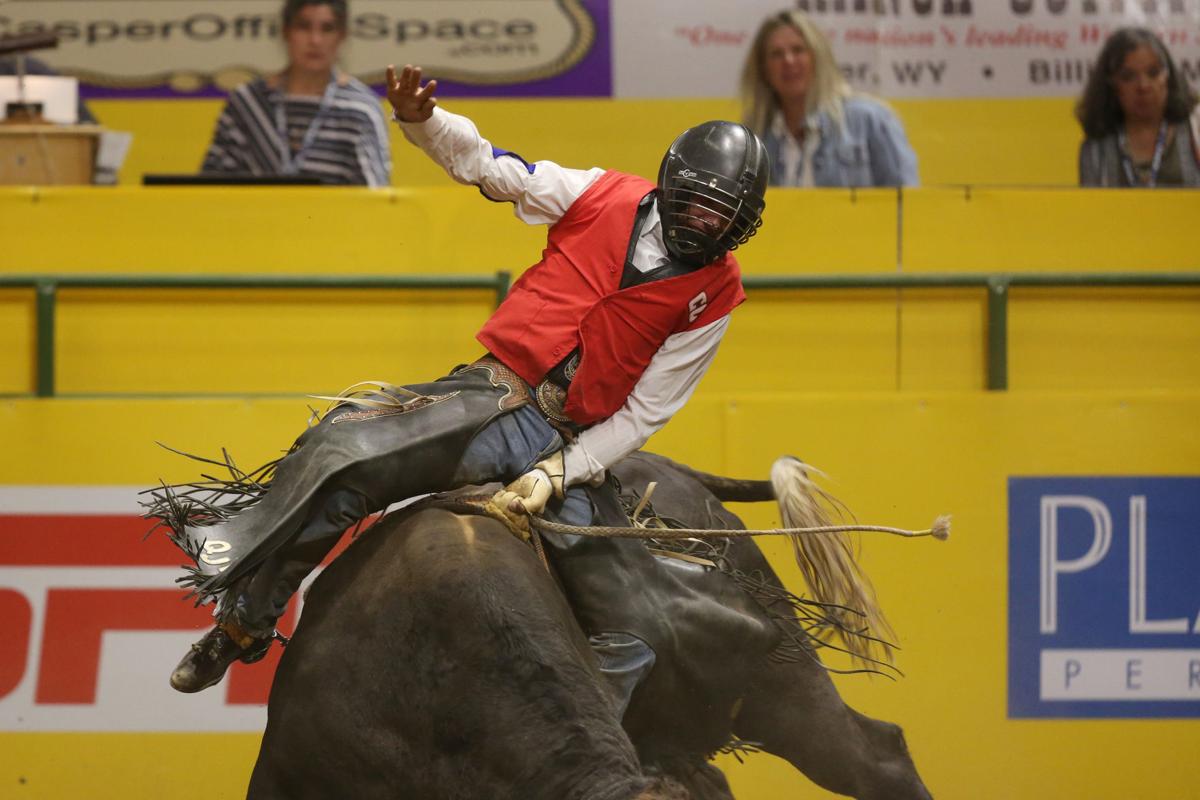 The University of Wyoming men's rodeo team completed an impressive fall campaign by winning the Lamar Community College Rodeo over the weekend in Lamar, Colorado.
The Cowboys scored 885 points to make it five-for-five in the Central Rocky Mountain Region this fall. Casper College finished second with a season-best 810 points and Laramie County Community College was a distant third with 280.
Brice Patterson won the bareback bronc riding and Garrett Uptain the bull riding to lead the Cowboys, who scored more than 800 team points in all five regional rodeos this fall. Uptain also placed second in saddle bronc, with Chadron Coffield (steer wrestling, tie-down roping), and Donny Proffit and Colton Farrow (bareback) also finishing in the top five at Lamar.
For Casper College, another strong showing in team roping and Quinten Taylor's saddle bronc win were instrumental in the Thunderbirds' second-place finish. Nevada Berquist and Cody Lansing won the team roping, with brothers Kellan and Carson Johnson placing third.
Other event winners at Lamar were Gillette College's Clay Reiner (steer wrestling) and LCCC's Chance Derner (tie-down roping).
UW will head into the spring season with a commanding lead as the Cowboys totaled 4,490 points in the fall. Casper College is second with 2,620 points, followed by Laramie County CC (1,990), Gillette College (1,285) and Sheridan College (1,200).
The Northeastern Junior College women's team finished atop the standings thanks to Wacey Day's first-place finish in breakaway roping and a top-five finish from barrel racer Kyla Kelly.
Gillette College was second followed by UW and Casper College. The Cowgirls' Taylour Latham won the goat tying while the T-Birds' Kandace Lumbardy and Kady Locke finished 1-2 in barrel racing.
Gillette College leads the team standings through the fall with 1,505 points, with Casper College second with 1,205, UW third with 1,005 and LCCC fourth with 1,001.
Friday-Sunday, at Lamar, Colo.
Team: University of Wyoming 885, Casper College 810, Laramie County Community College 380, Sheridan College 345, Otero Junior College 330, Gillette College 240, Eastern Wyoming College 220, Chadron State College 80, Central Wyoming College 75.
Bareback Bronc Riding: Brice Patterson, UW, 157 points Donny Proffit, UW, 151 Creede Guardamondo, OJC, 142 Colton Farrow, UW, 131 Connor Heinert, GC, 66.
Saddle Bronc Riding: Quinten Taylor, CC, 154 points Garrett Uptain, UW, 153 Kain Stroh, SC, 144 Sage Miller, LCCC, 137 Garrett Long, LCCC, 137.
Bull Riding: Garrett Uptain, UW, 118 points Coby Johnson, SC, 85 Stefan Tonita, LCCC, 72 Wyatt Phelps, SC, 72.
Steer Wrestling: Clay Reiner, GC, 11.6 seconds Chadron Coffield, UW, 13.9 Linkyn Petersek, CC, 15.4 Zane Zilverberg, CSC, 17.6 Colten Storer, CSC, 18.6.
Tie-Down Roping: Chance Derner, LCCC, 19.4 seconds Chadron Coffield, UW, 19.7 Trae Smith, CC, 20.3 Myles Kenzy, GC, 21.0 Nathan Ruth, SC, 21.5.
Team Roping: Nevada Berquist/Cody Lansing, CC, 16.6 seconds Ty Moser/Tristan Hunter, EWC, 20.3 Kellan Johnson/Carson Johnson, CC, 22.2 Mikey Kunzler/Dillon Graham, OJC, 23.5 Braxton Morgan/Tegan Wheatley, OJC, 27.2.
Team: Northeastern Junior College 277.5, Gillette College 230, University of Wyoming 195, Casper College 180, Eastern Wyoming College 165, Laramie County Community College 132.5, Sheridan College 120, Colorado State University 110, Chadron State College 80, Central Wyoming College 30.
Barrel Racing: Kandace Lumbardy, CC, 35.83 seconds Kady Locke, CC, 35.92 Karissa Rayhill, EWC, 36.09 Ryley Hasenack, CSU, 36.13 Kyla Kelly, NJC, 36.33.
Breakaway Roping: Wacey Day, NJC, 6.0 seconds Shelby Lockie, UW, 6.4 Chase Kiker, SC, 6.4 Emily Knust, GC, 6.6 (on one) Brylee Smith, CC, 2.7.
Goat Tying: Taylour Latham, UW, 14.6 seconds Emily Knust, GC, 14.7 Caydee Johnson, LCCC, 14.8 Sidni Ferguson, CC, 15.1 Jaylee Simonson, UW, 15.1.