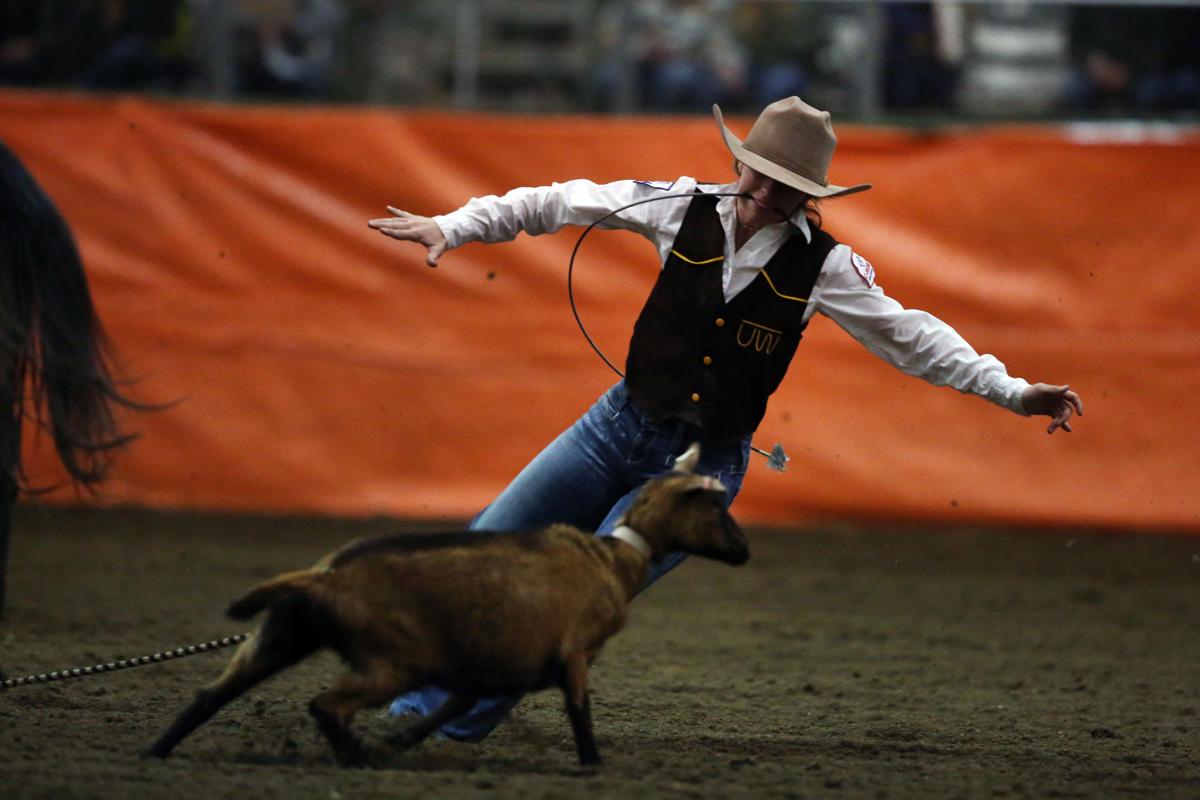 The University of Wyoming rodeo teams continued their season-long dominance of the Central Rocky Mountain Region over the weekend, winning the team titles at their own Laramie River Rendezvous. Heading into the final rodeo of the regular season at Colorado State University beginning Friday, the Cowboys and Cowgirls have already clinched regional team titles and secured a spot in June's College National Finals Rodeo.
At the Laramie River Rendezvous, the men's team got first-place finishes from Donny Proffit in bareback bronc riding and Seth Peterson in tie-down roping. Once again, though, it was the Cowboys' depth that carried them to the top of the standings as they finished with 870 points to easily outdistance Chadron State College (530) and Casper College (520).
UW had four of the top six placers in steer wrestling, finished first and second in tie-down, first and third in bareback and second and third in bull riding.
Chadron State's Colten Storer and Tanner Whetham won the team roping while Casper College's Quinten Taylor captured the bull riding for the second week in a row. Other event winners were: Colorado State's Kolt Ferguson (saddle bronc) and Laramie County Community College's Cauy Pokorny (steer wrestling).
For the Cowgirls, Brandy Schaack won the breakaway roping and Faith Hoffman the goat tying. UW finished with 290 team points, with Gillette College taking second with 240 points and Casper College third with 230.
In addition to the wins for Schaack and Hoffman, the Cowgirls also had a fifth-place finish in barrel racing, four of the top six in breakaway and four of the top five in goat tying.
Colorado State's Lake Mehalic won the barrel racing.
Team: University of Wyoming 870, Chadron State College 530, Casper College 520, Gillette College 415, Otero Junior College 310, Laramie County Community College 265, Colorado State University 150, Northeastern Junior College 85, Lamar Community College 80, Central Wyoming College 30, Sheridan College 15.
Bareback Bronc Riding: Donny Proffit, UW, 147 points Rowdy Moon, CSC, 142 Chase Rose, UW, 141 Jake Kesl, GC, 137 Drake Amundson, LCCC, 75.
Saddle Bronc Riding: Kolt Ferguson, CSU, 149 points Jack Skavdahl, CC, 146 Luke Shields, CC, 146 Tyler Beebe, LCC, 142 Sage Miller, LCCC, 141.
Bull Riding: Quinten Taylor, CC, 159 points Dylan Grant, UW, 77 Garrett Uptain, UW, 74.
Steer Wrestling: Cauy Pokorny, LCCC, 10.7 seconds Seth Peterson, UW, 11.3 Tate Petrak, CSC, 13.0 Austin Hurlburt, UW, 14.5 Jase Staudt, UW, 14.8 Chadron Coffield, UW, 14.8.
Tie-Down Roping: Seth Peterson, UW, 18.4 seconds Jase Staudt, UW, 19.1 Weston Mills, CC, 20.5 Kellan Johnson, CC, 21.0 Trae Smith, GC, 21.2.
Team Roping: Colten Storer/Tanner Whetham, CSC, 12.5 seconds Mikey Kunzler/Dillon Graham, OJC, 13.8 Grant Turek/Clay Reiner, GC, 15.1 Jon Peterson/Trae Smith, GC, 18.5 Graycee Lay, OJC/Tel Likke, NJC, 18.7.
Team: University of Wyoming 290, Gillette College 240, Casper College 230, Colorado State University 170, Chadron State College 130, Sheridan College 70, Otero Junior College 65, Laramie County Community College 60, Eastern Wyoming College 30, Northeastern Junior College 5.
Barrel Racing: Lake Mehalic, CSU, 31.08 seconds Talli Pokorny, GC, 31.46 Riley Addington, GC, 31.53 Manchi Nace, SC, 31.62 Karson Bradley, UW, 31.67.
Breakaway Roping: Brandy Schaack, UW, 5.4 seconds Emily Knust, CC, 5.8 Hailey Hardeman, UW, 6.0 Cassidy March, UW, 15.4 (on one) Faith Hoffman, UW, 2.7 Madison Enos, CC, 2.7.
Goat Tying: Faith Hoffman, UW, 13.5 seconds Taylour Latham, UW, 13.7 Brianna Williams, CSC, 13.9 Reata Beck, UW, 14.0 Makenna Balkenbush, UW, 14.4.