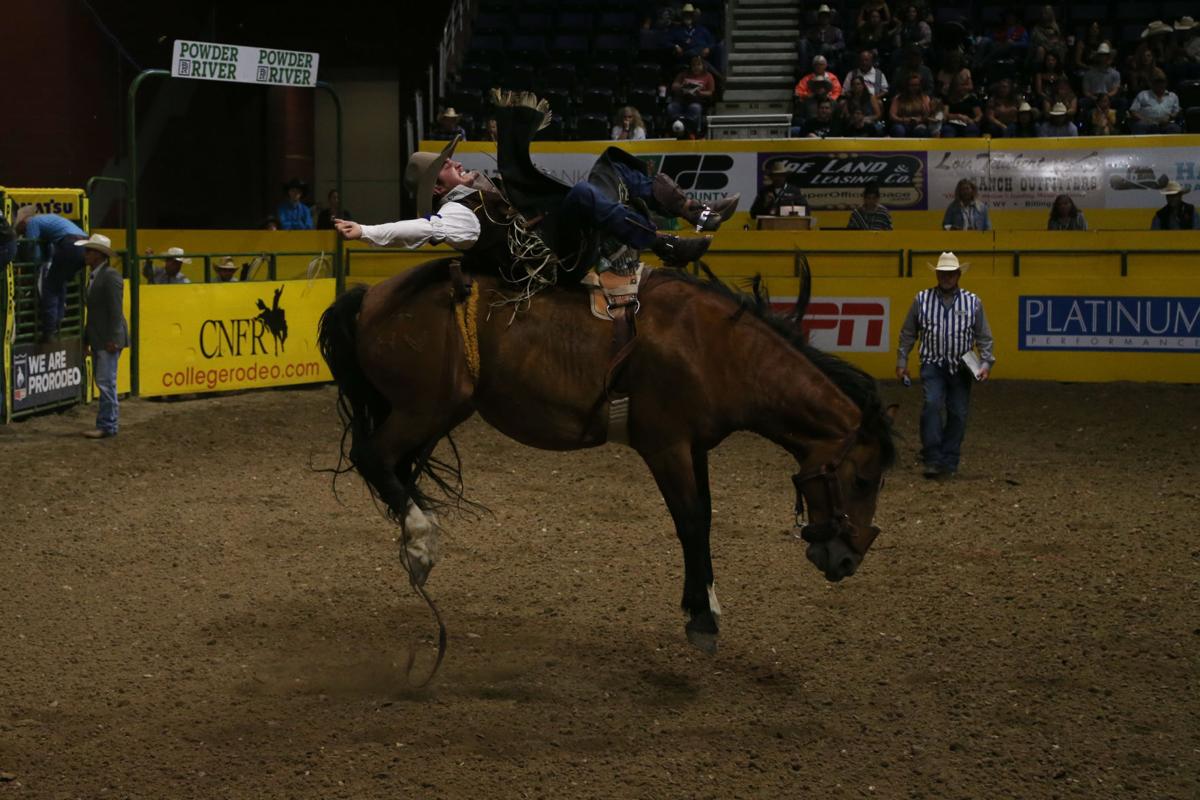 The University of Wyoming men's rodeo team continued its impressive season this past weekend at Sheridan College. The Cowboys finished with 880 points to win the team title at the Central Rocky Mountain Region rodeo behind first-place performances by bareback bronc rider Donny Proffit and steer wrestler Cameron Jensen and a number of top-five finishes.
The Cowboys got second-place finishes from Brice Patterson (bareback and steer wrestling), Dylan Grant (bull riding) and Chadron Coffield (tie-down roping), with Garrett Uptain (bull riding) and Colton Farrow (bareback) also finishing in the top five.
Kain Stroh won saddle bronc to help host Sheridan College finish second with 475 points. Casper College was third with 325 points as Quinten Taylor was second in saddle bronc and fourth in tie-down.
Casper College also got championships from bull rider Brodie Bates and the team roping tandem of Lan Fuhrer and Tracer Olson, but none of them were on the T-Birds' point-scoring team.
The T-Birds also finished second (Hayse Wetzel/Braden Brost), third (Beau Rees/Ty Christensen) and fifth (Jhett Alapai/Olivia Lay) in team roping, but Lay was the only competitor whose points counted toward the team total. Overall, the Casper College men's team scored 660 points that didn't count toward the team total.
Laramie County Community College won the women's team title with 450 points behind Caydee Johnson's wins in both breakaway roping and goat tying. Gillette College's Ellie Bard won barrel racing in helping the Pronghorns to a second-place finish with 355 points, followed by Casper College (275) and Wyoming (200).
Through three rodeos the UW's men's team has accumulated 2,790 points, which is more than second-place Laramie County Community College (1,300) and third-place Casper College (1,160) combined.
Casper College leads the women's standings with 845 points while defending champ UW is second with 810.
The CRMR season continues this weekend with the Rustler Roundup at Central Wyoming College in Riverton.
Team: University of Wyoming 880, Sheridan College 475, Casper College 325, Gillette College 245, Laramie County Community College 170, Eastern Wyoming College 120, Otero Junior College 115, Chadron State College 80, Central Wyoming College 30, Northeastern Junior College 30.
Bareback Bronc Riding: Donny Proffit, UW, 161 points Brice Patterson, UW, 145 Creede Guardamondo, OJC, 135 Colton Farrow, UW, 134 Connor Heinert, GC, 64.
Saddle Bronc Riding: Kain Stroh, SC, 144 points Quinten Taylor, CC, 143 Cody Weeks, SC, 133 Jack Skavdahl, CC, 117 Garrett Long, LCCC, 68.
Bull Riding: Brodie Bates, CC, 80 points Dylan Grant, UW, 79 Wyatt Phelps, SC, 76 Daniel Rasmussen, SC, 75 Garrett Uptain, UW, 73.
Steer Wrestling: Cameron Jensen, UW, 13.5 seconds Brice Patterson, UW, 16.2 Linkyn Petersk, CC, 17.9 Sage Miller, LCCC, 25.6 Chance Derner, LCCC, 26.0.
Tie-Down Roping: Corbin Fisher, SC, 20.9 seconds Chadron Coffield, UW, 20.9 Bodie Mattson, GC, 21.3 Quinten Taylor, CC, 23.2 Kayd Goss, NJC, 26.2.
Team Roping: Lan Fuhrer/Tracer Olson, CC, 13.9 seconds Hayse Wetzel/Braden Brost, CC, 15.4 Beau Rees/Ty Christensen, CC, 15.6 Ellie Bard/Clay Reiner, GC, 17.0 Jhett Alapai/Olivia Lay, CC, 21.0.
Team: Laramie County CC 450, Gillette College 355, Casper College 275, University of Wyoming 200, Colorado State University 135, Northeastern JC 110, Lamar CC 75, Chadron State College 70.
Barrel Racing: Ellie Bard, GC, 36.03 seconds Katie Drosihn, CSU, 36.44 Brylee Smith, CC, 36.58 Kady Locke, CC, 36.60 Chantel Kolb, CC, 36.70.
Breakaway Roping: Caydee Johnson, LCCC, 5.3 seconds Cassidy Espenscheid, CC, 5.6 Lindee Lauhon, LCC, 5.8 Kyla Kelly, NJC, 5.8 Tayle Brink, CSC, 6.7.
Goat Tying: Caydee Johnson, LCCC, 15.0 seconds Taylour Latham, UW, 15.8 Hayden Madson, LCCC, 15.9 Jaylee Simonson, UW, 15.9 Emily Knust, GC, 16.1.