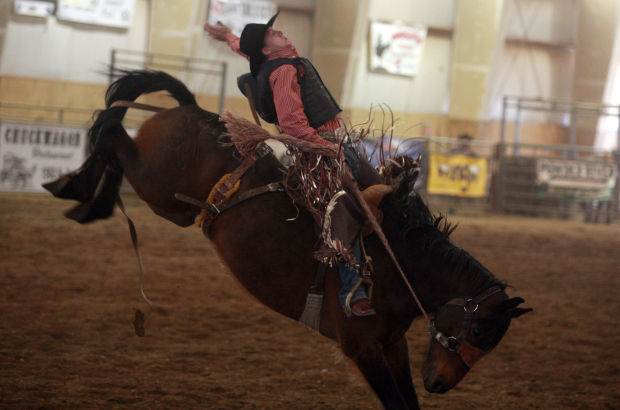 Zeke Thurston was up to the challenge Wednesday night in Las Vegas.
The former Sheridan College cowboy drew Northcott Mazca Rodeo's Get Smart — the 2019 PRCA Saddle Bronc Horse of the Year — at the National Finals Rodeo and won the seventh round with a 92.5-point ride.
The victory helped Thurston, who has almost $278,000 in earnings this season, to increase his lead in the world standings to almost $16,000 over Ryder Wright.
Hillsdale saddle bronc rider Brody Cress, meanwhile, is making another run at the average title. Cress, the NFR average champ two years ago, finished fourth in the round with an 86.0 on C5 Rodeo's Strokin Toni. Cress now leads the average with 592.5 points, which is eight points clear of Rusty Wright. Cress also moved to fourth in the world standings with more than $185,000 on the season.
Former Eastern Wyoming College cowboy Riley Pruitt, who entered the NFR eighth in the tie-down roping world standings, is now second after finishing in the money for the fourth round in a row. Pruitt placed fourth Wednesday with an 8.4-second run. He now has won almost $183,000 for the season and trails Shane Hanchey by just $27,200.
Team roper Ty Blasingame, who now lives in Casper, and heeler Travis Lee Graves earned their first check of the week with a 4.2 to finish second in the round. Average leaders Cody Snow and Wesley Thorp won the round with a 3.6.
Former Central Wyoming College bareback bronc rider Ty Breuer finished 10th in the round with an 82.0. Clayton Biglow, who leads both the average and the world standings, won the round with a 91.5 on Rafter G Rodeo's Ankle Biter.
Five-time defending world champion bull rider Sage Kimzey won the round with a 90.0 on Cervi Championship Rodeo's Smoke Wagon. Kimzey has now won more than $363,000 on the year and leads second-place Boudreaux Campbell by more than $150,000.
Also Wednesday, Stetson Jorgensen won steer wrestling with a 3.4 and Hailey Kinsel won barrel racing with a 13.60.
Be the first to know
Get local news delivered to your inbox!