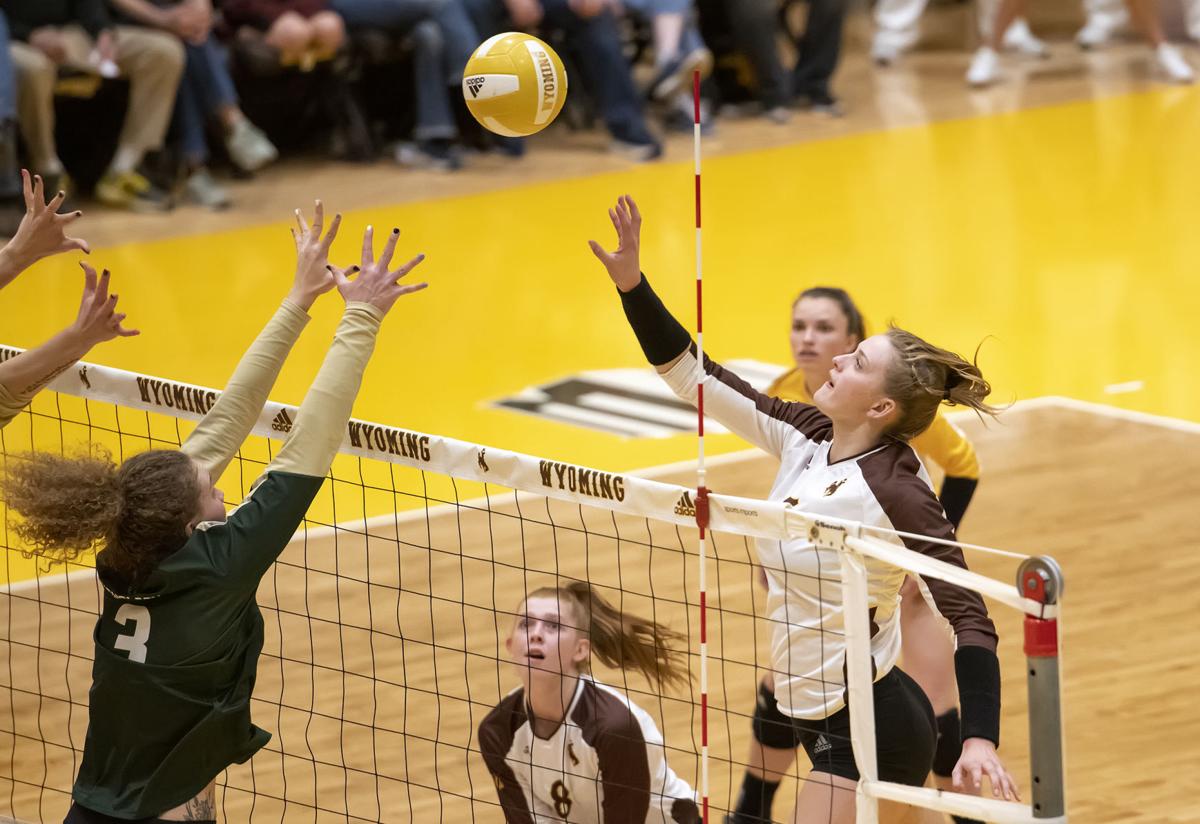 LARAMIE – The Wyoming volleyball program's quest for a Mountain West Conference championship begins with a critical home stand.
The Cowgirls (8-4) open conference play against Utah State at 6:30 p.m. Thursday and also host Boise State at 1 p.m. Saturday in the Uni-Wyo Sports Complex.
UW head coach Chad Callihan owns the program record for most conference victories (95) and best MW winning percentage (.669) entering his ninth season. He has led the Cowgirls to a pair of second-place finishes and three third-place finishes in the MW.
The Cowgirls are looking to bounce back from a disappointing 8-6 finish to the abbreviated 2020 conference-only schedule.
UW is seeking its first conference championship since 1989.
"This is the deepest team we've had," Callihan said. "There's not a bad player in our gym. Everybody can compete at a high level. I think as the season goes on, our daily training is going to allow us to have growth."
The Cowgirls lost to No. 17 Creighton in straight sets and defeated host Wichita State and South Dakota in four sets last weekend.
KC McMahon has 114 kills and Lydeke King is hitting .371 to lead UW. Payton Chamberlain (9.7 assists per set) and Erika Jones (5.1 digs per set) were named to the all-tournament team at the Shocker Classic.
UW super senior Jackie McBride has a chance to become the first five-team all-MW honoree.
The improved Aggies (8-4) defeated Saint Mary's, a team that beat UW twice in Laramie this season, during a run of four wins over its final five non-conference games.
The Broncos (11-1), who play Thursday at Colorado State, enter conference play on a nine-game winning streak that includes victories over then-No. 10 Utah and Oregon State.
UW, which is promoting a "gold out" for Thursday's match, will need to defend its home court to contend. The Cowgirls were picked fourth in the preseason MW coaches poll behind 2020 champion UNLV, Boise State and rival Colorado State.
"That's my favorite part about Wyoming. I love the atmosphere here," McMahon said. "I love our fans. They're super energetic. To have that back would be my favorite part, honestly, besides playing the volleyball part."
CROSS COUNTRY
The UW men and women will compete at the Griak Invitational on Friday in St. Paul. Minnesota.
The Cowboys finished second and the Cowgirls fifth at the Wyoming Invite to open the season.
Seth Bruxvoort led the men's team with a second-place finish on the Little American Golf Course in Cheyenne with a time of 15:00.00. Katelyn Mitchem (18:20.2) and Abigail Whitman (18:25.6) finished 24th and 26th, respectively.
"The way they're working out right now, we're very excited," UW head coach Scott Dahlberg said. "We all know that first meet is really a rust-buster to get a meet in and remember what it's like to compete and push hard."
The 21-team field includes BYU, Georgia Tech, Iowa State, Michigan, Minnesota and Tennessee.
SOCCER
UW opens up MW play on the road at 7:30 p.m. Friday against New Mexico in Albuquerque. The Cowgirls finished non-conference play 4-3-1 after a 3-0 start to the Colleen Corbin era.
Faith Joiner leads the team with three goals, and Jamie Tatum has two goals and three assists through eight games. Keeper Alex Daws is allowing 1.7 goals per game with a .736 save percentage.
The Lobos (5-2) enter the conference opener on a four-game winning streak that started with a 2-1 victory over Washington. New Mexico outscored the opposition 18-9 during non-conference play.
UW is coming off its first home defeat, a 3-1 loss to Northern Colorado last Thursday. The Cowgirls host San Diego State at 1 p.m. Sunday at the Madrid Sports Complex.
SWIMMING AND DIVING
The UW men's and women's teams open up their seasons with the Brown and Gold meet at 4 p.m. Friday at Laramie High School.
The Cowboys, who finished third at the WAC championships last season, are led by seniors Ryan Netzel, Thomas Diaz, Miller Browne and Brendan Byrnes.
The Cowgirls, who finished fourth at the MW Championships last season, return all-American and MW champion diver Melissa Mirafuentes and two-time MW champion swimmer Katelyn Blattner (200- and 500-yard freestyle).
"The team is hungry to have a normal season, and that hunger and desire to practice and to show what they're capable of has transcended into their workouts," head coach Dave Denniston said. "These first few weeks of practice have been some of the best we've had since I've been here, across all the groups."
GOLF
The men's team finished 10th in the 16-team Ram Masters Invitational on Tuesday in Fort Collins.
Bryce Waters (plus-19, 229, tied 16th) and Jimmy Dales (plus-21, 231, tied 22nd) finished in the top 25 individually for the Cowboys (plus-89, 929) during the 54-round tournament at the 7,234-yard, par-70 Fort Collins Country Club.
Host Colorado State win the event at plus-61 (901) by eight strokes over Pacific (plus-69, 909).
The women's team finished 11th in the 16-team Coeur d'Alene Collegiate Invitational on Tuesday.
Freshman Meghan Vogt was the top finisher for the Cowgirls with a 54-hole total of 221 (plus-8) to finish 21st individually. Jessica Zapf shot a career-low 70 (minus-1) in the final round to finish 29th with a total score of 223 (plus-10).
Hawaii won the event with a team score of 872 (plus-20), edging Sacramento State (873) by one stroke. UW shot 897 (plus-45) as a team.
TENNIS
The Cowgirls open their fall schedule at the ITA Bedford Cup on Thursday at the Air Force Academy. UW returns eight players from last year's team that finished 13-6 overall and 7-2 in the Mountain West with a seven-match win streak to end the campaign.
All-MWC singles players Maria Oreshkina and Sophie Zehender will lead UW during the three-day tournament against a regional field that includes Air Force, Colorado, Colorado State, Denver, Idaho State, Montana State and Northern Arizona.
Follow UW beat writer Ryan Thorburn on Twitter @By_RyanThorburn