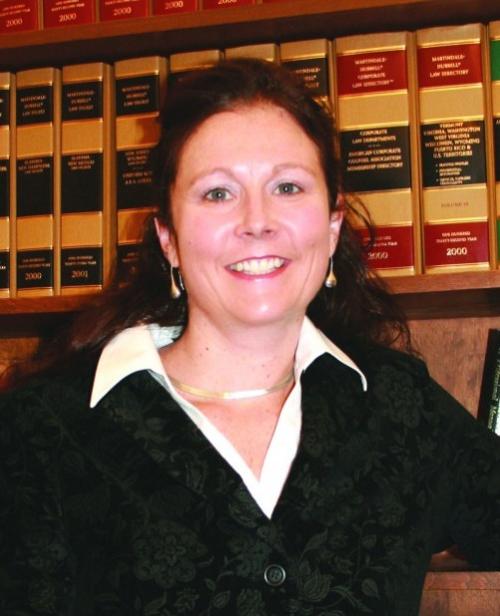 Growing up in rural Riverton, Bobbi Overfield was immersed in raising livestock, participating in 4-H and FFA, helping with the family farm and taking part in school and community activities.
Now, as a wife and mother living on a couple of acres six miles north of Thermopolis, the 34-year-old has created a similar life for her children, Lexi, 6, and Hayden, 4. And she has done so while working full time as an attorney in the firm of Messenger and Jurovich and while serving her community in a number of organizations.
"Bobbi excels at balancing her dedication to husband and two young children with a very busy legal practice and service to her community," legal colleague Michael Messenger said. "Although she could have taken her law degree and succeeded anywhere, Bobbi chose to stay in Wyoming, raise her family here and enhance the good community in which she lives."
After graduating from Riverton High School in 1995, Overfield studied rangeland ecology and watershed management at the University of Wyoming. With that experience and her background in agriculture, her interest in water law led her to attend law school. She graduated from UW's College of law in 2002.
After working three years with a firm in Laramie, where she met her husband, Heath, the couple moved to Thermopolis in 2005 in response to a job opportunity for him. She began work for Messenger and Jurovich, and the family put down roots immediately.
"I love it here," she said, noting the small-town atmosphere.
She said she enjoys traveling, but can't imagine living anywhere but Wyoming because of its "wide-open spaces, quite mountain places and friendly faces."
Although water law was what interested her in the legal profession, Overfield's practice today includes a variety of fields: family and domestic law, criminal defense, general practice and business. She finds the family and domestic cases especially challenging because of their emotional nature; her toughest decisions on the job involve children.
"I enjoy helping people work through a difficult issue to find suitable solutions that work for everyone," she said. "However, when that can't be done, I also enjoy the demands and challenges of a trial that require you to be prepared for anything, which will definitely happen, especially if you never would have thought about it before the trial."
Overfield is the lead counsel for her firm's public defender contract. She becomes a shareholder in the firm this year and has been recruited to run for the board of the Wyoming Trial Lawyers Association.
She's an active member of the Rotary Club in Thermopolis, a member of the Hot Springs County Leadership Institute Board, is helping develop a Parent Leadership Training Institute and coordinates a bicycle helmet program -- all the while staying busy with her children and family activities.
How does she do it? She credits her law firm for being family oriented and giving her flexibility, and her husband for his help.
"I schedule carefully," she said. "I'm just lucky I have that flexibility to go and do what I need to do for my family."
The 2010 Census found that Hot Springs County lost population in the preceding decade, a fact that surprised Overfield, considering the high quality of life and abundance of activites provided by Hot Springs State Park, the Wyoming Dinosaur Center and the outdoors.
"This is great place for kids and families," she said. "In the past this was considered a retirement-type community, but I see a lot of younger people coming in, building the community and getting involved in the community."
Be the first to know
Get local news delivered to your inbox!