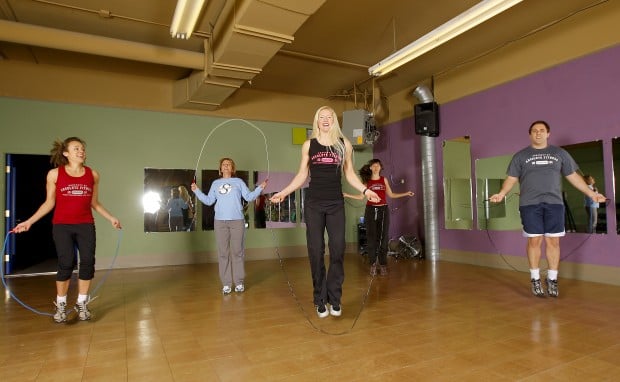 For many, the thought of jumping rope conjures memories of playground rhymes about strawberry shortcake or images of prize fighters shaping up for a title bout.
But jumping rope isn't just for school children and boxers.
"I think we're starting to see it utilized more and more in fitness classes," said Mark Byra, department head of the University of Wyoming's Division of Kinesiology and Health.
Jumping rope can help people of all ages achieve a range of fitness goals, experts say, as it has cardiovascular benefits and improves muscle endurance and coordination.
Jumping rope is a great cardiovascular and muscular endurance-building activity, said Tami Benham-Deal, an associate professor at UW's Kinesiology and Health Division who is involved in the American Heart Association's "Jump Rope for Heart" program, which encourages elementary school children to take up jumping rope.
It's also increasingly being recommended for adults, because it fulfills two of the four basic elements of health-related fitness: cardiovascular performance and muscular endurance, Benham-Deal said. Add routines for flexibility and strength, and jumping rope can be part of a complete workout, she said.
Jumping rope is excellent cardiovascular training, because it involves whole-body movement and can be especially vigorous, said former Olympic wrestler and two-time U.S. Marine Corps athlete of the year Buddy Lee.
"Jumping can raise your heart rate two to three times faster than other exercises. There's no gimmick behind it -- it's the real thing," said Lee, who lives in the Washington, D.C. area and continues to help train Olympic athletes and others through his rope-jumping program. "Every muscle from the head to the toes is being used when you jump rope."
Because it kicks the heart rate up so quickly and keeps it high, jumping rope can provide cardiovascular benefits in a much shorter time than other exercises, Benham-Deal and Lee said. For people looking just to stay fit, a 10-minute workout can suffice. For those who want to push for improved athleticism, only 20 to 30 minutes is required.
Jumping rope doesn't build actual muscular strength – weight training is needed for that, Benham-Deal said. But she and Lee agreed it is an excellent way to tone and shape muscles.
"For women especially, it is a great activity to firm up the legs and the muscles in the triceps and shoulders," Lee said. "It is also a great core activity. You are continually contracting your core, in both the pushing up and landing phases of the exercise."
Because of the intensity of jumping rope, people starting out with a low fitness level or those with underlying cardiovascular issues should approach it with caution, experts say. As with any exercise program, it's always a good idea to consult a physician before starting to jump rope for exercise.
And jumping rope isn't the perfect workout for everyone, she added. It's high-impact, which means people with joint issues should probably seek a lower-impact form of exercise, such as riding a stationary bike.
Another benefit of jumping rope is its effect on coordination.
"When you're jumping rope, there's a lot going on. You've got to coordinate your jumping with the turning of the rope, and that's more difficult than it might seem," Benham-Deal said.
It will probably seem awkward at first to any adult who hasn't jumped rope since his or her school days, but eventually, it will sharpen motor skills, she said, because it involves simultaneous, complicated movements in both the legs and upper body.
Lee said those complicated movements are great for building a sharper brain-body connection. That connection can be weakened by a sedentary lifestyle, he said.
"In today's society, we've lost a lot of motor skills, because we drive everywhere," Lee said.
Jumping rope is great for those on a tight budget; not much money is required to get started.
"What's great about it is that you don't need a lot of fancy equipment or room to do it," Benham-Deal said. "All you need is a rope and the basic attire."
Finding the right surface to jump on is also important, Lee said. It should have some give – to prevent such complications from impact as joint injury and nerve damage. But a surface that is too soft will make the jumping, especially the pushing-off stage, too difficult.
Surfaces such as rubberized floors for aerobics classes, or the floors of basketball or racquetball courts, which are designed to absorb impact, are ideal, he said.
Good shoes are also important, he added.
"You should have a good pair of cross-trainers that give good support."
Licorice-style ropes are probably the best type of jump ropes for adults to use, Benham-Deal said, because they allow for a greater turning speed as the jumper's skill increases.
No matter what your long-term goals are, expect to take some time getting into the groove. Jumping rope is very demanding, both in terms of exertion and coordination, Benham-Deal said.
"That might be the biggest barrier to people taking it up, it can be so hard at first," she said. "Not only is there the demands of jumping, but what many people don't realize is the demand it puts on the arms, having to hold and continually turn the rope."
Experts recommended starting out simple, and then working up to a more challenging, complex rope-jumping routine – but to exercise caution along the way.
"With the basic up-and-down motion, you are just scratching the surface of this exercise," Lee said. "You must learn the proper technique. There is a science behind doing it correctly, and our program takes you through that in a way that will keep you motivated and reduce the risk of injury."
Lee recommends a training program, such as his, that lays a foundation of proper technique while building the intensity in increments.
Here are some tips for getting started:
Build a foundation of fitness by walking or jogging before you start jumping rope. If that foundation is laid well and built upon, jumping rope can yield some incredible benefits, Lee said.
Start slowly, turning the rope and walking in place, Benham-Deal said.
Don't jump too high or too hard. "You don't need to come up any more than just a few inches," Lee said. "If you can hear your feet hitting the floor, you're jumping too hard."
Start jumping in short increments. "You can start off by doing it at home, and jumping during the commercial breaks while you watch television. If you want to work in some strength training, maybe you can jump through one commercial break, lift a heavy can of vegetables during the next one, and alternate that way."
Build up to five to 10 minutes of continuous jumping. "That's when the benefits really start to kick in," Lee said. "If done properly, 10 minutes of jumping rope can have the same benefits as 30 minutes of jogging, two sets of tennis or 750 yards of swimming."
Listen to your body. "If something hurts, stop," Benham-Deal said. "In terms of exertion, a good gauge is that if you can carry on a conversation while doing the exercise, you're in a safe range."
Once you have mastered the basic jump, throw in some new moves. Adding more motions into the routine can keep it from getting boring, said Mark Byra, the department head of UW's Division of Kinesiology and Health. Adding a variety of more complex steps and movements will exercise a wider range of muscles, while increasing the intensity of the workout, Lee added.
Pump up the tunes and jump to the beat. Exercising to music can stave off boredom and provide motivation, Benham-Deal said.
No matter what your goals, be prepared to start out simple.
"You've really got to get it down, one jump at a time," Lee said.
Mark Heinz is a freelance writer. He lives in Powell.